ArtWorks Summer Program
The ArtWorks summer program from Springfield Public Schools lets kids get hands-on in different kinds of performing and visual arts.
By Jessica Covert | Photos by Kevin O'Riley
May 2014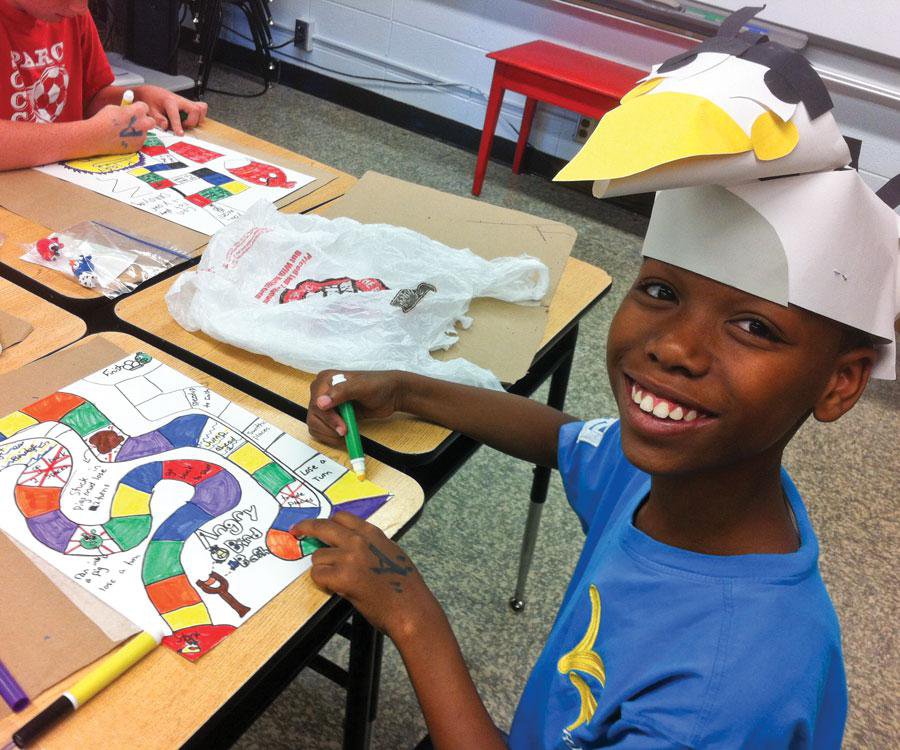 Jaden, one of the students in the ArtWorks program, enjoys the Mad About Angry Birds class.
Your kids might have grown out of finger painting, but they still love art. Your refrigerator is probably covered in drawings, and an aspiring actress is producing plays in the living room. Whatever the interest, the ArtWorks summer program is here to help your child continue their exploration of the arts with 10 days of specialized visual and performing arts classes.
ArtWorks is designed for upper elementary and middle school students, and classes cover a variety of artistic disciplines, including cartooning, weaving and digital photography. This year there are new classes, including Improv Insanity, Kid Idol and sewing. Some classes center around a theme, like this year's Food Art that teaches artistic concepts using food, and Art Bayou that focuses on New Orleans–style art. 
During the school year, art classes for elementary school students are normally an hour long and are only taught once a week. With ArtWorks, kids can choose two classes and have 10 days of training in those areas. Each class is an hour-and-a-half long each day, adding up to three full hours of daily artistic expression. As an added bonus, the classes are taught by local artists and art teachers, including Hing Wah Hatch, who teaches Chinese brush painting and origami, and Christine Schilling, a local mosaic artist whose work can be seen throughout Springfield. 
The Springfield Art Museum first offered ArtWorks 32 years ago. The program was a hit, and soon the number of kids enrolled exceeded the museum's classroom space. Since then, Springfield Public Schools has spearheaded the program, but classes still fill up quickly. If your child is interested in ArtWorks, don't miss this opportunity to let them get their hands dirty. 
What: ArtWorks 
When: June 9–20
Who: Students getting ready to enter grades 4–8.
Where: Sequiota Elementary School, 3414 S. Mentor, Springfield
Cost: $30 for materials
Registration: Go online to springfieldpublicschoolsmo.org and click on "Summer School" to find information and get your child signed up. Registration begins April 21 at 9 a.m.