Spruce up your Strawberries
Fancy up your summer berries with some rich balsamic vinegar and sweet brown sugar.
By Katie Pollock Estes | Photos by Kevin O'Riley
May 2014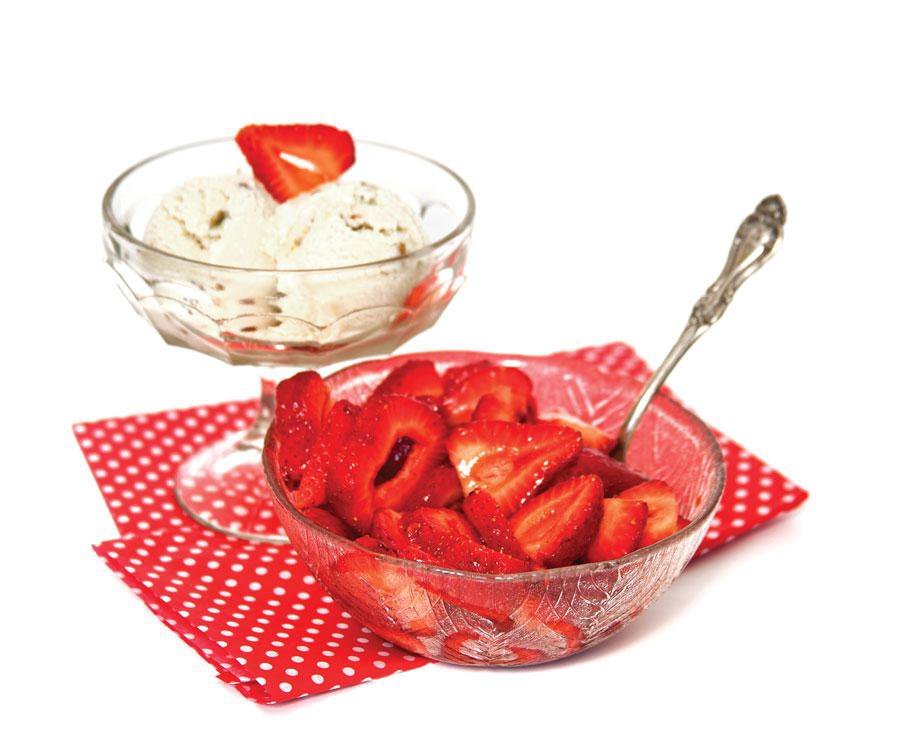 Summer is just around the corner, and that means berries will be ripe for the picking. Strawberries are an easy plant to grow in pots on your porch—no expansive garden space needed—and they make perfect additions salads to desserts. Here, 417 Magazine's general manager Joan Whitaker puts her own spin on this summertime fruit. With a couple of simple additions—brown sugar and balsamic vinegar—she turns these berries into a zippy topping for ice cream.
Balsamic Strawberries
Ingredients
1 quart strawberries
2 tablespoons brown sugar
1 tablespoon balsamic vinegar, plus additional
Directions
1. Wash, pit and slice the strawberries.
2. Sprinkle two tablespoons of brown sugar over the top of the berries.
3. Sprinkle one tablespoon of balsamic vinegar onto the berry-sugar mixture.
4. Let the ingredients sit for five minutes. Then, toss them all together. Continue tossing to produce a syrup on the strawberries. If you want more syrup, add balsamic a teaspoon at a time.
5. Serve alone, or spoon over ice cream or cake.
Grow your own
Want to grow your own strawberries? Baker Creek Heirloom Seeds in Mansfield sells just about every crazy or common variety of seed you can grow in our region, including a few types of strawberries. In fact, they sell some varieties that are a creamy white instead of red. Purchase seeds at their store, or pay them a visit this month at their annual Spring Planting Festival on May 4 and 5. Find details about the event online at rareseeds.com/spring-planting-festival.