Reviews
Garbo's Pizzeria
We re-visit Garbo's Pizzeria, a Springfield restaurant that's been serving up St. Louis–style pies for 25 years.
By Savannah Waszczuk | Photos by Kevin O'Riley
May 2015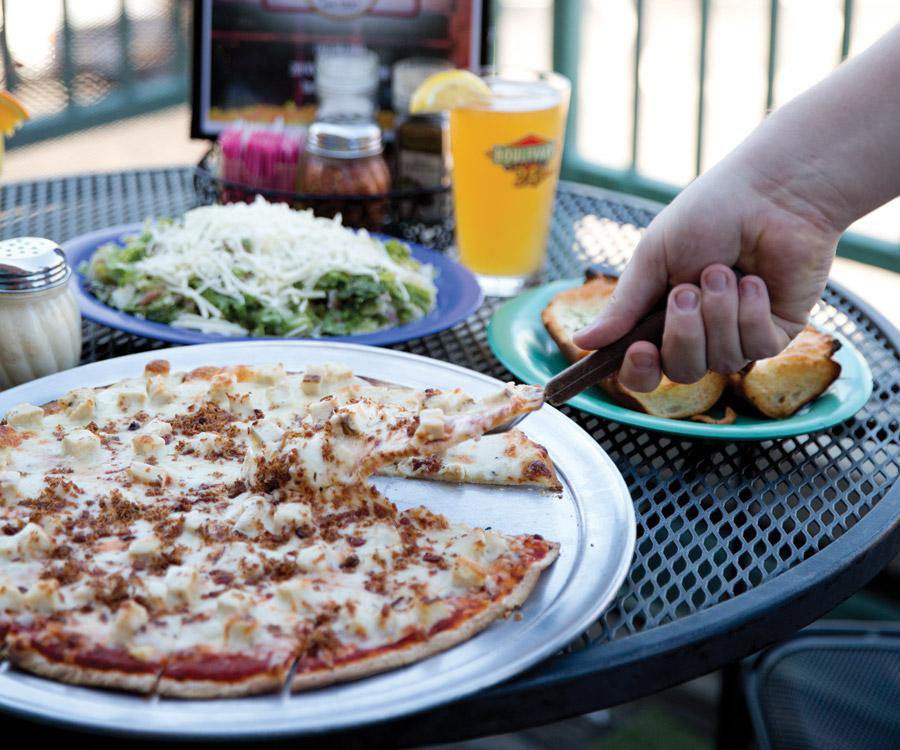 Garbo's Pizzeria
2101 W. Chesterfield Blvd., Springfield, 417-883-9010, garbospizzeria.com
Open Mon. Thurs. and Sun., 11 a.m.–9 p.m.; Fri., Sat., 11 a.m.–10 p.m.
Price Range: $–$$
Most people agree that pizza is a wonderful thing. I, personally, am a fan of it all. I love digging my fork into a big, hefty piece of Chicago-style deep dish. I love the method of folding over flimsy slices of cheesy New York–style pie. (I swear, it makes them even more delicious.) And I love devouring square slice after square slice of the less-popular yet just-as-tasty St. Louis–style pies. My love for the many pizzas of the world is like a mother's love for her children: I love each one differently, for its own unique reasons. 
This year marks 25 years that Springfield's Garbo's Pizzeria has been in business. In honor of this accomplishment, we decided to pay the restaurant a visit and dine on some of its famous St. Louis–style pie. As you would guess after reading about my pizza obsession, I was beyond excited for this food review. I invited dining buddy Dylan Gideon, and we dropped in for dinner on a recent Saturday.
We arrived before the dinner rush, so we had our pick of seats in the two-story restaurant. We picked a high-top table near the bar, which was occupied by a couple of regulars who were happily chatting with the servers. From the staff to the guests, everyone in the restaurant was cheerful. I'm sure a lot of it had to do with the smell of freshly baked pizzas filling the air. My very non-scientific observation is that Garbo's pizza eaters are generally happy people. 
We started our meal with an order of garlic cheese bread, and I ordered a side house salad. The garlic cheese bread included roughly half a loaf of French bread cut in half, sprinkled with garlic and Parmesan and then smothered with plenty of provel cheese. It was pretty standard as far as cheesy bread goes. But that salad was super-good. Made-to-order, it featured a pile of greens topped with fresh mushrooms, red onions, black olives, Canadian bacon, bacon crumbles and Provel cheese. It was all coated with a house dressing made with oil and vinegar and some secret spices. The dressing provides the perfect light and flavorful finish for the fully loaded salad. The thing was huge—honestly, it was probably enough for a meal itself. But I was there for the pizza.
After much debate, we decided to order the chicken carbonara specialty pie that comes topped with chicken chunks and bacon bits. It generally comes with alfredo sauce, but I wanted to try the house pizza sauce, so we ordered it with half pizza sauce, half alfredo. A few minutes later, the masterpiece arrived at our table.
The base for this pie is a thin, cracker-like St. Louis–style pizza crust. In fact, the restaurant actually orders the crust from The Hill in St. Louis, so you know it's the real deal. I was impressed at its durability—it stayed crisp under the sea of sauce and load of cheese. I loved the crunch it provided with every bite. And while both sauces were great, I preferred the creaminess of the alfredo on this creation—it paired well with the large chunks of tender chicken. The red sauce here is on the sweeter side, and I think it would pair well with something like a spicy Italian sausage. A plentiful blanket of provel cheese, another distinguishing factor of St. Louis–style pizza, covered the entire pie to provide the perfect gooey-cheesy finish.  
When we left Garbo's, I had a full belly and a smile on my face. Even though I think all pizza is good pizza, I have grown to really appreciate quality pies. And that's what you'll find here. Every pizza has its own quality features: There's a crispy cracker crust, freshly cut and prepared toppings and a cheese that melts nearly all the way to the edge. Garbo's pizza is delicious in its own unique way, and you'll love every last bite.

Garbo's Pizzeria has been serving St. Louis–style pizzas for 25 years, and the casual atmosphere and two-story seating have provided 417-landers with a prime spot to enjoy the iconic pie.