Health
417 Rage Fitness
Senior Editor Savannah Waszczuk gets an intense workout with Turbo Kick, a class that combines kickboxing with dance moves.
May 2015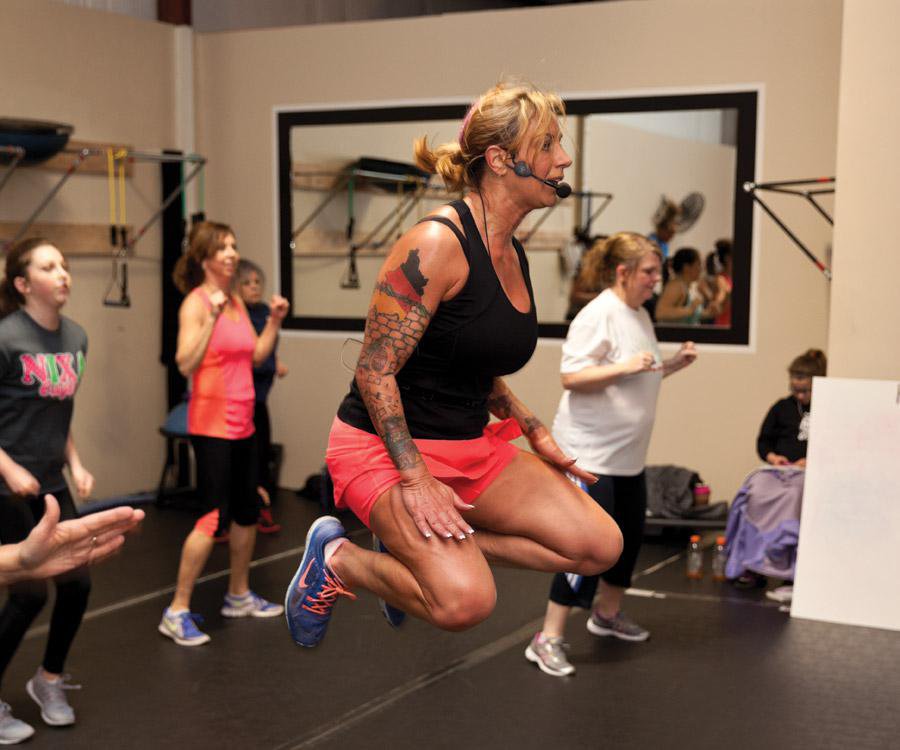 417 Rage Fitness
123 W. Sherman Way, Suite 102, Nixa, 417-724-0767, 417ragefitness.com
I was about 45 minutes into the Turbo Kick class at 417 Rage Fitness when I felt my abs burn as they've never burned before. We were on our last stretch of exercises, and I felt that I was one crunch away from death. Unfortunately, I waved goodbye to core strength the same time I said hello to a higher pant size a few years ago, and the ab workout in this otherwise enjoyable dance class was absolutely killing me. But a few seconds later, at the exact moment that I thought I couldn't move another inch, instructor Christine Henson started yelling out numbers in German. "Eins! Zwei! Drei! Vier!," she shouted. Somehow, a new form of motivation poured over me. It was like those numbers, screamed out in Henson's thick German accent, made me feel like I was much more of a badass than I actually was. I finished the crunches like they were nothing, and I left the class feeling more confident than I was when I arrived. 
The Gym
Victor and Christine Henson purchased 417 Rage Fitness in July 2013. While you'll find the usual cardio equipment and free weights here, you'll also find some of the heaviest dumbbells in 417-land. "Our dumbbells go up to 120 pounds," Christine says. You'll also find something else a little unexpected—a gym dog. "Geist comes to the gym with us usually every day," Christine says. "He's a Weimaraner." 
A few doors down, there's a workout studio where the gym hosts its classes, which include Insanity, a HIIT class; PiYo, a class that fuses Pilates and Yoga; Body Pump, a strength endurance and sculpting class; Kettlebell Inferno, a 30-minute interval class; P90X camp, an intense three-month bootcamp that's sure to whip anyone into shape; and Turbo Kick, a high-energy class that combines high-energy dance moves with kickboxing. 
The Experience
I tried the Turbo Kick class. "It's basically Zumba on steroids," Christine says. She's the instructor of the class, and basically the picture of fitness. Aside from being a certified personal trainer, a performance enhancement specialist with NASM (National Academy of Sports Medicine) and a speed and explosion specialist with the NASE (National Association of Speed and Explosion), Christine holds a world record with the American Power Lifting Association for Power Lifting. This woman is a beast. Oh, and did we mention she also has an MBA and a master's degree in exercise science? She's awesome, and watching her toned muscles flex with every move was inspiring.
We started things out with a warm up, where we learned the kickboxing punches: jabs, crosses, hooks and uppercuts. Next we learned kickboxing kicks, and we slowly began to put them all together. Then, we spent the majority of the class working our way through different sets of exercises that incorporated all of the kickboxing punches and kicks with dance moves. As with all dance classes I've tried, I learned that I'm very uncoordinated. I was usually a step or two behind Christine. But it was okay, because I had a smile on my face the whole time. It was super-fun, and everything went by quickly. 
After I danced my heart out enough to sweat through my shirt, Christine announced it was time for the "insane turbo section." I had no idea it was coming, and I was petrified. But Christine explained that the upcoming insanity is basically a super-fast set of moves, kicks and punches. "Now it's only two minutes, and you can work at your own pace," she said. And that I did. But even though I wasn't quite as fast as her, I found myself getting in a killer workout as I did everything from intense kicks to air jacks. Yes, I said air jack (imagine a jumping jack, all in the air. If you think regular jumping jacks are a challenge, you haven't seen anything yet).
We continued with a recovery section to bring our heart rates back down, and then we did a bit of cardio. We next worked our legs and behinds and then ended with an ab track, which, as I said earlier, was among the most challenging parts of the class. I'm not sure if it was because I was so tired or because I rarely do core workouts, but those crunches and stretches made my abs burn hardcore. I had a great time, but I was more than happy when Christine said the class was over.
The Effects
While it's a lot of fun, Turbo Kick is also a great workout. "You're just dancing and having a good time, and then, 750 calories later, you're done," Christine says. It truly does provide a full-body workout.  "It's a cardio kickboxing class with body-sculpting dance moves that are off the hook," Christine says. Well said.