Health
The Best Walking Tours Around Southwest Missouri
Check out these walking tours that are perfect for history buffs, architecture enthusiasts and anyone looking to get their steps in.
By Jo Jolliff
Aug 2023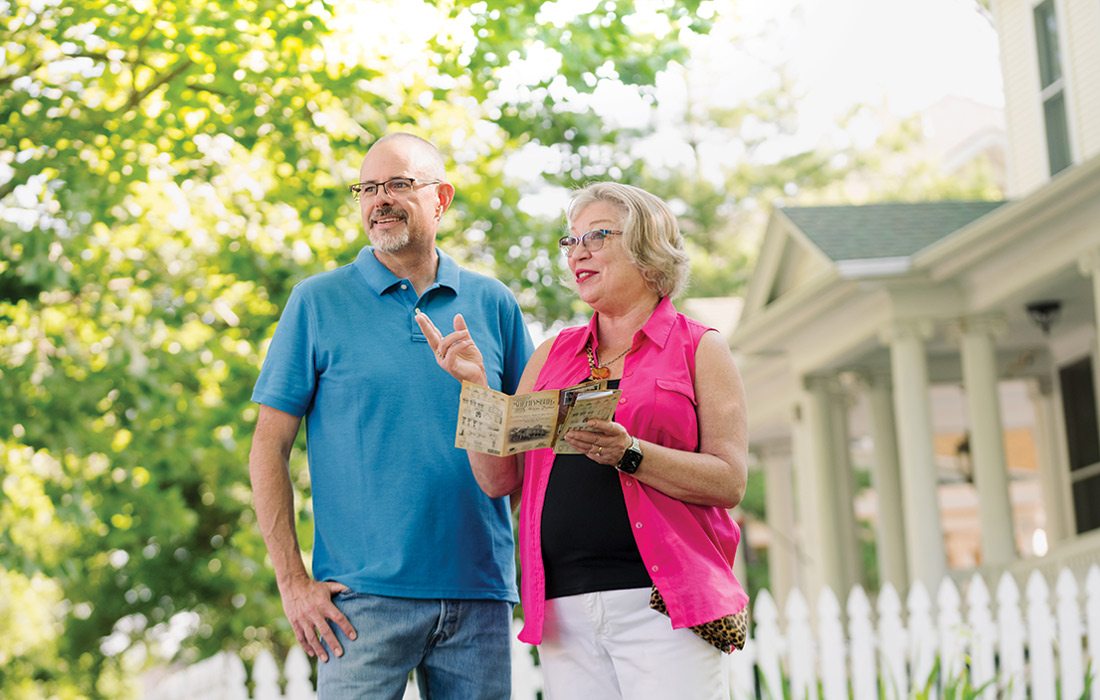 Talk a Walking Tour
If you Want to See Art Up Close
Sculpture Walk
On this self-guided tour you will make your way across Springfield discovering new pieces of art in the 8th annual collection of sculptures. You can find copies of the map, which includes all 31 pieces, at the Springfield Regional Arts Council, Springfield Convention & Visitors Bureau and Springfield Art Museum.
If You Adore Historic Architecture
Downtown Carthage Historic District
Get a glimpse into Carthage's long past filled with history, architecture and art while strolling the historic town square. Those interested can head online to their website for a PDF pamphlet filled with historic background information featuring each building. Follow along by beginning on the southwest corner of the square and then following it east around the square.
If You're a Route 66 Fanatic
Historic Murphysburg District
The Historic Murphysburg District in Joplin offers an array of walking tour options for visitors. Whether you're interested in diving deeper into the history of Route 66 in the area or discovering the beauty of the architecture, these tours are perfect for you. You can access the self-guided tours online for printable guides of the residential historic district, monuments located at Mount Hope Cemetery and even a scavenger hunt.
If You Can't Get Enough of Wild West Trivia
Downtown Walking Tour
You may pass by these historical sites each day and not know the notable history that took place downtown. Discover the historical events and background of Springfield's founding on guided walking tours offered by History Museum on the Square. On these tours you'll hear of the Wild Bill Hickok shootout that occurred on the square, learn about Route 66's influence and more. The tour for August is on Friday, August 25, at 5:30 p.m.
If C-Street is Your Vibe
Commercial Street Walking Tour
Throughout the summer, you can also enjoy Commercial Street tours by the History Museum on the Square. This one-hour tour is about a one-mile stroll with detailed information on the impact of the railroad on C-Street, the long relationship between North and South Springfield and how the culture of C-Street developed into the area we now love and know today. The tour for August will take place on Saturday, August 26, at 10:30 a.m.
Walkable Neighborhood History in Springfiled, Missouri
By Gary Harlan
This story was originally published in June 2017
A Little Bitty Library
While walking south on Jefferson Avenue one day, we noticed something rather unusual. In front of a home was a small wooden box with a glass door. It contained books available for borrowing. Take a book, return it and take another book. It was not until we came across similar boxes in other parts of town that we realized these were part of an organized effort. Later I made an internet search and discovered it was a worldwide effort based in Wisconsin. They are called Little Free Libraries and have a stated mission: to promote literacy and the love of reading by building free book exchanges worldwide and to build a sense of community as we share skills, creativity and wisdom across generations. There are more than 36,000 Little Free Library book exchanges around the world, bringing curbside literacy home and sharing millions of books annually.
A Historical Building
Walking along College Street one day we discovered a granite marker in the 1100 block commemorating other prominent figures from the 19th Century. The marker reads: "About February 1830, William Fulbright erected, near this spot, the first cabin built on the site of the present city of Springfield. At the same time, A.J. Burnett built a pole cabin near the natural well, and John Fulbright another near Jones' Spring. The first church service was held and the first church (Methodist) organized in the cabin of William Fulbright and the settlement was called Campbell and Fulbright Springs."
An Unsung War Hero
One such example is the Lincoln Memorial Cemetery. I have driven west on Chestnut Expressway between Highway 65 and downtown hundreds of times, yet I never noticed this cemetery located about a quarter-mile east of Glenstone Avenue. David suggested we check it out, and then I researched it on the internet. I learned it is the oldest African-American cemetery in Springfield, opened in 1919 as a result of the Jim Crow laws, which mandated racial segregation in many communities through the mid-1960s. Were it not for our walks, I would have been denied the honor and privilege of becoming acquainted with Myrl Billings, who is buried at this cemetery.

Billings was a Springfieldian who lived on Prospect Avenue. He fought in World War I with the 369th Infantry, known as "The Harlem Hellfighters." They fought alongside French forces all over France. Because of the unit's steadfast courage, France awarded the infantry with the Croix de Guerre (Cross of War), the country's highest award for military valor. In addition to receiving the award with his unit, Billings received a second Croix de Guerre for his individual heroic action.

After the war Billings returned to Springfield in 1919. Unfortunately, his return to civilian life was short-lived. His health had deteriorated because of all the gassing he was exposed to on the battlefield, and he died one year after returning home. But Billings made his mark during that brief period. He became an organizer of the Norville Stafford American Legion Post and was one of the founders of the first Boys Club in Springfield.
A Familiar Last Name
We discovered another small cemetery one day that again brought us face to face with the origins of Springfield. It is the Rountree Cemetery located on Bennett Street west of Scenic Avenue. Enclosed by a rock wall, the cemetery is part of Rountree Park. As with Billings, Phelps and the Little Free Libraries, I turned to the internet for background on what we discovered. In this case I learned that the park and the cemetery are located on what was the 240-acre homestead of Lucius Rountree. Born in 1814, Rountree was 6 when his family moved from North Carolina to Tennessee. He was 16 when his family arrived in what would become Springfield. They arrived just months after the Campbell and Fulbright families settled here. His father, Joseph, became the first schoolteacher in Springfield. Rountree served as a captain in the Union Army during the Civil War. He married Rebecca McClelland in 1845. They are both buried in the Rountree Cemetery near their parents.