Travel
Hannibal Missouri
Take a bookish weekend getaway, and visit Hannibal. This Mississippi River town is steeped in Mark Twain history, and many of its best-loved tourist destinations have a decidedly Twain theme. Visit with the kids for some literary nostalgia and lots of fam
by Katie Pollock Estes
May 2015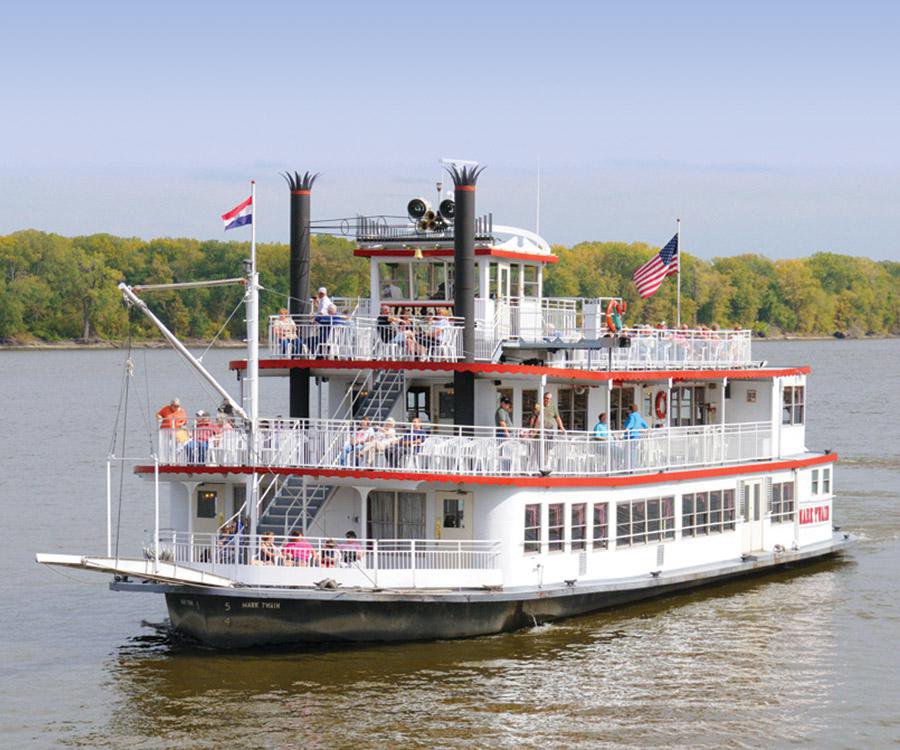 Celebrate Mark Twain
Head over to Hannibal for the Twain on Main Festival (twainonmain.com) May 23 to 24. Entertainment (like a street magician and live Celtic music), food vendors and more come together to celebrate Mark Twain and his literary works.
While in town, stop by Cardiff Hill on Main Street to see the famous Tom Sawyer and Huckleberry Finn statue. Another great photo op: The view of the Mississippi from the base of Mark Twain Memorial Lighthouse (hannibalparks.org).
Grab a Meal
If you're in the mood for some hearty American cuisine, stop at the popular watering hole Mark Twain Brewing Company (marktwainbrewery.com). Enjoy portobello mushroom fries and the reuben and wash it all down with a locally made brew. 
Get your fill of delicious global eats at LaBinnah Bistro (labinnahbistro.com). This menu is filled with everything from rib-eye steaks to Turkish stuffed grape leaves. 
Treat Yourself
If you've brought kids to this Mark Twain Mecca, make sure you stop for a snack at Becky's Old Fashioned Ice Cream Parlor & Emporium (beckythatcher.com)—named for one of Twain's characters, of course. The spot has hand-dipped ice cream cones and shakes to satisfy your sweet tooth. It's also a good spot to snag a Hannibal souvenir. 
Explore
Did you know Hannibal has a haunted history? Well, it does! This is great news for all you ghost buffs, and you can learn all about it at the Haunted Hannibal Ghost Tour (hauntedhannibal.com). 
Are ghosts not your thing? That's okay. Skip the ghost tour and enjoy the Mighty Mississippi by taking a cruise on the Mark Twain Riverboat (marktwainriverboat.com). The one-hour sightseeing cruise provides the history and legends of Hannibal, and the two-hour dinner cruise includes a tasty meal.
If you'd rather stay off the water, take some time to explore Mark Twain Cave Complex (marktwaincave.com). This outdoor hotspot features Mark Twain Cave, Cameron Cave, Cave Hollow Winery, a campground, a general store and even a place where you can pan for real gemstones. 
Rest Your Head
Hunker down for the night at the historic Garth Woodside Mansion (garthmansion.com). The B&B features vintage Victorian charm set on gorgeous grounds with plenty of wildlife and nature to enjoy. Make sure you reserve the Dowager House. The private cottage has two fireplaces, a hot tub on the deck, beautiful views and a lovely luxury bathroom.