Dishes
Smoked Catfish Cake from Dobyns Dining Room
Plus six other things that passed the test of our taste buds.
By The Editors
May 2015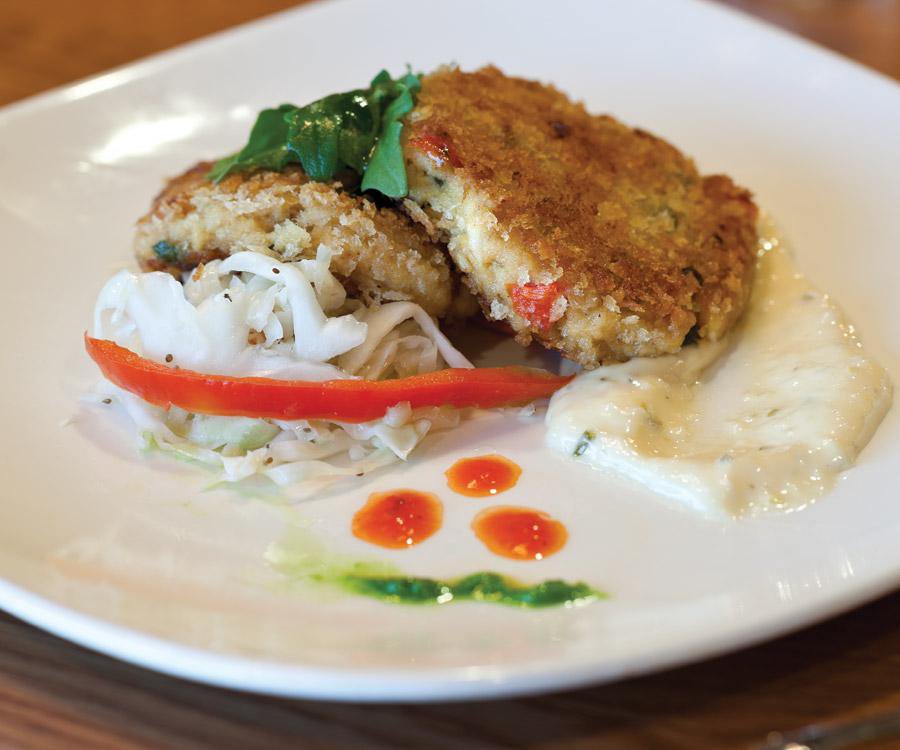 1. For a  regional twist to a New England classic, visit Dobyns Dining Room (The Keeter Center, 1 Opportunity Avenue, Point Lookout, 417-690-2146, keetercenter.edu) and try the smoked catfish cake. Crispy, delicious and served with Carolina slaw and smoked tomato tartar sauce, this appetizer is sure to delight your taste buds. 
2. One staffer holds a special affinity for the flash fried spinach from Pasta Express (multiple locations, pastaexpress.com), and when you consider it's flash fried and topped with Parmesan and bacon, it's easy to see why. We recommend you dine-in to enjoy peak crispiness. 
3. Good baklava can be hard to find in Springfield, but you need look no further than European Café (207 Park Central East, Springfield, 417-942-5055). Layers of flaky phyllo dough, sweet cinnamon syrup, chopped nuts and butter make this sweet treat a revelation. Pair this delicate dessert with an espresso, and you will be in heaven.
4. Even if you're not much of a breakfast food lover, you will love the chorizo and eggs at Early Bird Breakfast Pub (1717 E. Cherokee St., Springfield, 417-885-8088). There is just the right amount of spice from the sausage mixed with the perfectly cooked scrambled eggs. Top it with a little salsa, and you'll be flying high.
5. If you love wings, try the Traditional Wangs from Grad School (434 S. Jefferson Ave, Springfield, 417 866-8163).  In all honesty, these aren't exactly traditional but they are delicious. Covered in melted butter and fragrant herbs, these wings are so good you don't even need a dipping sauce. 
6. On your next visit to Devil's Pool Restaurant at Big Cedar Lodge (612 Devil's Pool Rd., Ridgedale, 417-335-2777), opt for the smoked prime rib pizza. It's a little unorthodox, which we love, and it's topped with mushrooms, Parmesan, chives and the pièce de résistance… horseradish cream. It's easily shareable. 
7. We can never pass up ordering an appetizer of tofu spring rolls when we dine at Bambu (1338 E. Battlefield, Springfield, 417-881-9881). The spring rolls are filled with crunchy veggies and fresh herbs and come wrapped in rice paper wrapper. Dunk them in the not-too-sweet peanut sauce. Tasty and healthful!