Spaces
Salon Service Group
Salon Service Group's 57,000-square-foot headquarters pairs the best of modern design with an industrial edge.
By Savannah Waszczuk | Photographed by jeremy Mason Mcgraw
May 2015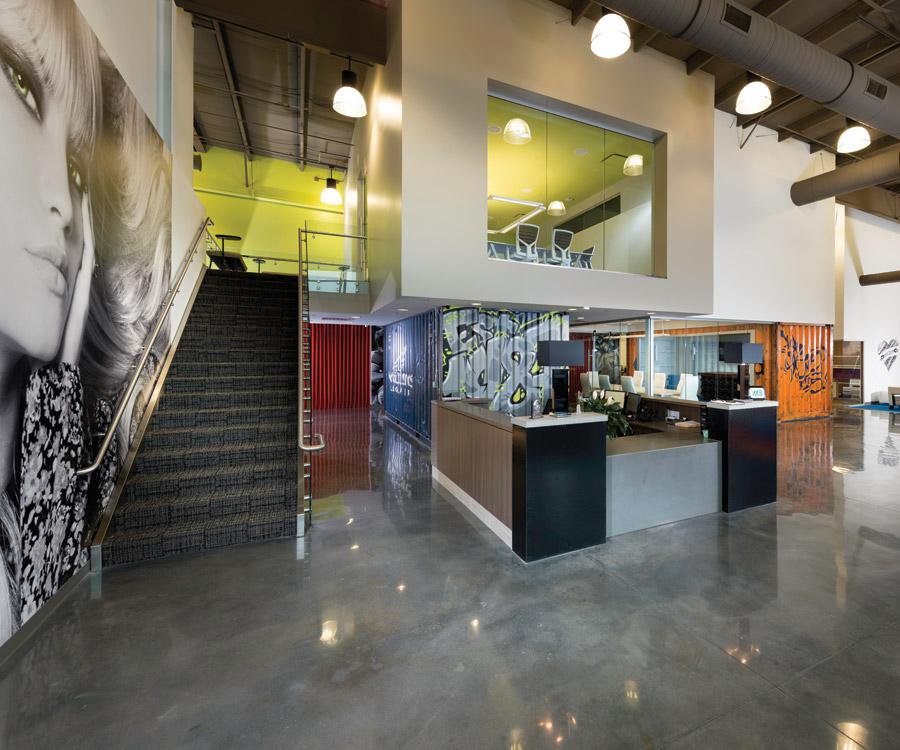 Some people spend years searching for the right career. For Gino Barbo, owner of Salon Service Group, it was just the opposite. "I actually first got hired for the job through an employment company," Barbo says. Originally from Australia, Barbo moved to the United States in 1985, and he found himself selling a product line from the trunk of his car in 1987. "I purchased the company for less than $15,000 a few months later," Barbo says. 
Now, some 30 years later, Barbo sits behind a desk in a well-designed office that's located in the heart of Salon Service Group's brand new jaw-dropping 57,000-square-foot headquarters in north near the intersection of Glenstone Avenue and I-44. After moving among several Springfield and Nixa locations for years, the new space is a place that Barbo is proud to call home for himself and the 71 other associates who work there. "We wanted it to be open and cool and overall different than everything else, but functional at the same time," Barbo says of himself and his wife, Dana, who helped him design the building. 
The couple collaborated with a few key team members to discuss their vision for the space, and they worked with architect and interior design experts at Buxton Kubik Dodd Creative (bk-dc.com) to create it. The result is an industrial-modern space that's truly breathtaking. It's home to five conference rooms, a massive warehouse, a luxurious break room, an in-house store and a handful of spacious creative work areas. This spaciousness, along with the bold design, were all part of the plan. 
"In our old building, they were practically sitting on top of each other all the time," Barbo says of his employees. He knew this wasn't good for company morale, and he wanted better for his team. This was a driving force behind the creation of the new headquarters, which the company moved into in January 2015. "It's not about hair, and it's not about products," Barbo says. "We've got a fantastic group of people here, and it's about them. We really wanted it to provide a great creative environment for our employees."
Special Touches
The three shipping containers  display one-of-a-kind work by a local graffiti artist.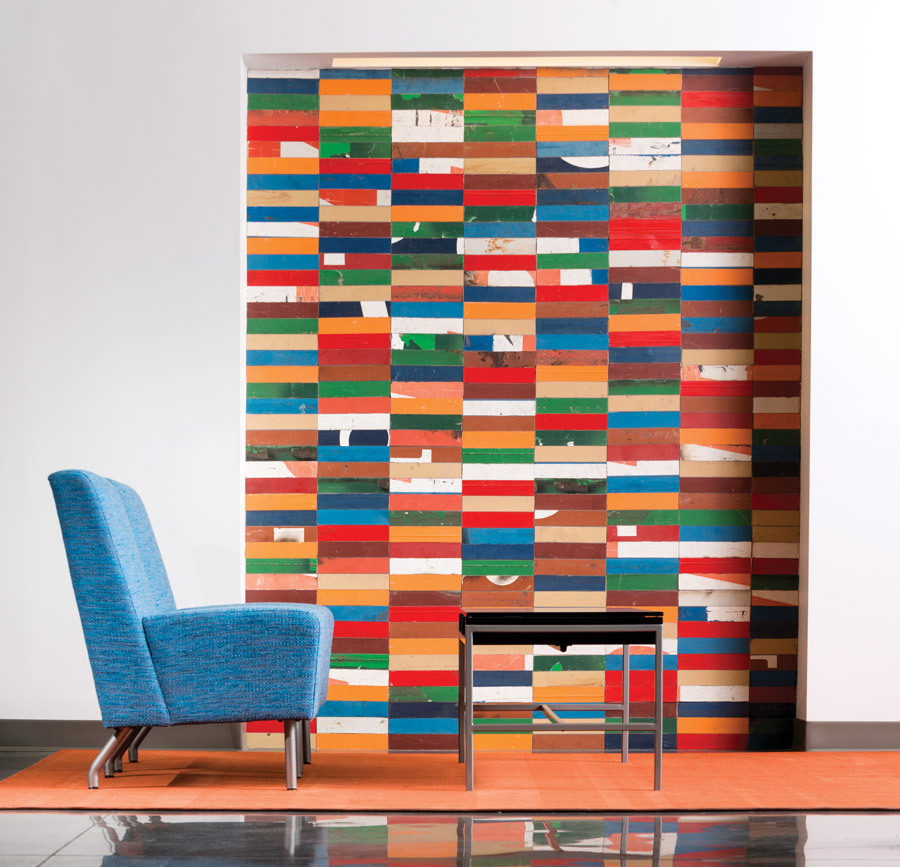 Wonder Wall
A small seating area to the right of the entryway is brought to life with a colorful wall made of recycled shipping containers.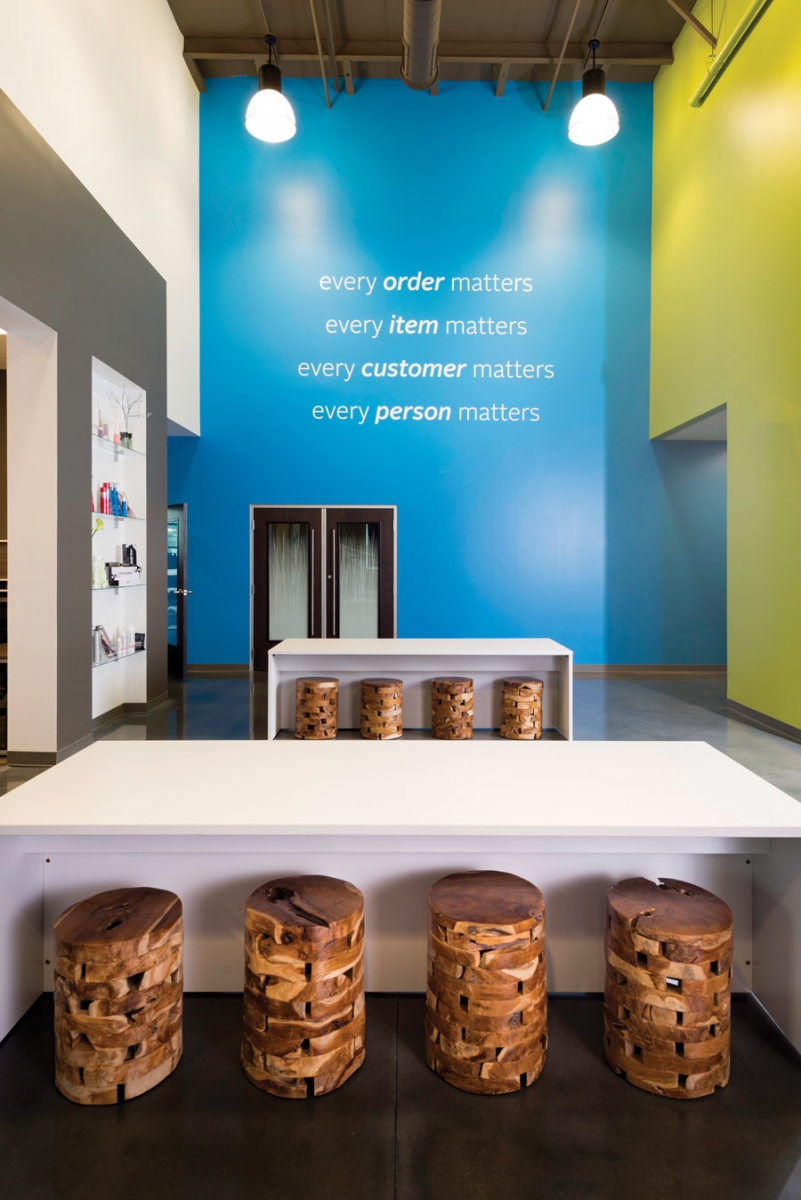 Well-Stated
Salon Service Group is best described as a relationship-based company that solely works with privately owned companies and independent stylists. This focus on relationships is evident with the company's mantra, which is displayed in bold white letters on the wall just off the entryway. While the lettering draws the eyes above, wooden seats add a modern edge to the seating area below. 
Giving Back
As a way to give back to his customers, Barbo and his associates created the u-care Foundation, a non-profit organization that provides assistance to stylists who may need help due to unforeseen medical conditions, emergency financial situations or similar circumstances. A seating area outside of Barbo's office displays the logo of the foundation.  
Meet in Style
Clean, modern furnishings contrast with a recycled shipping container to add a slightly edgy  look to the conference room. The office space has several meeting spaces, including this one located not far from the entryway on the main floor.
Office Space
Barbo's office sits just to the right of the entryway. A wall of shelves near his desk houses a plethora of framed family photos and a few quirky pieces, like a Trojan soldier helmet and a statue of a frog practicing yoga. A flat-screen television is displayed on a recycled shipping container in the opposite side of the space.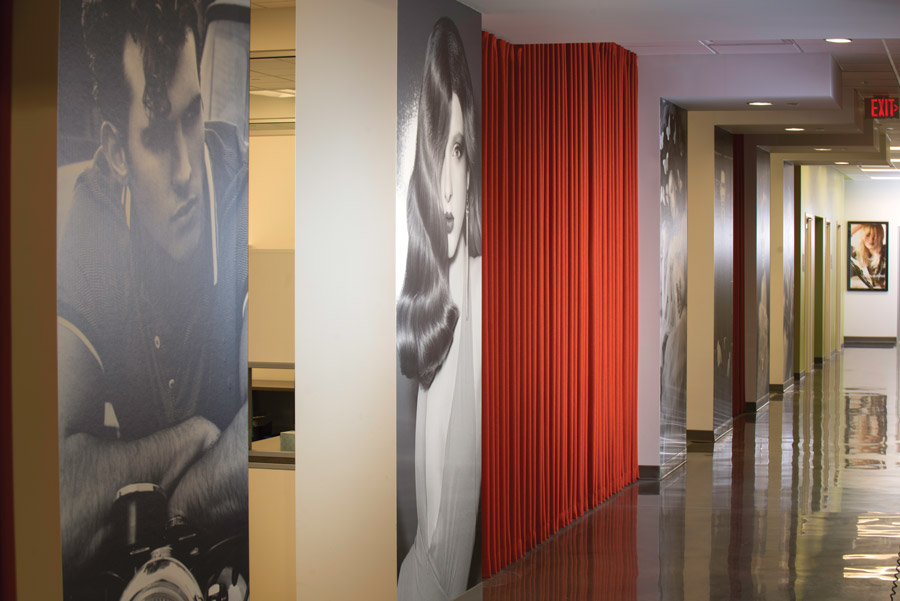 Set the Scene
In addition to creating a great work environment for employees, Barbo wanted to create a space that impressed guests. "We want them to feel like this is a place on pace with the industry," he says. "The building describes who we are as a company." The industrial modern space presents itself as edgy and on-trend in many ways, including massive black-and-white photo murals displayed throughout the office.
Where the Stylists Shop
As a distributor of professional salon products, Salon Service Group has 30 stores and an 11-state distribution territory. One of these stores is a well-designed space that's located right in its headquarters. The store provides a convenient stop for stylists who might be visiting for a training session or who are there to meet with Barbo. "We want to make sure we're the best at what we do, and the best that a salon or hairdresser can partner with," Barbo says.