Profiles
Six Questions with Dr. Kerri Miller
A nurse-turned-inventor created a clinical-strength rehydration drink that's available over the counter. Bonus: It's a killer hangover cure.
By Jennifer Adamson | Photo by Brandon Alms
May 2015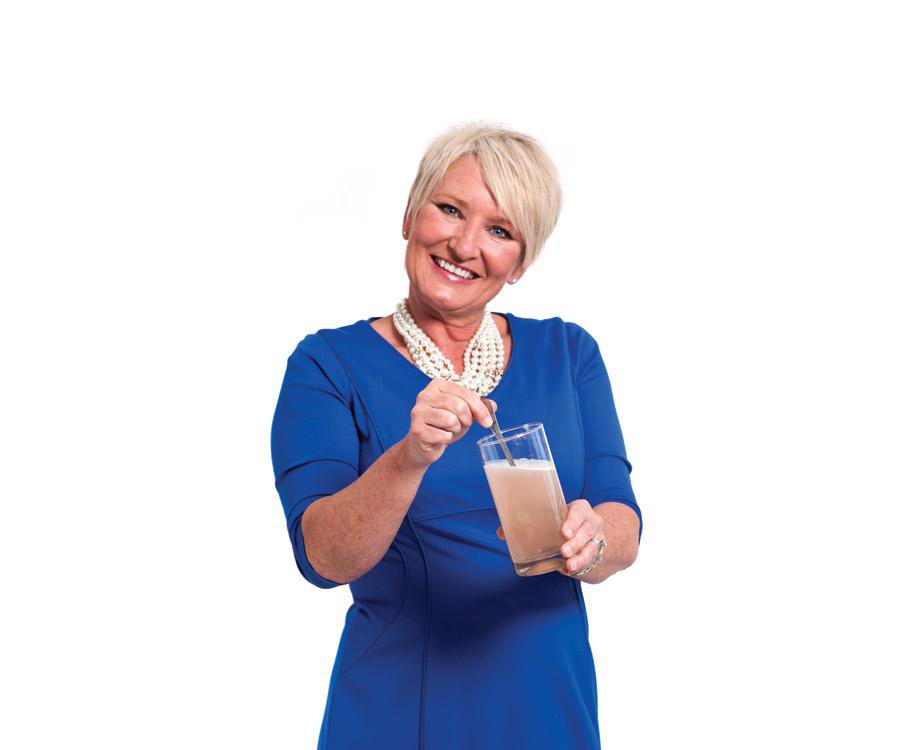 As a young mother, Dr. Kerri Miller was looking for a stable career. She didn't have a particular job in mind. She just needed one that would pay the bills. She settled on nursing and discovered she was quite good at taking care of people and thinking outside the box when it came to making people better. 
Today, Miller has transitioned from working as a nurse practitioner at Mercy Hospital in Springfield to running her own healthcare company. She has used her knowledge of how the body works to develop a rehydration product called re:iimmune, the first of its kind on the market, available locally and at Walmart. She also gives back through the sale of re:iimmune, a gesture impacted by her international travels and her desire to make a difference globally.
Try It
Re:iimmune is sold online at Amazon and locally at Family Pharmacy, Grove Pharmacy, Dan's Discount Pharmacy, Lawrence Drug, Mercy pharmacies and regional Walmart stores. Retail price is $24.99 to $29.99 for a box of 10 servings. To learn more about re:iimmune, go to re:iimmune.com.
Q&A
417 Magazine: Let's start with your company. Tell us about it. 
Kerri Miller: Make People Better is a healthcare company started in January 2013. Our mission is our name. The company was started to develop healthcare products and services that actually help people recover at home. I have always believed that there is a gap in the concept of illness recovery. Today, people are challenged to care for themselves when they are facing an illness. Hospitals provide acute care, but the care shouldn't stop there. Our first product developed to help people recover from an illness is re:iimmune.
417: What is re:iimmune and how does it work?
K.M.: It is an oral hydro-biotic designed to deliver clinical-strength hydration and support a person's intestinal immune system during their recovery time. It is a dry powder that is mixed with two cups of water and can be as effective as an IV in rehydrating a person, but it is much more than hydration. The patent-pending formula also delivers an amino acid, L-Glutamine, to help repair tissue; a prebiotic that acts as food for the body's own good bacteria; and a proprietary blend of 14 probiotics to support the body's need for added immunity during an illness, as well as ginger root to help ease the feelings of nausea often associated with taking medications or an illness. 
417: Why is hydration so important?
K.M.: Every cell in your body needs water to function properly, and the reality is that most of us are dehydrated. When you are ill, the need for proper hydration is even greater. 
417: How long did it take to develop re:iimmune?
K.M.: It took a year and a half, which by most people's standards is very fast. I was fortunate enough that the right people showed up at the right time.
417: You collaborated with Mercy's research and development team. What was that partnership like?
K.M.: I needed to test my theory that this product would help people recover quicker after an illness, so I approached Mercy Research and Development with my idea with the intention that they would participate in clinical studies. In late 2013, we began to look at different types of patients where we felt that re:iimmune would make a big impact in helping patients recover. Mercy has been a great partner. I mean, they immediately saw the value in what re:iimmune could do for their patients. 
417: We heard that you believe in re:iimmune so much that you even give it to others through your company's GetWell MakeWell campaign. 
K.M.: We donate one serving of re:iimmune for every box we sell. We are willing to give up a big piece of our bottom line to help support people recovering at home, whether they live in a developed country or a low-income country. All people deserve a chance to get better.
417: What's next for you?
K.M.: We're getting ready to launch our pediatric product, which will be an orange-mango flavor, and then we're working with [Mercy] Research & Development to develop a green tea flavor.
417: Can anyone use it?
K.M.: We market this product for people who are taking antibiotics, people who have the stomach flu, pre- and post-surgery, patients who have been discharged from the hospital, patients that are generally dehydrated. We also market this product to seniors because most elderly people live in a chronic state of dehydration and poor immune response. The only people that we are excluding this product in are patients who are on kidney dialysis, but we also encourage patients that have multiple chronic diseases to check with their healthcare provider before using re:iimmune on a regular basis.
417: Is re:iimmune FDA-approved?
K.M.: The product is a dietary supplement, and all the ingredients are approved by the FDA as GRAS (generally recognized as safe) for consumption.
417: When did you have the idea for this product?
K.M.: I started volunteering on a medical mission team in 2004 and during that experience, it really taught me the importance of taking care of patients in a low-income environment with limited resources, and I became really passionate about how to improve care in those environments. 
417: What action did you take?
K.M.: I went back to school. In 2009, I was accepted to Johns Hopkins University in their doctorate of nursing practice program. I went to that program specifically to study global health. Part of my education included a capstone project, and I chose to implement a community health worker program in Nicaragua that specifically addressed the need to improve the care of children with diarrheal disease. 
417: Tell us about your work in Nicaragua.
K.M.: What I did in Nicaragua was I used the World Health Organization's oral rehydration formula, along with new recommendations for zinc supplementation, and I worked with the government of Nicaragua, along with a local organization called Project HOPE Nicaragua. Basically, what we did was we trained women from a community to be community health workers. Their job was to educate the caregivers of children within their community on how to manage a child with diarrheal disease. The program was very successful. Caregivers, mostly mothers, after they received the education, felt much more empowered on how to help take care of their children. The program is still in existence today and is doing very well. From that experience, I learned the value of oral rehydration therapy, and that's the re:iimmune we're talking about.
417: How did your work in Nicaragua translate to your work here?
K.M.: During that whole experience, I was still working at Mercy as a nurse practitioner, and I began to look at my patients and I started recognizing that these patients were dehydrated, and not only were they dehydrated, but many of them were slow to recover. I started asking why. What's missing? What are we not doing to help these people get better faster? So, I began to investigate the role of our intestinal immune system started studying the science of pre- and probiotics, and I came to the conclusion that I felt like I could help people recover faster or better after an illness by supporting their hydration and intestinal immune system needs.
417: What's it been like to create a product like this from scratch?
K.M.: It's been a real adventure. That would be the way I'd describe it. I just continually kept asking questions and through a series of asking questions, I was referred to people throughout this whole time frame that were able to help me.
417: How did you react when you found out retailers had picked up your product?
K.M.: I was really excited. You know, I've lived in my own opinion of the product for a long time. I believe 100 percent that this product works, that it fills a need and a gap in healthcare, but to have retailers agree with the product and the need for the product, it was nice to have that validation.