Travel
Clearwater Vacation
Take advantage of direct flights from Springfield to Clearwater, and plan an effortless vacation to Florida.
Written by Katie Pollock Estes
May 2016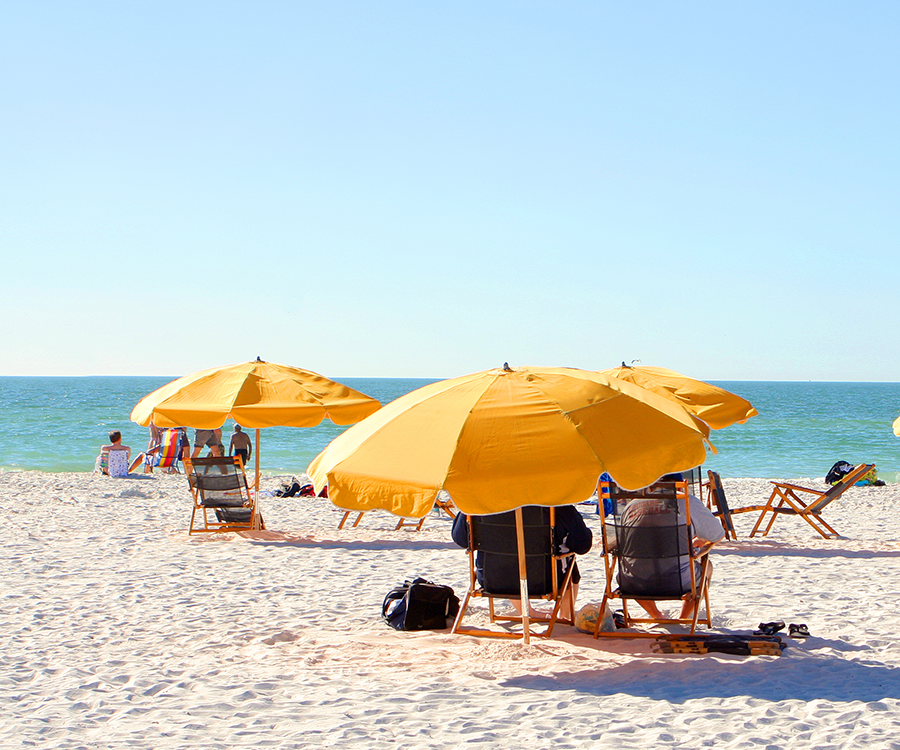 When vacation calls my name, I usually start dreaming about bustling metropolises where I can explore interesting neighborhoods, creative dining options and a little bit of culture. But these days, I have a kiddo on my hip. And with almost-3-year-old Oliver in tow, my husband Eli and I felt more of a relaxation itch than an exploration itch. We wanted easy travel. We wanted easy lodging. We wanted easy excursions, easy navigation and absolutely no crowds for our little critter to get lost in. 
We thought about Destin, Florida—a long-time favorite in my family. But nope, the drive down would take way too long. We thought about a California road trip. But nope, that was going to be too complicated. All we really wanted was a pretty, quiet beach and a short flight to get there.
Lucky for us, Clearwater, Florida is a direct-flight destination from Springfield. Ease-of-travel was checked off our vacation requirements list as soon as we decided on that spot. 
And while Clearwater makes for a super-simple vacation if you're traveling from Springfield, I can make it even easier with this handy step-by-step guide to planning your own easy, breezy Clearwater getaway.





Match with your perfect vacation beach house like this one using a site like Airbnb , Home Away and Vacation Rental By Owner. Photo courtesy www.clearwaterbeachhouse.net


Step 1: Find the Perfect House
There are plenty of hotel options in the Clearwater and St. Petersburg area, including St. Pete's famous bright pink marshmallow of a hotel, the Loews Don CeSar Hotel (loewshotels.com/don-cesar). But we were going for easy relaxation, so we were more interested in finding a private beach house than lodging among the masses. No crowds for us, please.
For that, we searched Vacation Rental By Owner (vrbo.com), Home Away (homeaway.com) and Airbnb (airbnb.com). As with online dating, we had to sift through some duds—and some houses that were a little out of our league, to be honest—before we found our one true love via Home Away. It was a breezy little historic home in a quiet residential area on the north end of Clearwater Beach. It had the charm of an older house, but all the important parts had been remodeled—like the updated kitchen and the lovely, secluded backyard with a sweet and perfect little pool that was shaded by tall palm trees. With a balcony around the upper level and tons of outdoor seating, it was a great place for our group. My parents, Tim and Caron Pollock, my sister Sarah Pollock and my nephew Adam had joined our trip, and the three-bedroom house had just enough space for us all to be comfy both indoors and out.
Without indulging in anything too fancy, we were in beach house heaven. The boardwalk to the sand and water was right across the street. The Gulf of Mexico was just steps away. It was perfect.
Step 2: Book Your Flight
This was the easiest part of our travel planning. You can fly directly from Springfield–Branson National Airport to the St. Pete–Clearwater International Airport via Allegiant Air. And although flight prices are subject to change (of course), we were pleased with the prices we found for our early-September vacay. There was little wait time at either airport, and our travels went off without a hitch. (Hint: The Tampa International Airport is only 20 minutes away from the St. Pete–Clearwater airport and is just across Old Tampa Bay, which came in handy for us since that was the more cost-effective place for our St. Louis family to fly into.)


While in Clearwater, make it a point to check out Frenchy's Rockaway Grill with open-air seating. Photo courtesy City of Clearwater, Florida


Step 3: Plan Your Meals
We did most of our dining in our beach house. We were only in Clearwater for five days, and we wanted to waste as little time as possible driving around, waiting for seating and… honestly… making decisions. We went grocery shopping at a nearby Publix the day we got there, and we filled our fridge with easy provisions. Each night, we took turns cooking—grilling out and sharing food family-style around the giant dining room table. But if dining out is more your thing, Clearwater and St. Petersburg have some standby options that are definitely a must-try. 
In Clearwater, we went to one of the many Frenchy's (frenchysonline.com) restaurants to indulge in fresh seafood, fried grouper sandwiches and ice-cold margaritas. On your trip, make sure you go to the Frenchy's Rockaway Grill location, which has open-air beach dining that overlooks the Gulf. It's a great place to catch the sunset while you sip on a grown-up drink and nibble on garlic-crab French fries. Those fries alone are worth the trip. For breakfast, get a pretty little malted waffle from the friendly little Wildflower Café (wildflowercafe.net).
We didn't make it to St. Pete (remember, we were keeping this trip super-simple?), but I had a few St. Pete restaurants on my to-do list in case we did. One was The Mill Restaurant (themilldtsp.com), which features pretty, modern and fresh fare. Crispy pumpkin gnocchi, lovely charcuterie plates and roast beet panzanella salad were a few dishes that had caught my eye. Yummy, right? Even if it's not very beachy.


Enjoy an outdoor evening at Sunsets at Pier 60, a daily street festival featuring local artisans and, true to the namesake, spectacular sunsets. 


Step 4: Find Some Fun
When we started looking for things to do in the Clearwater area, we checked into some local visitor and travel sites for advice (visitclearwaterflorida.com, visitflorida.com and visitstpeteclearwater.com). They'll steer you toward visitor favorites and are a good place to start if you're planning your own trip and need ideas.
One option that just kept coming up over and over again was Sunsets at Pier 60 (sunsetsatpier60.com). It's a daily street festival that includes artists, crafters, street performers and of course some gorgeous Clearwater sunsets. If you stay in the residential areas on the north side of Clearwater, there's a good chance this fun-filled community event is even within walking distance of your beach house. 
Also walkable from that part of town is Caladesi Island State Park (floridastateparks.org/park/Caladesi-Island), which is connected to Clearwater Beach by a land bridge. The owner of our beach house rental even suggested borrowing her bikes and cycling  up there. It's apparently a pretty easy trek, but we didn't go that route. Caladesi Island is a little wilder than the public beaches, and it's a haven for wildlife enthusiasts and beach aficionados. 
For the art-lover in you, you can check out The Dali Museum (thedali.org) and the bright and vibrant Chihuly Collection at the Morean Arts Center (moreanartscenter.org) in St. Pete. Also in St. Pete is Sunken Gardens (sunkengardens.org), a 100-year-old garden and living museum that's full of lush tropical plants surrounding some pretty walking paths.
Step 5: Just Relax
Without a doubt, my favorite moments in Clearwater were the ones we spent on the beach that was just outside our rental house's front door. Oliver was totally fearless during his first beach visit, and he was mad about the waves. He loved finding tiny seashells and tossing them into the water. With shallows that seemed to go on forever, it was the perfect place for a little kid to play. The sand was white, the water was warm, and the beach was never crowded. That was one perk of staying in a residential area. We didn't want to fight any crowds, and we never had to. Most of the time, we had the beach to ourselves.
If you want to fully enjoy the Gulf, grab some beach chairs and a cooler full of cold drinks, and plant yourself on the beach in the evening just before the sun starts to go down. The sunsets are lovely, and if you're lucky you might even see some dolphins on the move out in the water. And what's a better way to escape the everyday bustle than by digging your toes into the sand while you watch the sun go down?


The nearby beach hiding troves of tiny seashells and kiddie-sized waves was 3-year-old Oliver's dream vacay location. 


Kid Stuff
If you have kids in tow, there is much fun to be had in the Clearwater–St. Petersburg area. Here a few picks to help you plan your own trip.

Clearwater Marina Aquarium

seewinter.com
Winter and Hope are the resident dolphins at this aquarium, which features tons of wildlife exhibits. You can find dolphins, sea turtles, sharks, stingrays and lots more. Kids can even hand-feed the stingrays in a shallow pool inside the aquarium, and they can watch playful otters scamper around in the Otter Oasis.
Captain Memo's Pirate Cruise

captainmemo.com
It's a cruise on a pirate ship. If you have a kid under the age of 10, that's probably all you need to know. You can cruise either during the day or at night. But either way, the goal is to embark on a swashbuckling pirate adventure that includes dancing, games for the kids, pirates they can interact with, and plenty of refreshments.


River Ventures

riverventures.com
If you're a fan of manatees—the friendly and playful little underwater puppies—then this is a must-do spot. At River Adventures, you get a chance to swim with manatees during a three- to four-hour cruise and snorkeling excursion through the Crystal River National Wildlife Refuge. This spot isn't exactly in Clearwater; you'll have to plan for a two-hour or so drive north to get there. But it's a great spot for a day trip. (River Ventures also offers scalloping trips, eco cruises and more.)  


Great Explorations Children's Museum

greatex.org
If a rainy day is keeping you off the beach, this spot would be a great place for your kiddos to expend a little mental energy. Creative and educational exhibits include the oversized blocks in the Imagination Playground, an interactive space for climbing and music-making in Explorer's Cave, a tactile excursion through the Touch Tunnel and more.