Recipes
Peas and Thank You
This spring, bright, sunny days help us shake off our hibernation. Shouldn't your dinner table get a bright, easy jumpstart to the season, too?
Written by Claire Porter | Photo by Abby Gust
May 2016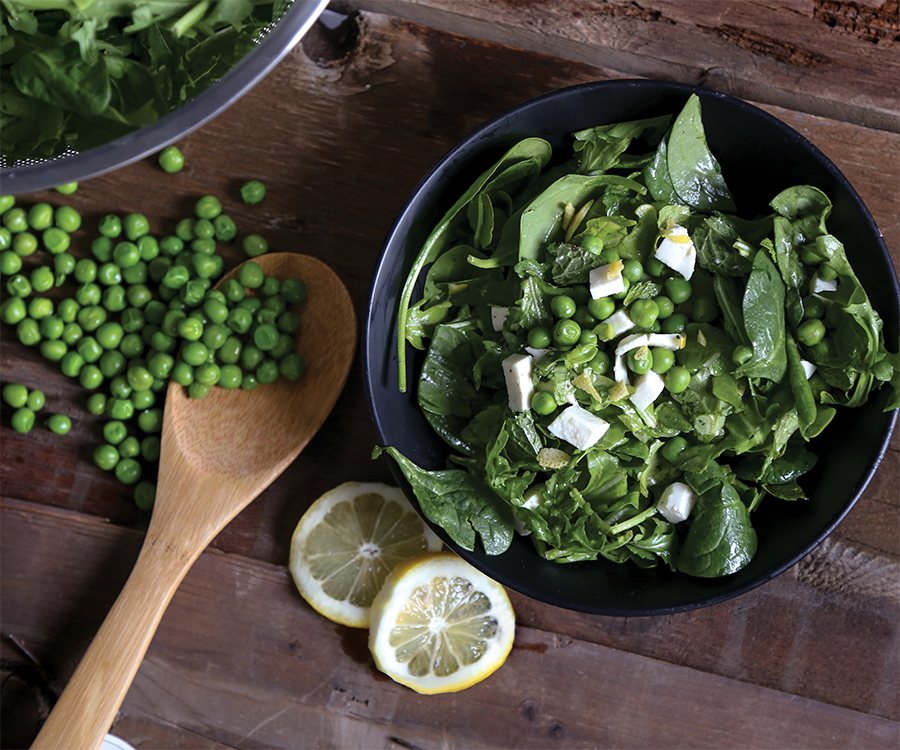 As vibrant, green grass shoots up from the ground and tiny flower buds stretch open their petals, head to the farmers market to take advantage of the early season veggies sprouting from the soil to help you break your winter root-veggies-and-onions rut. Piled high in the vendors' booths, you can expect to see Brussels sprouts, cabbages, lettuces, broccolis and spinaches, but if you're looking for all the bright, fresh flavor of healthy veggies without all the fuss, give peas a chance. 
Peas are a climbing legume, reaching peak season in spring and early summer. Their many varieties and textures make them a versatile addition to any dinner table. Most varieties hold up to light cooking, but all types can be eaten raw, and those with softer, edible pods make a quick and healthy snack. 
According to Lane McConnell, executive director of the Farmers Market of the Ozarks, you can find several different varieties of peas throughout the spring and early summer. Early spring yields garden peas (also called English peas or sweet peas) and sugar snap peas, whereas later spring and early summer yield different Asian sweet pea varieties such as snow peas. McConnell says many of the market's vendors specialize in many kinds of Asian varieties, each with its own subtle flavors and textures. "The best thing to do is to talk to the vendor to see what type or variety you're purchasing," McConnell says. 
In general, garden peas have a tougher, thicker pod. These are the peas that have to be shelled and are typically sold frozen. These peas are best—raw or cooked—when they're as fresh as possible, otherwise they get mushy and chalky. The sugar snap pea variety has a crunchy pod that contributes to its crisp, fresh texture, and it has an unmistakable sweet flavor. "The main type of pea you'll find at the market are sugar snap peas, which are best consumed fresh and not cooked," McConnell says. "That way you get the most sweetness." Asian sweet peas and snow peas shine when eaten raw, but their flatter shape, thinner pods and milder flavor also make them great in stir fries. 
Although the peas and their pods are the stars of the show, take some time this spring to explore pea shoots. Pea shoots are the sprouts, leaves and tendrils of an early pea plant, and though they have a distinctive pea flavor, their sweetness is what sets them apart. "It's like eating pure sucrose," says James Boosey with Blue Heron Farms, a farm specializing in microgreens, herbs and free-range chicken and duck eggs. "It's very, very shockingly sweet. For what it is, it's surprisingly sweet." Boosey says Blue Heron Farms' shoots and sprouts are grown in soil instead of hydroponically, giving them a full, leafy appearance and strong, hearty tendrils for maximum flavor and a longer shelf life. These intensely leafy 3-inch-tall sprouts can be eaten plain, on top of salads or mixed into Asian dishes to contrast the spicy, sour and hot flavors. Blue Heron Farms also grows a second type of pea sprouts entirely in the dark, giving them a pure white color and a starchy, intensely sweet flavor for more adventurous cooks and snackers.

To get your hands on some of these sprouts (and the peas to eat with them) head to the Farmers Market of the Ozarks. Starting this month, you'll be able to snag your spring veggies even earlier because FMO is opening Wednesday mornings from 9 a.m. to 1 p.m. in addition to its regular Saturday hours of 8 a.m. to 1 p.m. In addition to vendors, food trucks and concessions, FMO has also lined up a series of classes, festivals and kids' activities during this mid-week market.