Life
Freeze Tag
Need something fun to do when the whole family has a day off for Memorial Day? Try your hand at a game of Springfield Freeze Tag by tasting all the frozen goodness around the city.
Written by Katie Pollock Estes | Photo by Vivian Wheeler
May 2017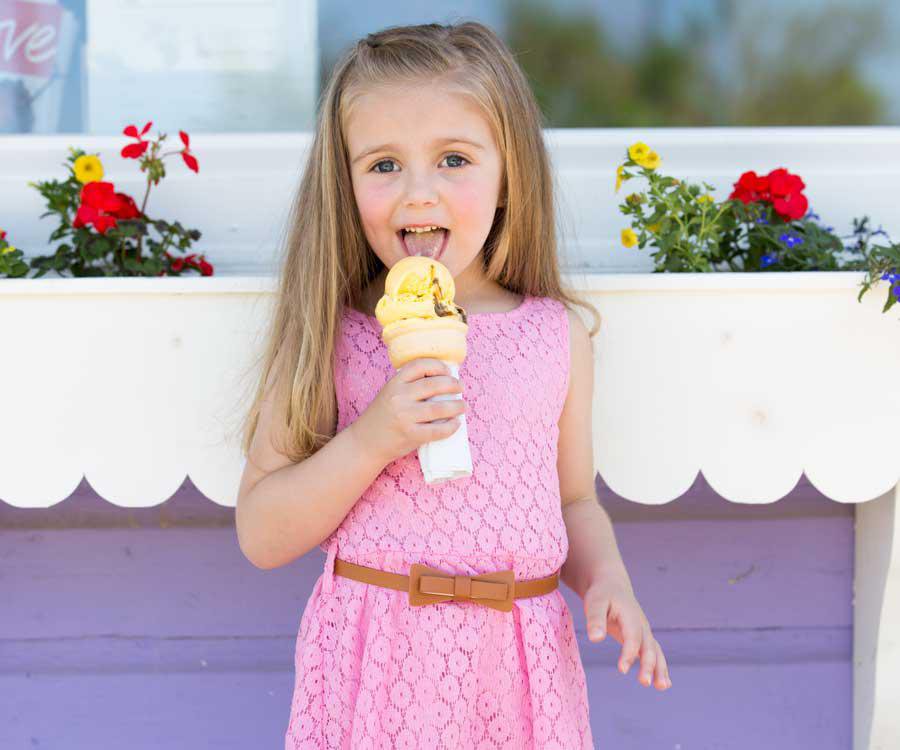 Elle's Patisserie
At Elle's Patisserie (1454 E. Cherry St., Springfield; 417-832-2171; ellespatisserie.com), the ice cream is homemade in small batches, and the flavors are more creative than what you'll find anywhere else in town. Among traditional tastes like strawberry, salted caramel and chocolate mousse, we've seen clever flavors pop up like pumpkin-amaretto, Guinness, cinnamon-basil and white chocolate poppyseed. This stuff is just so darn creamy, and it's served with a cute little waffle cookie. 
Cool Tip: Feel extra-fancy, and order a honey-lavender float, made with some of that oh-so-delish homemade ice cream. 
Pineapple Whip
If you're a Springfieldian who hasn't taken a dip of the Whip (multiple locations, pineapplewhip.com), you don't know what you're missing. This frothy, creamy (even though it's totally dairy-free), fruity concoction is the perfect warm-weather cool-down. Try the original pineapple flavor first, then explore the other varieties, like mango-peach, NanaGranate, strawberry-kiwi, orange and grape. 
Cool Tip: Try a twist that combines two flavors. We like a NanaGranate and pineapple swirl.
Andy's Frozen Custard 
On the opposite end of the spectrum from the lightness of Pineapple Whip is the oh-so-rich frozen custard from Andy's (multiple locations, eatandys.com). This place has the very best roasted pecans on the planet earth. The seasonal fruit is always a safe bet, too (we love the blueberry concrete), and the root beer float is a great thirst quencher.
Cool Tip: The strawberry shortcake sundae seasonal treat is available this month, and the blackberry concrete seasonal treat starts in early June. During that sweet spot when the two flavors overlap, order a blackberry shortcake sundae. You won't be disappointed.
Sno Biz
Sometimes you need a frozen treat that's as big as your head. We get it. When those sugar cravings hit, head to one of the Sno Biz Hawaiian (snobiz.com) shaved ice stands around town. The most fun part of a trip to Sno Biz is that you can combine flavor syrups from the huge menu to create something new every time you visit. It's messy and cold and sweet—summertime in a cup.
Cool Tip: You can make every flavor a little yummier if you add creme topping. Get it over a Tiger's Blood flavored treat for something that tastes a little bit like a tropical strawberry cheesecake.
Mae's Gelateria
This downtown spot serves creamy gelato and dairy-free sorbet in tons of flavors. Mae's (334 E. Walnut St., Springfield; 417-351-5969; facebook.com/maesgelateria) is one of those "something for everybody" kind of places, and kids will enjoy peeking into the ice cream cases to choose their flavor from a selection of 30. You'll find traditional flavors like pistachio and coffee and fun picks like marshmallow and cotton candy.
Cool Tip: Get a double scoop that combines luscious stracciatella (chocolate chip, basically) and Cappuccino Crunch for some chocolate-vanilla-coffee perfection.