Reviews
Review: Hula Hawaiian Kitchen
Taste raw fish done right by ordering the tuna poke at Hula Hawaiian Kitchen.
Written by Katie Pollock Estes | Photos by Brandon Alms
May 2017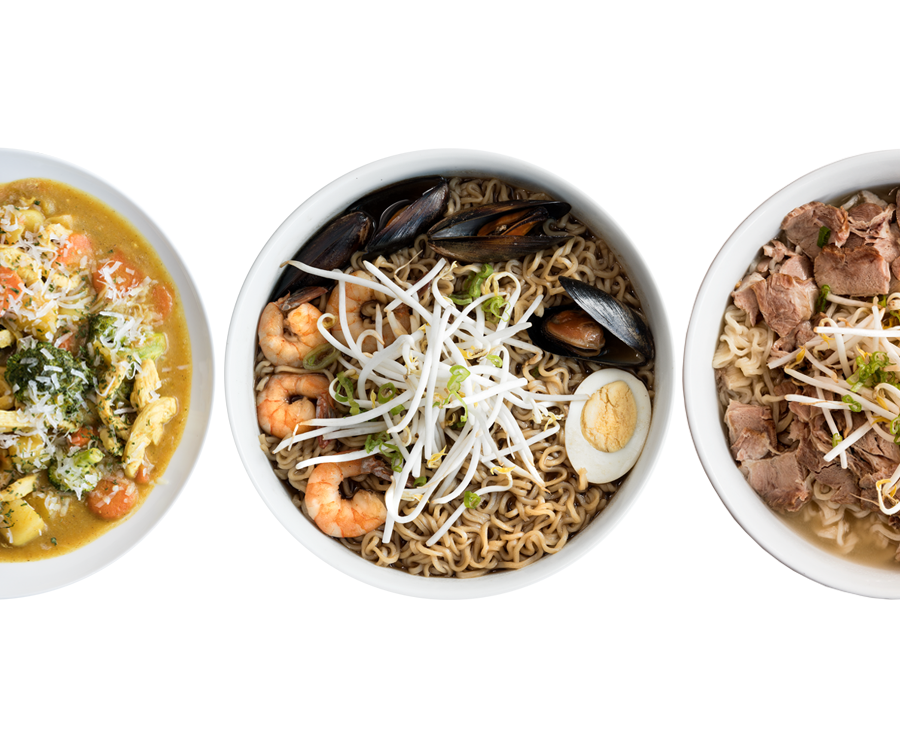 The Finnet's Coconut Curry has a thick, rich sauce that's light on coconut and spiciness (left). Get your ocean fix with the seafood ramen in a miso broth (middle), or customize your bowl with a protein and broth, like pork (right).
417-720-1116
Open Mon.–Thurs., 11 a.m.–9 p.m.;
Fri.–Sat., 11 a.m.–11 p.m.; Sun., 11 a.m.–5 p.m.
Last summer, while I was waiting for my baby to be born and mourning the absence of raw fish in my life, I started seeing stories pop in my newsfeed about Hawaiian poke. In case you didn't know, that luscious dish (pronounced poh-kay) is a salad that features cubes of raw tuna that have been marinated and then dressed a variety of ways.
There was a BuzzFeed article about where to get the best poke in New York City, a Food & Wine magazine list of "7 Things You Need to Know about Poke" and excited updates about new poke joints popping up in places like Boston and Chicago.
Chicago! Like Springfield, it lives in what Midwest Foreign Correspondent Jeff Houghton calls America's torso. Sure it has that nice, big lake. But no ocean. And there it was, having a poke moment.
When would Springfield have a poke moment?, I wondered. 
The setting at Hula Hawaiian Kitchen has a modern, beachy vibe.
You will not be surprised to hear that I ordered the poke appetizer. At Hula it's offered with either tuna or salmon, and I went with tuna. Although it lacked some of the visual flair you see if you look up how the dish is served in some other places, it totally delivered on flavor. The tuna was cut into perfect bite-sized chunks and arranged on top of a slice of pineapple with a lemon wedge and chopped green onion as garnishes. I squeezed as much of the lemon as I could onto the poke, and I was glad I did. It added a great little zip. The tuna itself was heavy on sesame oil flavor—one of my very favorite tastes. I found myself wishing for more of this good stuff before I was even finished eating it.
I also ordered a bowl of ramen, which is served up a few ways at Hula. I opted for seafood ramen in a miso broth base, but you can customize your own bowl. You choose between three soup bases (pork bone, miso and soy) and seven proteins (like pork, beef or tofu). Although the soup was hearty and warming, it wasn't my favorite ramen I've ever had. I found myself wishing for more variety in the ingredients or maybe a little spice. I want to give it another try, maybe with pork in a soy base or some other combo.
Pair your meal with a Big Wave Golden Ale. The authentic Hawaiian beer completes any meal.
My mom had the Moana entree with grilled salmon that's topped with a miso glaze and serve with rice and salad. That glaze looked delish, and my mom said she was a fan. Plus the portion of salmon was quite generous.
Eli and my dad tried the Finnet's Coconut Curry with tofu, and it was a little different than what you might expect if you usually get your curries from Thai or Indian restaurants. The sauce was thick and rich, but it was pretty light on the coconut and on the spice. In fact, it wasn't spicy at all. Eli enjoyed the dish, but we both agreed we probably wouldn't order it again.
On this trip, we didn't get a chance to try any of the Spam dishes (a Hawaiian classic) or any of the sushi. Now that I have the memory of that poke on my mind, I know I'll be coming back to give it another try. 
Next trip: Poke and sushi. Plus Spam if we're feeling brave.