Spaces
Front Porch Food
If you don't have acres or even a lot of square footage to spare, you can still plant fruits and vegetables that will keep fresh food on your plate all season long.
By Katie Pollock Estes
May 2017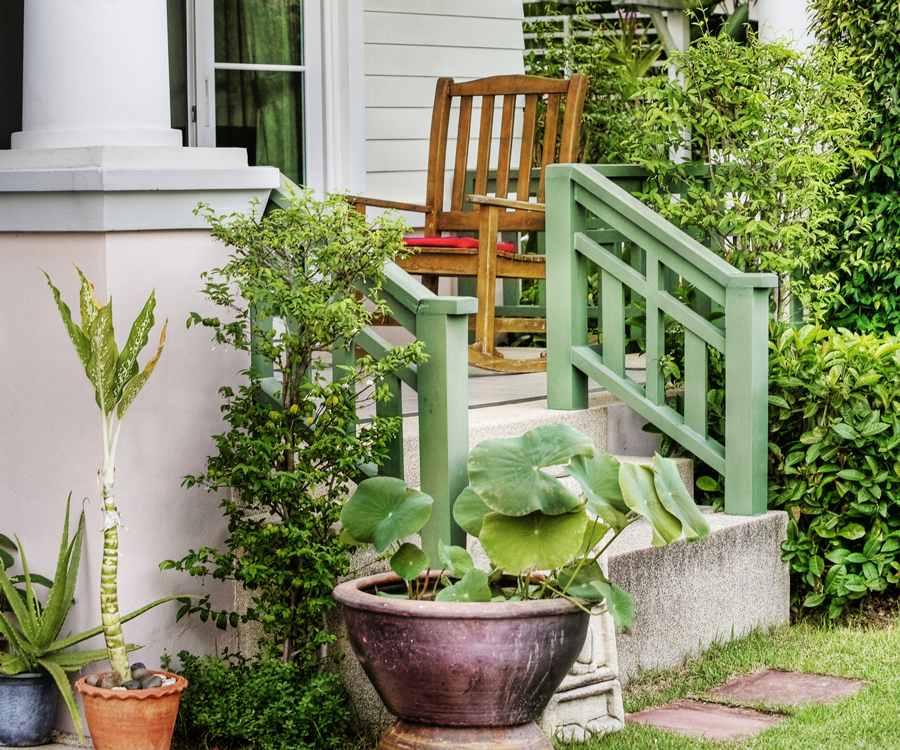 Here in southwest Missouri, our official frost date is May 2 this year. That means right now it's prime time to get your green thumb on and try your hand at a little gardening. If you don't have the space or maybe the energy to invest in a full-blown garden, then try your hand at some simple container gardening. There are plenty of things you can grow that will fare well in pots right outside your door.


Fruitful Harvest
Let's start with fruit. You probably aren't going to start an apple tree on your porch, so you'll want something smaller. Let's go with strawberries.
These sweet little nuggets are great for a porch garden, and you can even buy special strawberry-growing pots at Wickman's Garden Village (1345 S. Fort Ave., Springfield). They have a funky shape that includes terrace-like holes for the strawberries to poke out of as they grow. 


Herbilicious
Herbs are some of the easiest things to grow in pots, and their fragrance is incredible. You can plant multiple kinds of herbs in a single large pot to save space, or give each one its own little home. Oregano and mint are especially easy to cultivate and require very little attention. At Baker Creek Heirloom Seeds (rareseeds.com) in Mansfield, you can find some more unusual herbs that offer up some flavors you can't find in the produce section of the grocery store, like lemon balm and Thai basil.


Containing Your Climbers
Plants like cucumbers love to climb and can wind up taking up a whole lot of space in the garden. But that doesn't mean you can't grow them in a smaller space. You just have to give them what they need to thrive. That means building a little trellis to stick inside the pot or using a tomato cage, which (you might have already guessed) will make porch-grown tomatoes possible, too. These will give your plants a place to go, but you have to make sure you also prune them.


Pep in Your Step
Sweet and hot peppers make great container plants. As long as you have plenty of sunshine, they are easy plants to take care of. And if you think big, heavy bell peppers might be a little much in a container, don't worry. You can find pepper seeds in all shapes and sizes. Baker Creek offers fun and uncommon varieties, like the very hot and very beautiful Chinese Five-Color peppers or the sweet and bright purple Lilac Bell Peppers.
How Does Your Garden Grow?
We told you what to grow on your porch, but there are plenty of other local resources if you still need guidance.


---
University of Missouri Extension
The extension office's website offers tons of tips for growing all sorts of fruits and veggies in Missouri. There are guides for when to plant, how to grow, when to harvest, and what varieties work best in our state.
Wickman's Garden Village
This is paradise for plant-lovers. The store offers plant starts, seeds, pots, potting soil and literally every single other thing you might need to start planting.
Baker Creek Heirloom Seeds
When you want to grow something other than your garden variety garden varieties, Baker Creek is the place to go. The seed destination has more options than you can find at the hardware store, and many of them are heirloom plants.