Features
Southwest Missouri Farmers Market Guide
In spring, the farmers markets in 417-land come alive. Our guide shows you which local markets are the best places to visit and support local farmers, and what you can find throughout the year.
By Asia Key | Photography by Chuck Travers, Kevin O'Riley, Kyle Davis and Brandon Alms | Illustration by Heather Kane
May 2017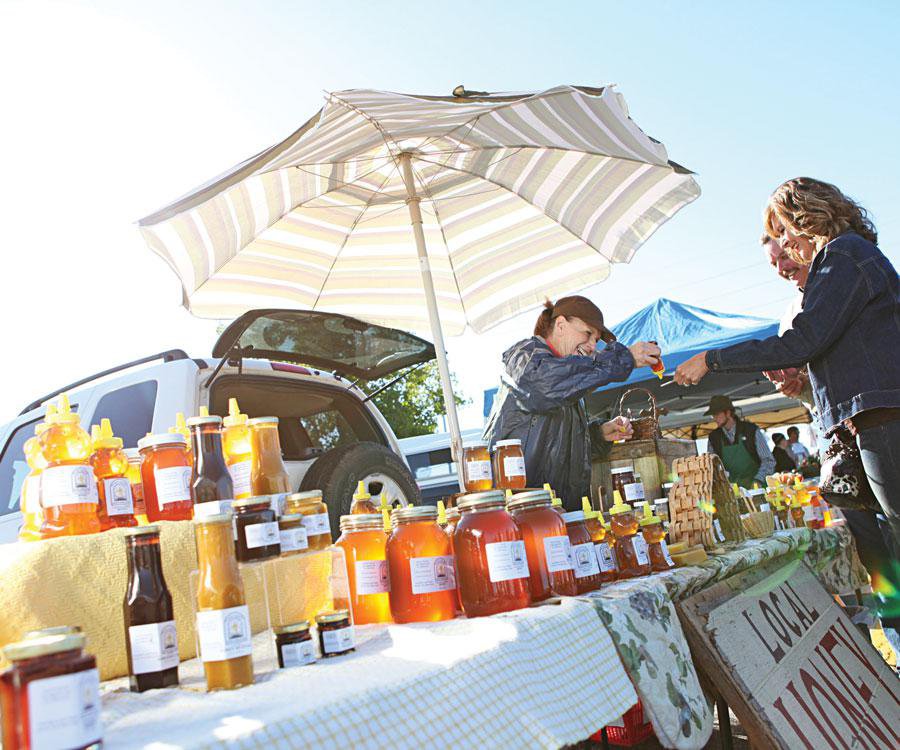 In spring, the farmers markets in 417-land come alive. Even the ones that are open year-round take on a new energy as the region's small farmers begin to harvest the springiest, greenest goodies as they pop up out of the Ozarks dirt. A stroll through the market is a feast for the senses, with the scent of herbs and flowers wafting through the air. 
Whether you are there for the social scene or to pick up fresh groceries for dinner, the market is a don't-miss stop during spring and summer weekends. Our guide shows you which local markets are the best places to visit and support local farmers, and what you can find throughout the year.
Farmers Market of the Ozarks
Shoppers flock to Farmers Market of the Ozarks every Saturday morning to pick up local goods.


With its vision to support locally owned business and connect the community to its local farmers by putting a face to their food, Farmers Market of the Ozarks (2144 E. Republic Road, Springfield) ensures customers come for the fresh groceries and leave with a one-of-a-kind experience. FMO has hosted a large variety of over 100 vendors since June 2013. Farmers sell fruits and veggies according to seasonality. Greenhouse growers and hydroponic gardeners, who use materials other than soil to grow produce, use farming techniques that allow them to offer the freshest, the greenest and the most colorful spinach, chards, butternut squash, beets and other produce all year. FMO boasts cultivated grass-fed beef, lamb, pork and other organic meats in all cuts and varieties. Interested in the freshness of local dairy? FMO provides space for milk and cheese vendors, as well as bakers to supply the artisan breads to pair with. Alongside freshly baked bread, you'll find cakes, cookies, brownies and specialty pastries. Come out to the Growing Sustainable Day event to learn some gardening techniques, or shop the weekend of Mother's Day to get a 15 percent discount at Metro Farmer. You'll feel warm and welcomed by the connectivity of community and support FMO provides.


Must-Try Item
Sweet Girl Bath and Body is a family-owned company that started humbly, searching for eczema solutions for their oldest son. Since then, it has grown to provide a plethora of natural products like lip balms, bath salts and chemical-free bug repellent. Sweet Girl's products promote the healthiest skin by using only natural ingredients, and swapping cheap additives and fillers for high quality moisturizers.
Must-Meet Vendor
Visitors are encouraged to learn every vendor's story, but Millsap Farm is one of the largest producers at FMO and has two stations to prove it. Millsap Farm has a community supported agriculture program, and it hosts pizza club nights on Thursdays to promote the benefits of using seasonal ingredients and bringing the community together.


Flower Power
Don't forget the flowers! Not everything at the market is edible. Some vendors specialize in seasonal flowers. Don't miss them on  your next trip to the market.
Several vendors at FMO sell singular cut flowers or bouquets based on their season. Specialty daisies, irises, peonies, coxcombs, sunflowers, honeysuckle and native vines fed by the light of the sun are plucked at their most colorful and displayed in beautiful arrangements at the market. Find them peeking over a hanging basket or bursting from the top of a mason jar. Red Barn Herb Farm is the largest grower of scented geraniums in Missouri, and you can satisfy any other floral needs at the tables of Millsap Farm, T & M Fresh Produce, Parker Farm, Netzer Farms, Millers Produce or Good Luck Farm. 
---
Greater Springfield Farmers' Market

Buy local honey at the Greater Springfield Farmers' Market. 


The best way to put it? Anything that's grown or produced locally and is in season will be at the Greater Springfield Farmers' Market (2951 S. Glenstone Ave., Springfield). Since January of 1979, this market has been farmer-owned, managed and governed. Up to 90 percent of the products sold here are agricultural, though there are vendors who sell jewelry and specialty skin products. One thing you can count on is anything you pick up was planted by the owner who is sitting behind the counter of his or her booth. At the GSFM, you can drizzle some raw honey over freshly plucked raspberries, strawberries and blackberries from Notchberry Farms. You can confidently buy pork from Madewell Meats and know that the hogs have been handled by a man who's made pigs his business for more than 50 years. Dan Johnson of Johnson Gardens, who has been with the market since it began 38 years ago, tells tales of the perfect pepper or the greenest head of lettuce he's ever seen. The heirloom tomatoes, heavy cantaloupes and juicy peaches you see haven't even been off the vine, from the tree or out of the earth for more than 24 hours. Come out May 27 to celebrate local craftsmen and artisans at Arts and Crafts day. Here, the vendors are a tight-knit community of farmers who are genuinely friendly and honest about the products displayed in front of them. 



You are sure to find a flavor combination you love of Natures Lane homemade jams and jellies.


Must-try item
Good and hot pepper jellies are hard to come by, but you can pick up a free sample of Natures Lane homemade cranberry jalapeño jam at GSFM.
Must-meet vendor
Catch 25-year vendor Carl Burky riding up on his Harley Davidson and his wife following closely behind with a van full of zucchini, radishes, beets and other fresh garden vegetables.
---
Fair Grove Farmers Market

Get your blackberry fix with the fresh pick from Notchberry Farms.

On the grounds of Fair Grove's oldest-standing structure, the nationally recognized historic Wommack Mill, customers come to appreciate an exclusively producer/grower market where local farmers sell what they have plucked from their property that same morning. FGFM (Highway 125 and Main Street, Fair Grove) emphasizes the concept of farm-to-table, so shopping here is like browsing your neighbor's backyard for their reddest tomato or plumpest watermelon. Once a month, the market hosts a live animal swap meet that features farm creatures like bunnies, miniature goats, Egyptian quails and Easter Egger chicks that lay blue and green eggs. Say hello to the animals or take one home for your table. Some of the vendors include Simon, an Amish farmer who sells seasonal vegetables like squash, potatoes and onions, and his wife who sells flowers. Bobbi Rotremel uses the fresh fruit from the market to create baked goods. Jack Brooks of Brooks Farms sells honey from the comb, which can be used to treat stomachaches. Pates Orchard brings juicy peaches that vendor Lysa Castillo transforms into peach preserves. The farmers and customers do their part to fill the Heart to Heart bin with fruits and vegetables to be donated to seniors at the local home. You can also find ornamental plants, eggs, soap and lotions made from goat milk, freshly butchered meats, bell peppers and all sorts of other produce that's guaranteed to have been loved from seed to harvest. At FGFM, they pay more attention to honoring farmers than the almighty dollar.
Must–meet Vendor
Blue-haired Lysa Castillo owns Crazy Lady Farms, runs the animal swap meet and Kids Corner and passes out Indian Corn free to the kiddos so they can learn how to grow their own food.
Must–try Item
You can't leave Wommack Mill without tasting one of Bobbi Rotremel's blueberry or raspberry scones.
---
C-Street City Market
Historic C-Street (321 E. Commercial St., Springfield) is known for being a hub of entrepreneurship, good food and music. According to the Origins page of Commercial Street's website, this district led the business and population boom in Springfield, sparking growth in industry and entertainment. The market ties into this motif perfectly by uniting the urban community with local farmers and artists to create a colorful and modern experience. Most of the vendors here don't have a brick-and-mortar business. They run their operations from a home or studio and sell their products on C-Street. The market features non-GMO heirloom produce, grass-fed meats, fresh eggs, blackberries, coffee, jewelry and so much more. Fiber Femmes shears the wool from sheep, dyes it in fun colors and spins it into wool right at the table. Planning on starting your own garden? Simple Grow has your back with fertilizers made from worm castings and flies. Try the El Salvadoran, Colombian Supreme or Brazil Dark Roast from Julia's Java. Or pick up a purse, a phone case or a tote bag that's made from upcycled denim from Fabric Foundries. You can enjoy the relaxed atmosphere as you get a henna design from Rosette Studios and listen to live music from local artists. Come May 20 to sit out with a pineapple or lemon Jeanne Whip and check out antique cars and motorcycles at the Kiltie Car Show. 


Must-See Vendor
Springfield Community Gardens has a mission to create gardens that strengthen neighborhoods where people grow healthy relationships, food and community. They have more than 20 gardens where people can grow their own food, volunteer and do workshops to learn gardening techniques and how to live healthier. They'll be selling fresh produce like cucumbers, cabbage and carrots at the market this year.


Must-Try Item
Chimney cake from Old Country Chimney Cake and Bakery is a hollow sweet bread treat that's fried and rolled in tasty ingredients like sugar, peanut butter and chocolate chips. 
---
Webb City Farmers Market

The Setting up at the Market mural painted by Kyle McKenzie shows the scene before market begins.


Take No. 60, the bright, green street car restored from 1910, around this producer-only market (555 South Main St., Webb City) and experience Webb City like it was during its economic boom. Here, you can listen to live music while you enjoy a meal that's been provided by one of the vendors. Beginning the last week of May, Webb City collaborates with the USDA free and reduced lunch program to provide a free meal to kids aged 18 and younger—breakfast on Saturdays, lunch on Thursdays and supper on Tuesdays. Last year, the market averaged 150 kids per session, but they're aiming to feed over 200 in 2017. These meals are loaded with fresh produce and high in nutritional value to get you energized enough to make your rounds through the market. The average age of farmers in the USA is 58, but Webb City boasts the future of farming, with many vendors in their 30s and 40s. Pete Roffman grew up on a conventional farm, but since he started his own three years ago he's become a completely organic farmer. Fue Yang, one of many Hmong farmers at the market, hosts a year-round growing education center on his farm. About half of Webb City's customers are young families. To cater to this crowd, they have a kid's community garden and on May 20 will partner with Wildcat Glades, a nature center in Joplin, to host Birds, Bees and Butterflies with the purpose of educating kids about the great outdoors. The on-site commercial kitchen is perfect for the weekly Cooking For A Cause events, where vendors supervise the preparation of a meal and all proceeds go to the nonprofit that hosts that week. Webb City has a strong sense of community, well-being and joy—which is what makes returning customers describe it as their happy place.



Webb City Farmers Market sells bibb lettuces along with many other types of fresh produce. Bibb lettuces mature early as small, bunched rosettes. Generally grown for mini heads, tender Bibb lettuces are known for their sweet flavor. 

Must–Meet Vendor
Visit the year-round chemical-free farming pepper experts at Oakwood Farms, and get your pepper roasted right at the market.


Must–try Item
Try Fairhaven Berries and produce vendor Carolle Palmer's "Traffic Jam," a concoction of strawberry, cherry, red raspberry, cranberry and rhubarb, or her apple butter that's been dusted with the cinnamon flavor of Red Hots.
---
Seasonal Produce Guide
1. Lettuce | April, May, June
​2. Green Onions | April, May, June
3. Spinach | April, May, June
4. Radishes | April, May, June, July
5. Asparagus | May
6. Broccoli | May, June
7. Strawberries | May, June
8. Plums | June, July
9. Gooseberries | May, June, July
10. Blueberries | June, July
11. Cauliflower | May, June
12. Peas | May, June
13. Turnips | May, June, August
14. Cherries | May, June
15. Beets | June, July
16. Eggplants | June, July, August
17. Summer Squashes | June, July, August
18. Carrots | June, July, August, September
19. Okra | June, July, August, September
20. Tomatoes | June, July, August, September
21. Sweet Corn | June, July, August, September
22. Potatoes | July, August, September
23. Peppers | July, August, September
24. Blackberries | July
25. Peaches | June, July, August, September, October
26. Brussels Sprouts | June, July, August, September, October
27. Green Beans | June, July, August, September
28. Cucumber | June, July, August, September
29. Cantaloupe | July, August, September
30. Garlic | July, August, September
31. Watermelon | July, August, September, October
32. Grapes | August
33. Winter Squashes | August, September, October
34. Apples | August, September, October
35. Pears | September, October
36. Pumpkins | September, October
37. Cabbage | September
38. Raspberries | August, September
39. Sweet Potatoes | August, September
---
Pro Tip: Bring a Basket