Reviews
5 Best Chicken Wings
We've found the five best wings in 417-land. Our list has wings that are sweet, crunchy, spicy, tangy and even garlicky. No matter what mood you are in, we have you covered.
By Dylan Whitaker
Nov 2011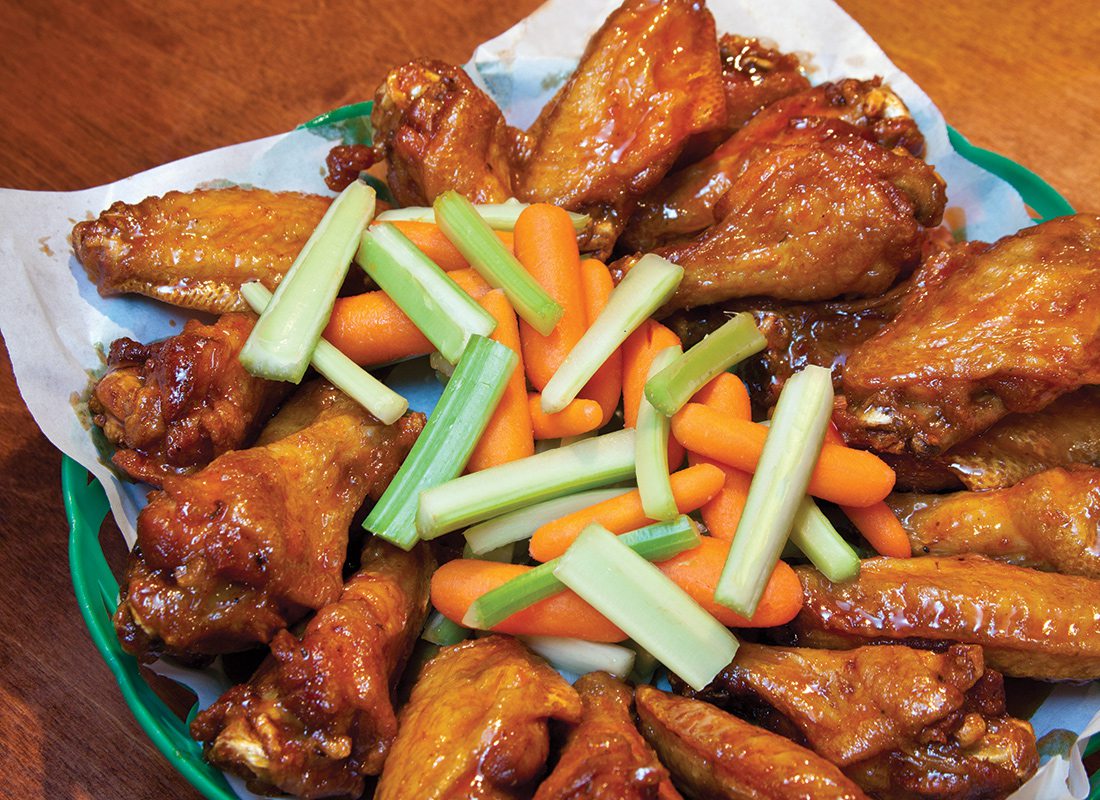 Hot & Honey
Hackett Hot Wings
520 S. Main St., Joplin, 417-625-1333, hacketthotwings.com
Do you like a mix of sweet and spicy? Then the hot & honey wings here will blow you away. They are cooked perfectly and give a super-crisp bite each time, even after they have been sauced. These guys are not too spicy, but they still have a little kick. The honey pairs nicely with the spicy tang of the hot sauce. The accompanied carrots and celery are seasoned, which is something I have never seen. But man are they good.

Wasabi
Patton Alley Pub
313 S. Patton Alley, Springfield, 417-865-1188, thepattonalleypub.com
Finger-licking good is an excellent way to describe the wings at Patton Alley Pub. These guys are coated in a thick wasabi sauce that is absolutely stunning. The spiciness from the wasabi is more of a vapor that hits your nose instead of your tongue, so the heat is short-lived. At first, each bite has a strong punch that almost takes your breath away, but it fades after a while, so every morsel is enjoyable.

Garlic-Parmesan
Wing Shack 
(Editor's note: This restaurant has closed since the time of publication.)
Wing Shack's version of garlic-Parmesan wings is a welcomed change of pace. Instead of the typical saucy wings with tiny chunks of garlic and soggy Parmesan cheese, these babies are really crispy. They are tossed in a spice mixture of garlic and Parmesan to create a nice crust. It's almost like a dry rub that's put on at the end instead of the beginning. Each bite has a nice crunch, and they are delicious.

Twice-Fried
Coyote's Adobe Café & Bar
1742 S. Glenstone Ave., Springfield, 417-889-7120; 807 N. Main, Nixa, 417-725-6803, coyotes4wings.com
The twice-fried wings might look a little odd to some because they come out kind of black. But just trust us; the flavor is amazing. They're double-dipped and doubled-fried. This creates a light two-level crust of buffalo flavor packed inside each bite. Eating them is almost like eating barbecue burnt ends, except you get that deep, tangy buffalo wing taste.

Original Buffalo
Big Whiskey's American Restaurant & Bar
311 Park Central East, Springfield, 417-862-2449; 1440 W. Republic Rd., Springfield, 417-882-2249, bigwhiskeys.com
Big Whiskey's wings definitely sway to the big and meaty side of the pendulum. This is a good thing, because it adds more room to slather on the delicious Big Whiskey's Original Buffalo Sauce. The signature sauce is a mix of barbecue, mesquite and buffalo. The smoky mesquite flavor really helps cut the sweetness and adds some depth to the spice. These fellas have a little heat but not so much that you'll need a refill on your water… or beer.