Urban Jungle
Our writer wound up in Singapore and loved every minute of it. Read about her adventure in a city that combines incredible food and lush green spaces in an urban setting, then plan a trip of your own.
By Leah Still | Photos by Leah Still
Nov 2014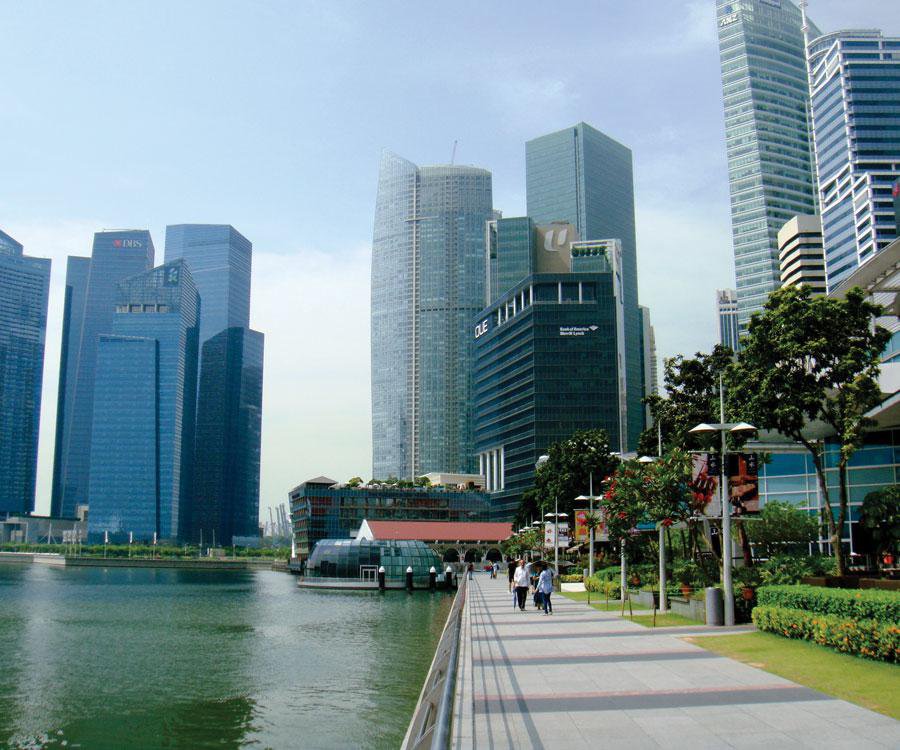 Singapore was never on my list of places I dreamed of visiting one day. Would I be willing to go? Sure. But there was nothing drawing me there. I think that's how many people feel about Singapore—that it's a relatively humdrum place of skyscrapers, fancy hotels and no chewing gum. 
But the opportunity came up, and off I went to the tiny Southeast Asian island country off the tip of the Malay Peninsula. I spent a week in this urban jungle and learned that I actually love Singapore. There are three big reasons: amazing cheap food, unexpected amounts of green space (monkeys included), and easy access to tropical paradises in nearly every direction. Plus, it's Western-friendly: spotless (even public bathrooms), English signage, drinkable water and an easy-to-use and clean subway.
The verdict? It's much more than a stopover city for Southeast Asia backpackers or a business hub for corporate jetsetters. 
Good Eatin'
Singapore is renowned across the globe for its stellar and diverse food scene, from the crème de la crème of fine dining to the famous hawker centers (a.k.a. food courts), so I was looking forward to discovering what all the fuss was about. As a girl on a budget, I was mostly in search of the cheap street food, but I did have one foray into Singapore fine dining and it turned out to be my very first meal—breakfast—in a very jet-lagged state. After walking outside and being accosted by a thick wall of humidity that I didn't notice when I arrived in the middle of the night, I wandered aimlessly down the street in search of food. On Scotts Road, not far from the Orchard Road shopping center, stood a charming black-and-white colonial bungalow housing Indocafe (thehouseofindocafe.com), a restaurant serving Peranakan cuisine (a bit of a blend of Chinese and Malay). One look at the words "pork French toast" on the menu, and my search was over. 
I wasn't exactly dressed for the elegant décor, but I was ushered inside by a friendly host and brought an $8 cup of coffee (hence the reason I spent the rest of my meals at the street stalls). Pork French toast turned out to be roti babi, a sort of French toast sandwich with a filling of ground pork, served with a delicious dipping sauce. I also filled up on kueh pie tee, small wonton-like cups filled with more pork and veggies. It wasn't exactly the breakfast food I was looking for, but it was delicious and a nice introduction to the city. 
The rest of the week was a spectacular blur of noodles, sushi, rice and curries from hawker centers and locals' joints. One particular standout was a restaurant called Komala Vilas (komalavilas.com.sg) in bustling Little India. The two-level restaurant was hopping, packed mostly with locals (a good sign!). After Googling a few Indian terms from the menu (there were no English explanations), I was rewarded with gobi masala (a curry with cauliflower), jeera pulao (a rice dish), and palak paneer (a curry of spinach and cheese), all scooped up with pieces of naan (bread) and washed down with a mango lassi (a smoothie-like yogurt-based drink). There was no silverware available; I was skeptical at first, but happily ate with the naan when I got my first whiff of the Indian spices.
Other highlights throughout the week included a sweet and sour pork dish from a nameless sidewalk restaurant known as 'yellow chairs,' aptly nicknamed for its yellow plastic chairs, and a bowl of noodles with beef, peppers and green onion, all simmering happily in hot broth from one of the dozen or so stalls at the Holland Village Food Court. This hawker center is often overlooked in the Holland Village area, where tourists tend to frequent pricier restaurants and familiar names like The Coffee Bean & Tea Leaf. Avoid the familiar, and follow the locals straight into the bare bones food court—you won't be sorry.

Keramat Iskandar Syah, a secluded terrace in Fort Canning Park, is dedicated to the last king of Singapore's 14th century golden age.

Gardens by the Bay's impressive Supertree Grove is a little bit magical and a lot of beautiful.
Green Spaces
Known for its sleek skyline and uber-luxurious hotels like Raffles, Singapore doesn't usually bring to mind the great outdoors. But as soon as I opened up my Lonely Planet guidebook, I learned how misled I truly was. The city-state is awash in parks, gardens and nature reserves, some of which are made up of primary rainforest and offer hiking. 
Considering how much food I'd been consuming, I was happy to know I had options for some calorie burning, so I headed to Kent Ridge Park to tackle the Southern Ridges, a pedestrian route on the southern end of the island. It connects several parks via treetop walkways and bridges, all the way to Mt. Faber, one of Singapore's highest peaks. (You can also cheat and take a cable car to the top of Mt. Faber, but the prize views of several Singaporean islands dotting the turquoise water won't be nearly as rewarding.) The 6-mile walk took me a couple of hours more than I'd planned (the heat! the humidity! the sweating!), but with a Zen garden, colorful flowers, an exotic lizard and a chance to spot a monkey around every bend, I didn't mind. 
The rest of my encounters with Singapore's natural side were less exhausting. After spending a morning walking along the Singapore River, I stumbled upon Fort Canning Park, nestled on a hill between Clarke Quay and Orchard Road in a busy part of the city. It's not a must-see but it's interesting for history buffs; the hill is thought to have been the royal seat of the Malay kingdom in the 1300s and was the site Sir Stamford Raffles chose to build his first home when he founded Singapore around 1820. I strolled along the walking paths, came across a secluded temple, and admired the views from Raffles' old house.
Definitely worth a visit is the popular Night Safari, an after-hours zoo set in a nature reserve. Seated in an open-air tram, I was taken on a journey around the subtly lit wildlife park where nocturnal animals were putting on a show. We stopped in front of a pair of lions giving each other their baths, a tiger on the prowl, otters getting exercise, and a couple of elephants doing a funny dance that apparently aids their digestion. 
On my last evening, I visited Gardens by the Bay, a 250-acre park consisting of three waterfront botanical gardens. One of Singapore's latest attractions, the gardens made travel headlines across the world when they opened in mid-2012, and they happen to be one of the country's most fabulous green spaces. 
I recommend beginning as I did with twilight aerial views of the gardens from the rooftop deck of Marina Bay Sands, Singapore's glitzy resort and casino known for its outrageous architecture resembling a ship sitting atop three towers. If you're not a hotel guest, the best way to gain access to the deck is by buying a drink at the 57th-floor Ku Dé Ta bar; the bar faces the city, not the gardens, so when I got off the elevator, I peeked at the gardens before heading inside and was astounded by the expanse of greenery, walking paths and two conservatories, all on a corner of land where the Singapore River meets the sea. 
After one $22 martini, I headed back down to the main floor of the hotel, where a pedestrian bridge leads to Gardens by the Bay. It was dark by then, and the gardens had a magical glow. The walking opportunities were endless, with paths in many directions leading to plants from around the world, peaceful lakes and a domed cloud forest. 
One of the most stunning features is the Supertree Grove, a grouping of 80- to 165-foot 'trees' that look like something straight out of Alice in Wonderland. The trees have concrete cores but living skins made up of hundreds of plants, and they come alive at night with twinkling lights. It sounds cheesy, but the effect is quite dazzling, as is the whole complex. It was a satisfying end to the week to say the least. A calming outdoor retreat paired with a little magic—perfection. 

An aerial view of Gardens by the Bay from the top of Marina Bay Sands shows off the spacious wooded park.

Juara Beach on Tioman Island offers visitors a relaxing dose of solitude and white sandy beaches.
Getaways
As great as Singapore turned out to be, I didn't fly 18 hours across the entire Pacific Ocean to see only one city. Conveniently, this city is surrounded by all of those tropical destinations that make you drool on magazine covers: Bali, Thailand, the Maldives and Borneo. The list goes on and is quite overwhelming, but after narrowing down my options to something easy to get to, I ended up on Tioman Island, a Malaysian isle in the South China Sea. Just hop on  an aircraft that looks like it probably once fought in World War II, and 30 minutes later you're there. 
In a nutshell, Pulau Tioman, as it's known locally, is pretty dreamy—warm aquamarine water, soft sand, jungle-y hilltops covered in a thick blanket of greenery, and big fat coconuts growing on trees. My holiday fantasies also include a few caveats (not crowded, not fake, not 'Americanized'), and Tioman delivered. Three days at the Berjaya Tioman Resort, a full-service hotel with a Polynesian feel on the western coast, were spent swimming, snorkeling, discovering waterfalls and speeding through the jungle on a jeep tour. If this is a typical weekend getaway from Singapore, perhaps it's time for me to become an expat myself.
Travel Tips
When to Go
Singapore sits just above the equator and is always hot and humid; avoid November to January, the rainiest months.
Getting to and from Singapore
Fly into Singapore's Changi Airport and take a cab to your hotel. The airport is served by dozens of airlines, including United.
For a trip out of Singapore, fly out of Changi for most destinations; alternatively, rent a car and drive north into Malaysia.
Getting Around
Singapore's metro system, the Mass Rapid Transit (MRT), is easy to use; signs and directions are in English and Chinese, and often Indian. Buy a pass or single-ride tickets from the machines at any station. Cabs are also easy to find in central areas. 
Eating
For inexpensive and tasty food, visit the Holland Village Food Court hawker center. A hawker center is essentially a food court lined with stalls selling inexpensive Asian dishes of all kinds. They are the opposite of fancy and might not look appealing at first glance, but the crowds of locals aren't wrong. Just look for a stall with either an A or B health department grade (a sign should be posted) and a long line, signaling fresh, hot food.
Green Spaces
Southern Ridges and Mt. Faber
Directions: Start in Kent Ridge Park, reached by the Kent Ridge MRT station, and follow the signs for the Southern Ridges all the way to Mt. Faber, where you can then catch the MRT at the HarbourFront station. 
Fort Canning Park
nparks.gov.sg
Night Safari
nightsafari.com.sg
Gardens by the Bay
gardensbythebay.com.sg
Getaways
Berjaya Tioman Resort, Tioman Island, Malaysia, berjayahotel.com/tioman