Spaces
Transform Your Home for Fall
With the lower temperatures and shorter days, it's time to dial up some warmth in your home. Read on for tips from some of 417-land's best interior designers who will infuse your home with seasonal freshness.
By Han Zhao | Photo courtesy Decorating Den, shutterstock
Nov 2014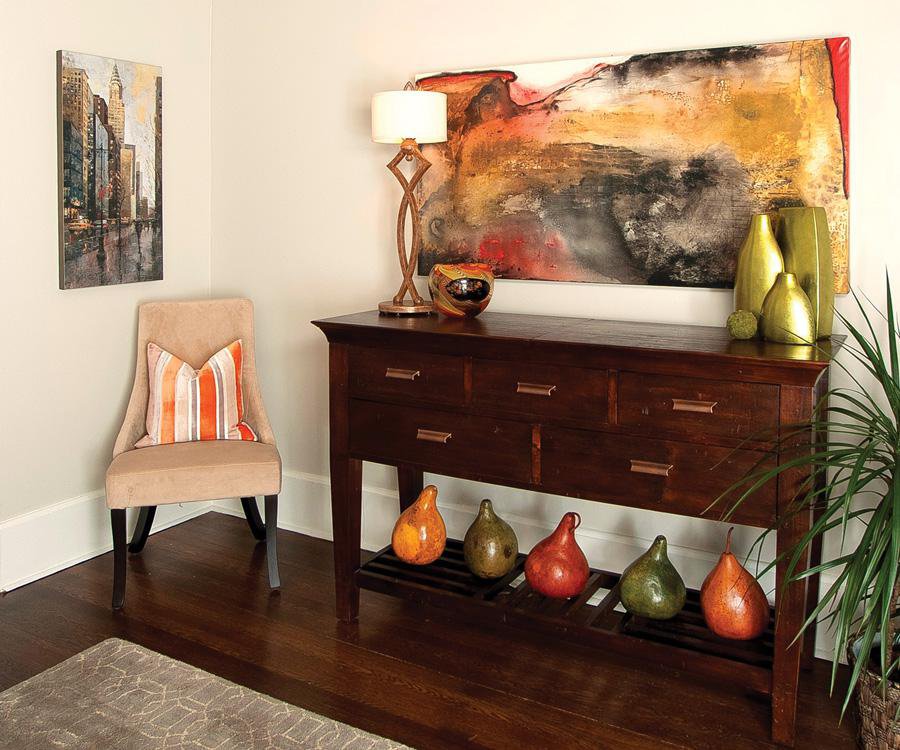 TIPS FROM: CINDY LOVE 
with Cindy Love Interiors
1.Be sure to accessorize your front door. This greeting area is the first chance to introduce the season. Set mums and gourds in an old wooden wheelbarrow or old wooden buckets. Also, consider accessorizing with wreaths with natural elements like bittersweet, which grows wild here.
2. Add groupings of different-sized candles and lanterns around your home. Stagger them on different levels using books and boxes.
3. Swap out decorative pillows and throws for items made with richer fabrics, and consider swapping out artwork and area rugs if you can.
TIPS FROM: RON JOHNSON
with The Thicket
4. Change out artwork to include more autumn pictures or colors. One idea is to change your personal photos to fun pictures taken in the fall, like Halloween pictures. 
5. When you walk in the front door, you want it to smell like fall. Consider adding reed diffusers, potpourri or candles, which are all easy ways to bring in fall smells. 
6. Place a big bundle of birch logs by the fireplace. The texture and subtle suggestion of cooler days and nights ahead by the fireplace will definitely give you the feeling of fall.
TIPS FROM: DECORATING DEN INTERIORS
7. For extra impact, place a fall floral arrangement in front of a mirror that is hung above a console table. Switch out any summer greenery or floral arrangements with something more appropriate for autumn.—Nola Shivers, Decorating Den Interiors
8. Freshen up the front of your house by removing spent summer flowers from window boxes and planters. Replace with chrysanthemums and kale, which make beautiful autumn combinations that are frost-tolerant and will give you color all the way to season's end. You can add even more color and texture with purple fountain grass, pumpkins, gourds and small evergreen shrubs.—Melissa Lepper, Decorating Den Interiors
9. Use uniquely colored gourds to add interest, texture and excitement to your fall décor. Don't be afraid to use colors other than orange and brown. Bright greens and yellows look great in combination with the traditional autumn tones.—Heather Landolt, Decorating Den Interiors
TIPS FROM: SHANNON PENNELL
with James Décor
10. Arrange dried beans, peas and acorns in hurricanes around pillar candles. This gives a warm, earthy feel. 
11. Use branches, twigs, berries, pumpkins and gourds instead of floral arrangements on tables and mantels.
12. Change your candles to fall scents, such as pumpkin spice or apple pie. 
TIPS FROM: JACQUE PITTS
with Brashears Furniture
13. Feathers, sticks and berry branches can make a beautiful and simple fall arrangement, and deer antlers can also be mixed in to bring in a masculine touch. Frame some dried leaves for a fall piece of art.  
14. Bring a little of the outdoors in, and decorate your home with natural elements. Pine cones and branches work great for scented mantel décor or as a wreath on your table. Dried corn can be hung on a door, and gourds make pretty decorative balls in a wood or metal bowl on a table as a centerpiece. 
15. Change out your bedding, throw blankets, bathroom towels and throw pillows.  If your home is already decorated in fall colors, add some fall-like textures and patterns. Nothing gives a more cozy, warm feeling than fur or velvet. Burlap works great for a table runner or table cloth in fall. Leaf and pine cone patterns will also give you a look of fall.
TIPS FROM: KIMBERLEE STOCKWELL-BRAASCH
with Kimberlee Designs
16. Lanterns are very popular right now, and you can find them everywhere. Group lanterns on your table or mantel. Put all the same color candles in each one for consistency, and put fabric underneath the display to add another layer of décor.
17. Mix metallic in with your fall decorations to jazz up any design. Use metallic mesh ribbon in silver, gold or copper, and pair it with candlesticks, gourds and pumpkins for a table arrangement. 
18. Think large. Get large gourds at local farmers markets, and hang them in a trio at different heights. Paint them with your favorite high gloss spray paint, and consider using masking tape before you paint to create a design.
TIPS FROM: KIM WOOD
with Kim Wood Designs
19. Bring the outside in by decorating with sprays of leaved branches, berries and cut fall flowers with characteristic colors of autumn such as orange, reddish brown, butterscotch, and burgundy. Try avoiding a typical holiday theme, so you can extend the décor through Thanksgiving. 
20. To transform your home for fall, you might try switching some of your sofa throw pillows to a warmer tone. Reds, oranges and yellows are a great way to go. This is also a great time to switch from your warm weather bedding to cool weather bedding. Toss a fall throw on the end of your bed, and change out your pillow shams and decorative pillows to coordinate.
TIP FROM: NATHAN TAYLOR
with Obelisk Home
21. The simple addition of timeless home décor pieces can add a touch of fall to any room. Copper chargers, antique brass accessories and distressed wood candlesticks blend in with your everyday décor and give a warm touch to the room without feeling contrived.