1906 Gents
For the owners of The 1906 Gents, their business philosophy is quality over quantity—period. Co-owners Reuben Uhlmann and Dante LaCivita are passionate about producing the highest quality wood products that will last the lifetime of their customers.
by Ren Bishop
Nov 2015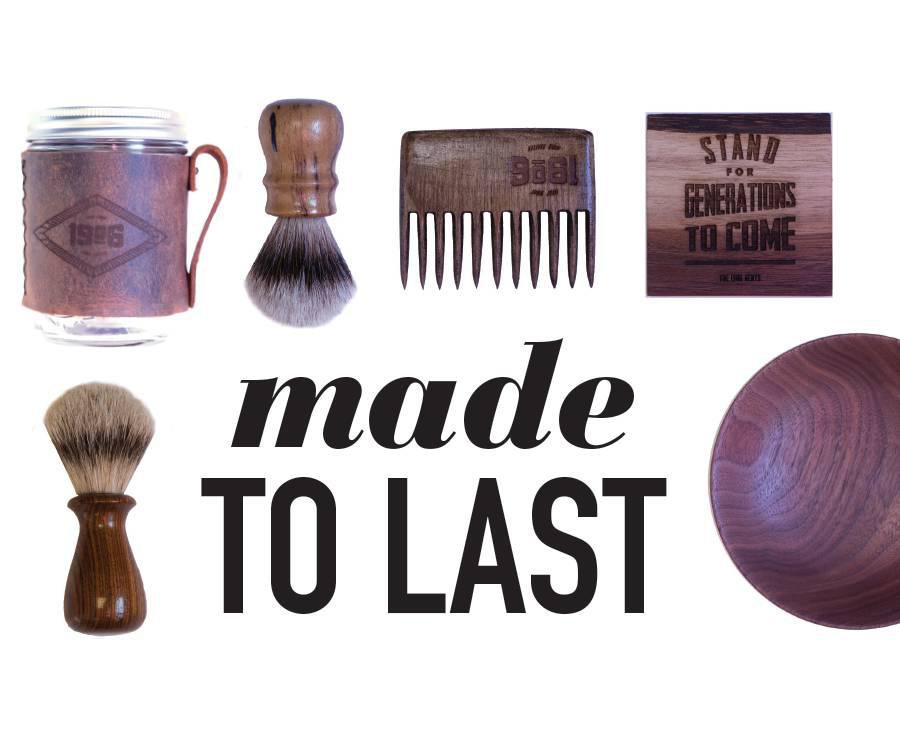 At The 1906 Gents, sawdust hangs in the air. Worn work surfaces are stacked with exotic wood pieces, and oversized panels of locally sourced woods lean casually up against a long brick wall. A lone standing lathe sits in the corner, and a large black walnut log sits in the back, waiting patiently to be used.
Co-owner Reuben Uhlmann strolls through the business's space, explaining how he and Dante LaCivita take locally sourced and exotic woods and turn them into handmade shaving brushes, beer crates, drink muddlers, espresso tampers and more. 
"From start to finish, it takes about an hour to do one shaving brush," he says. "But I love working with my hands, working with the wood. It's always been a passion for me to make something that will outlive me. We're both kind of sentimental guys, and we both love doing something well. There's a lot of satisfaction in doing that."
The two men have always thought of themselves as makers; LaCivita has always been fascinated by woodworking, and Uhlmann was raised by basket weavers. When the pair met four years ago, they bonded over their shared love of goods built to last. And after a year of long talks at coffee shops, The 1906 Gents and its four product lines were born.
"When we first started talking about it, we talked about the things our grandparents passed down to us," says LaCivita. "Our parents' generation likes cheaper things. Everything's made with a shelf life, but our generation's coming around to the idea of fewer but better things that can be passed down. That's our business concept: making products that stand for generations to come."
Their handmade wood products are split into four product lines: coffee, grooming, spirits and tobacco. LaCivita and Uhlmann want their products to provide their customers enjoyment every day, and they're designed to make chores like coffee and shaving a more pleasurable experience, Uhlmann says. 
Their tampers are designed with coffee geeks in mind to help provide the perfect cup of espresso. The silvertip badger brush made with cocobolo wood  is the 1906 Gents' most popular shaving brush, and it provides the canvas for a clean, smooth shave for years to come. And for craft beer lovers, the beer crate made of choice wood sets the stage for their customers' favorite brews.
The duo loves the products they make at their workshop on West Commercial Street. But so do their customers. On August 1, Uhlmann and LaCivita launched a Kickstarter and successfully raised $21,240 for new equipment. Their new industrial equipment will double their potential output for the 18 retailers they serve nationwide, but each product will still be hand crafted with love by Uhlmann or LaCivita.  
"There's a lot of learning involved in this for both of us, so a lot of stuff we're still learning together," says Uhlmann. "That's the whole beauty and challenge of wood. We're still learning about this trade, and we'll be learning until we die. But our products will live on."


Co-owners Dante LaCivita (left) and Reuben Uhlmann turned their love of woodworking into a business. 

Beer carrier, $75