Spaces
Clive Gray's Ozark Cabin
Local antiques, imported European furniture and treasured family heirlooms come together in a secluded Ozarks cabin that's soothing, snug and oh-so-stylish.
Written by Stephanie Towne Benoit | Photos by Brandon Alms
Nov 2016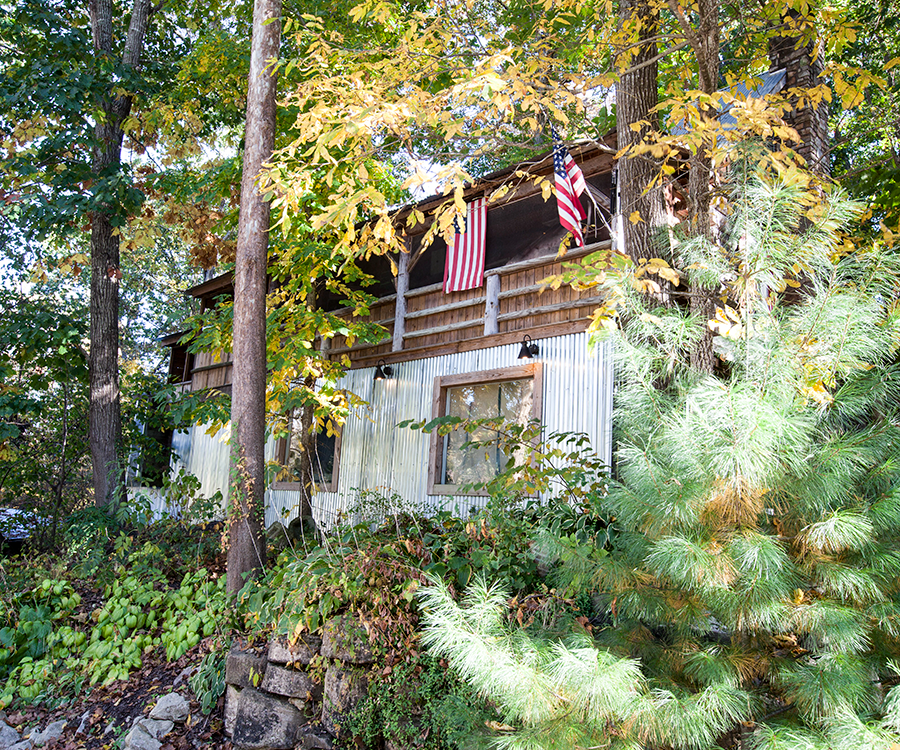 Hidden Gem
Tucked among pine and sycamore trees and covered with corrugated tin, Grayson Farm at Carter Hollow has an interesting history, charming setting and eclectic mixture of antique furnishings, family heirlooms and unexpected features—and Gray wouldn't have it any other way. "I don't want everything to be all perfect and cookie-cutter," he says.
For decades, Clive Gray knew that a certain small house nestled on a thickly wooded slope in Linden was special. For years he'd kept his eye on the Amish-built cabin, which was constructed in 1987 not far from Lindenlure, an area he had visited since he was a child. 
One day, a friend with whom Gray had flipped houses called him up asking if he would come see a house he was interested in. "So I came down here, and it was the house," he says. Realizing that fixing up the cabin would be laborious and costly, his friend passed, and Gray bought the fated property that very day. 
It took two years for Gray and a close family friend to transform the three-bedroom house, which required gutting practically all of its roughly 2,200 square feet. The entire property, which is also home to several donkeys and goats, is now a cozy hideaway. And every inch of the space bears witness to the rustic-meets-elegant look for which Grayson Home—the home decor and design shop Gray owns with Ryan Rosenquist—has become known. Called Grayson Farm at Carter Hollow, the property even serves as inspiration for the store's selection. "Most everything [I buy] for that store is bought for this house in my mind," Gray says. "I'm thinking, 'That would be cool in the cabin.'" 
Grayson Farm at Carter Hollow is still a work in progress—projects like screening in the front porch and swapping out some kitchen appliances are in the works—but it has become a source of rest and relaxation for Gray and Rosenquist. "I can seriously feel when I come in those gates my blood pressure goes down," Gray says. "That's just what it does for me."
Country Kitchen
The focal point of the house is an open, high-ceilinged kitchen and living area. That space mixes in a few sleek, modern pieces—like an iconic vintage Eames lounge chair—with rustic elements including a century-old farm table with rough-hewn Old Hickory chairs. There are numerous eye-catching treasures and collectibles displayed throughout, such as antique inkwells and Gray's mother's majolica plates dating back to around the late 1800s.   
 
Cozy Bedroom
Much of the bedroom furniture, like the leather sleigh bed and antique bookshelf brought over from Budapest, was repurposed from Gray's grandmother's old Fordland house, where he used to live and which currently hosts the monthly Schofield + Gray market. Gray combined those and other pieces with the goal of creating a rich space reminiscent of his favorite designer, Ralph Lauren. "I wanted it to feel like it was just very warm and inviting and masculine," he says.   


Mix and Match
Gray's mother had purchased old paintings of livestock and equestrians, which Gray mounted around the bedroom alongside photos of family members, creating a mosaic that brings back fond memories of his close relatives and happy childhood in Oklahoma and Texas, where his family raised horses and Black Angus cattle. There are numerous other cherished family knickknacks that he loves to place throughout the house. "You don't have to get rid of all of grandma's old stuff," he says. "You can mix it in with your modern [pieces] and keep family heirlooms, and your house will look different than everyone else's."


Lofty Goals
When the cabin was first built, it was essentially just a one-room house with this small upstairs loft. The next owner added on additional rooms, although much of what he worked on was left unfinished, leaving Gray with many projects to complete and a relatively blank canvas. "The gentleman before built [some things] but he never finished anything, so I had to come in to put floors, put windows in it, Sheetrock it and do all the work," he says.  


Antique Armoires
Much of the furniture in the house is at least 100 years old, and was shipped from Budapest and other European cities. Gray once worked as a salesman and designer for Pine Merchant Antiques and Gatehouse Antiques. "I got the best of whatever came off the trucks that came in, so I got to pick and choose," he says.


Fit for a Lady
In contrast with the rustic, masculine aesthetic of the downstairs rooms, Gray designed the upstairs to be a feminine, cozy space for his sister, although she passed away before she was able to move in. He started picking out things that he felt were "her" for up there. For example, he chose floral still-life paintings and furniture with a softer, lighter color palette than elsewhere in the house. He also added a bathroom with antique fixtures and an old ceramic tub.


Dining Alfresco 
When friends come to visit, Gray occasionally pulls a picnic table and outdoor seating out from the basement and sets them up outside for a spot to relax and enjoy a meal. Hospitality runs so deep with Gray that he's even considered turning the cabin into an Airbnb.


Perfect Porch
Decorated with potted plants, antique birdcages and other treasures, the front porch is an idyllic spot for grilling and enjoying the area's natural beauty. There are three other porches tucked throughout the three-acre property, including one beside the nearby creek where Gray often sips coffee in the morning or unwinds in the hot tub. 


Home Office
Although Gray almost never uses the upstairs rooms, every once in a while he will go up to the loft to work at this desk that looks down on the kitchen, living and dining area on the floor below. On the sturdy desk rest some old books collected by his mother and a lamp made by Gray from an imported wooden keg. "There's just so much history with the stuff that I've picked," he says.