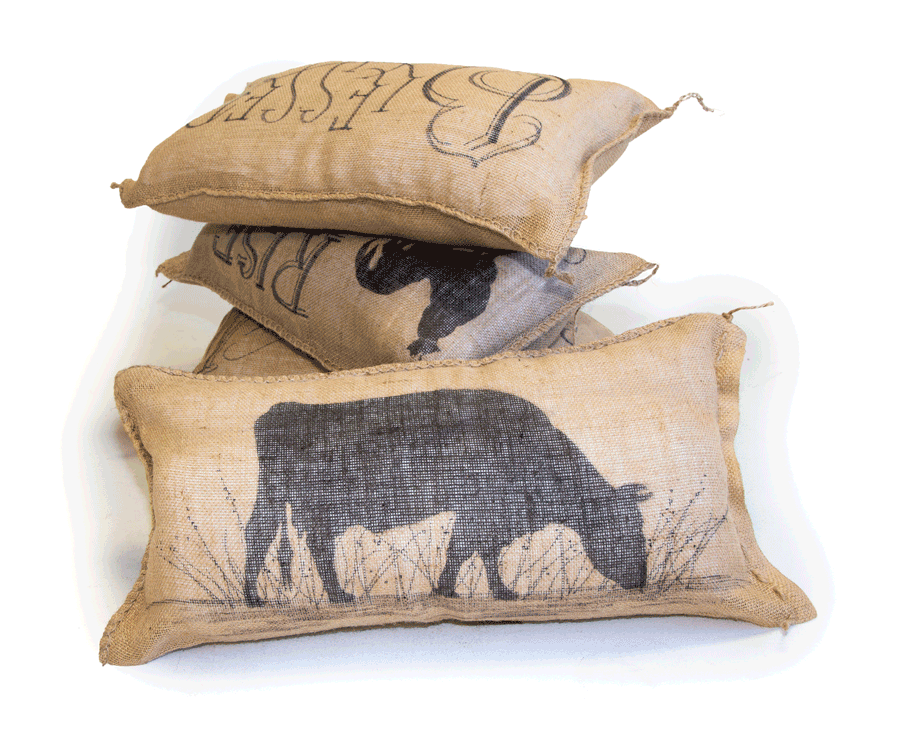 When Scottie Snider and Randy Woods were traveling to trade shows as The Feathered Nest, Woods decided to bring along canvas bags as samples for Snider to write and draw on. A customer came to their booth and wanted to buy the sample, and before they knew it a lined formed. So Snider and Woods took more bags to the next show and used them as pillow forms. "It got to the point where they were buying pillows more than other stuff, so we quit selling the other stuff," Snider says. "Then we did a show in Bentonville in April 2015 and decided from that show to close the store and just do pillows." Plaid Guys Pillow Company was born, and people from all over the country were getting custom pillows made for their homes. 
Every burlap pillowcase is hand-drawn by Snider. He makes his own stencils to use at the shows so he can create designs quickly to keep the lines moving. There are currently 150 different patterns Snider has stencils for, but he says people can request anything for him to draw. The designs are applied with permanent paint and marker, and Snider has tested washing them himself to ensure the designs don't wear off. The most common size they sell is the standard full-sized bed pillow, which comes with burlap twine to sew up the case after it is stuffed and sells for $15. The company also makes giant "Santa bags" that stand up so you can fill them and pull them shut. Cases can also act as a home for drawn logos to be framed. 
Snider and Woods both live in Ozark and travel all over the country to sell their pillows. Woods books the shows and does the business side, while Snider creates the artwork. 
How did the duo become the "plaid guys"? "When we used to do the Dallas Market with the store, a lot of people pulled carts behind them," Snider says. "We chose the plaid cart to drive everywhere. We didn't notice it, but we also wore plaid shirts every day. So people started saying 'the plaid guys are here!'"