Life
How K9s for Camo is Helping Dogs, Veterans and Incarcerated People
Local veteran and dog trainer John Lopez is connecting 417-land's rescue dogs to veterans and helping rehabilitate lives in the process.
By Rose Marthis
Nov 2018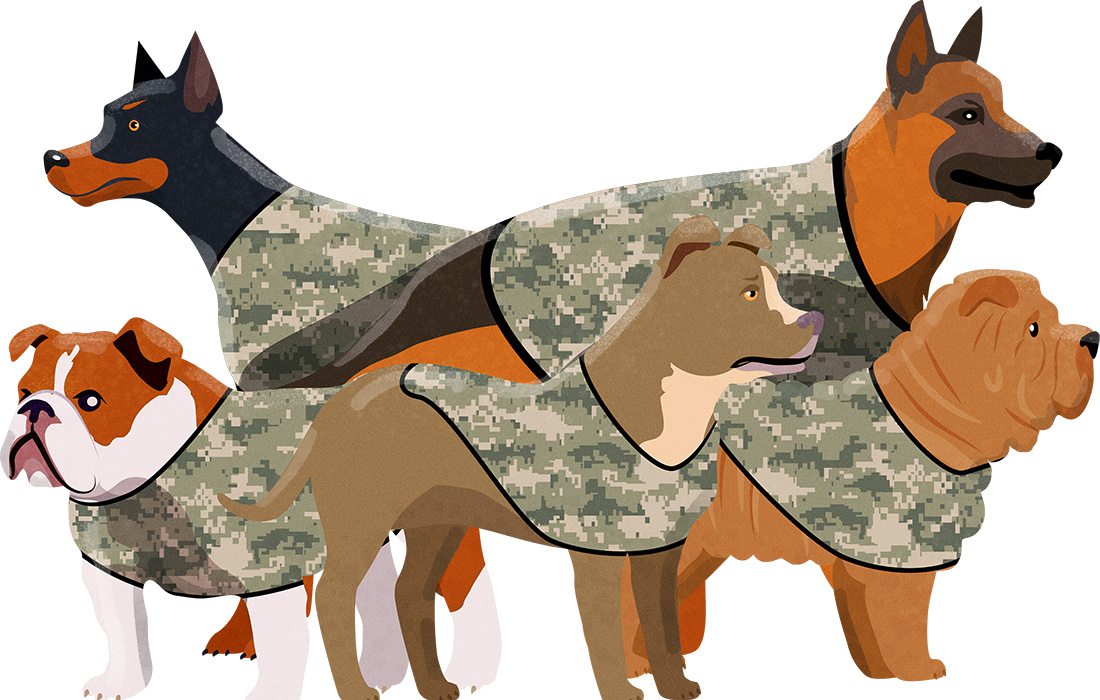 John Lopez is 417-land's own Cesar Millan. A local dog whisperer extraordinaire, Lopez has been training dogs since 2010. He owns Standing OBEYtion Dog Training and opened Howliday Inn Pet Resort in Rogersville five years ago. He's helped with Puppies for Parole, Labs for Liberty and Missouri Patriot Paws. And now, his latest venture aims to connect people who need assistance with dogs he's already helping to give back to the community. 
Lopez established K9s for Camo in 2013, but the organization achieved nonprofit status in 2017. Since then, Lopez and his team have trained 21 dogs (as of press time) to pair with veterans to accomplish K9s for Camo's mission of meeting veteran needs, aiding prisoner rehabilitation and transforming rescue dogs to service dogs. Veterans apply online to be a part of the program, and the application must include a doctor's letter, references and a background check. Once accepted, the training needs are identified, and Lopez finds a dog who is the perfect match. The dogs, who come from area rescue organizations and shelters and are commonly days away from euthanasia, are trained to be service dogs for things like PTSD and TBI, diabetes, seizures, narcolepsy, stability and mobility and more. Usually the process from application to dog pairing takes two to four months, Lopez says. 
Dogs go through extensive training with Lopez and his team of trainers. Dogs are first introduced and evaluated at Howliday Inn, and then they go to Ozarks Correctional. Lopez, a veteran himself who has run the Puppies for Parole program for three years, instructs incarcerated persons awaiting release on how to train the dogs, and each dog works with four individuals within the facility so the dog learns different training styles and is socialized. The dogs live with the incarcerated individuals for one to two months and then go back to Howliday for in-home and public practice. "They go home with our trainers to make sure they're good in home, they're good in public and they're doing all the tasks they've learned," Lopez says. Once the dogs are well trained, they go to the veteran at no cost, and K9s for Camo supplies the equipment, food and bedding if necessary. The veterans are responsible for bringing their dogs back for three rounds of classes that each last six weeks to continue training. 
Lopez's biggest takeaways are how he's changing misconceptions of prisoners and rescue dogs alike. "Too many people think rescue dogs can't be salvaged; they have too much baggage," he says. "But we're just showing they can be great service dogs as long as you pick the right energies out." Although the most obvious connection is between the rescue dogs and veterans, the incarcerated individuals who help in the training are benefiting as well. Ozarks Correctional Facility is a transitional prison, meaning prisoners are getting out in a year to 18 months. The training gives them a sense of pride while they're inside and a job skill they can use when reestablishing themselves in civilian life. "When I tell them how their dogs are doing, you can see these offenders who are hardened criminals getting completely emotional," he says. "It's an awesome program."
Get Involved
See Them Yourself 
The K9s for Camo Gala on November 2 will have veteran and offender guest speakers to share success stories of the program. There will be videos of the training and the dogs so you can get a first-hand look at the work the organization is doing. Contact John Lopez (417-895-8733) for tickets and more information.

How to Help
K9s for Camo can always use volunteers to help with events and training the dogs for public practice. Head to k9sforcamo.org to learn more about volunteering and how to donate.