Reviews
Get Your Taco Fix at Los Cabos Mexican Grill & Cantina
The menu at Los Cabos Mexican Grill & Cantina features some clever takes on your favorite Mexican dishes.
By Katie Pollock Estes
Nov 2018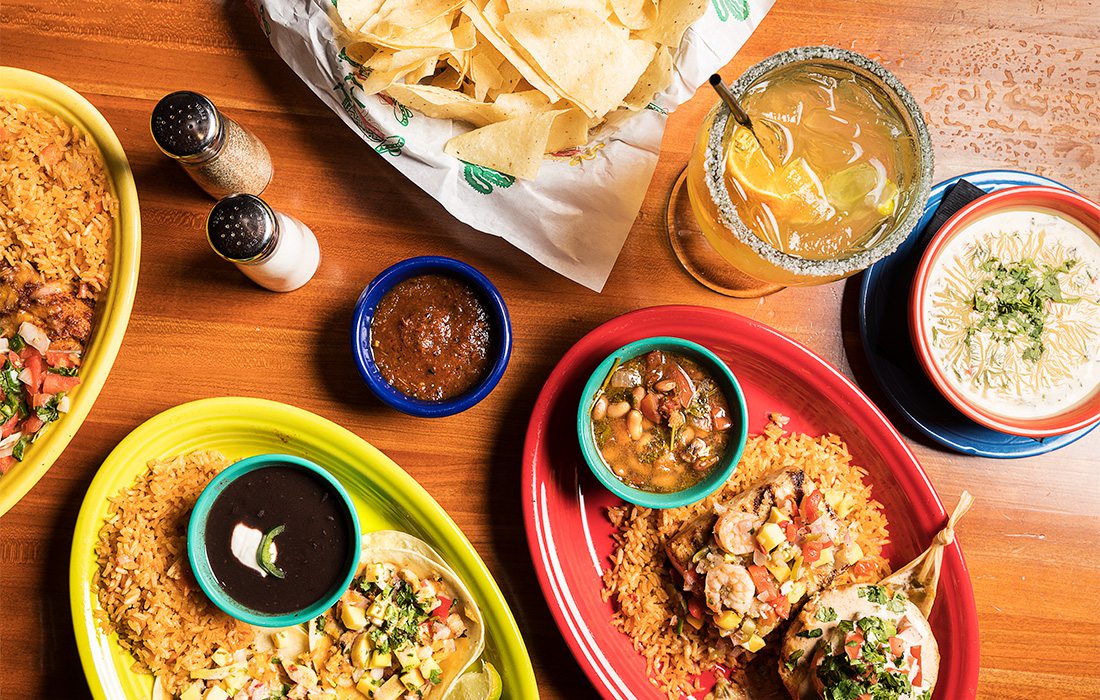 When Cantina Laredo shuttered its south Springfield location last summer, it was replaced by Tulsa-based Los Cabos Mexican Grill & Cantina. The eatery has reached over into Missouri with locations in both Springfield and the Kansas City area. My husband, Eli, and I are always on the lookout for a new favorite Mexican spot, so we were anxious to give it a try.
We visited Los Cabos for lunch on a Saturday with Eli's mom and dad, Stan and Kathy Estes. They love Mexican food and have joined us and our two kids at several Mexican spots around town. The place was packed when we arrived, and they set the six of us up at a big semi-circle booth on the edge of the restaurant.
Our server brought out chips and a selection of salsa, and we ordered a bowl of the White Queso Los Cabos to snack on. You can get the warm cheesy dip topped with chorizo, steak or ground beef—your choice. The chorizo sounded delicious, but we went for the basic cheese-only version. It offered a bit of sustenance for us while we studied the menu, which is pretty big. Classic, Mexican restaurant items including fajitas, tacos and enchiladas are all there for your enjoyment. But many of the menu items have an interesting twist. One taco is filled with fried avocado. One of the quesadillas features blue cheese.
Eli was in the mood for tacos, so he picked one of the more interesting options: tropical chicken tacos. These were little guys, served in delicate corn tortillas with a side of rice and your choice of beans. (Eli picked the borracho beans.) Along with the meat and cheese in his tacos, he got a sweet and fresh addition with cilantro and a fruity mango pico de gallo. He seemed to really enjoy them, including the little drizzle of chipotle ranch that was on top.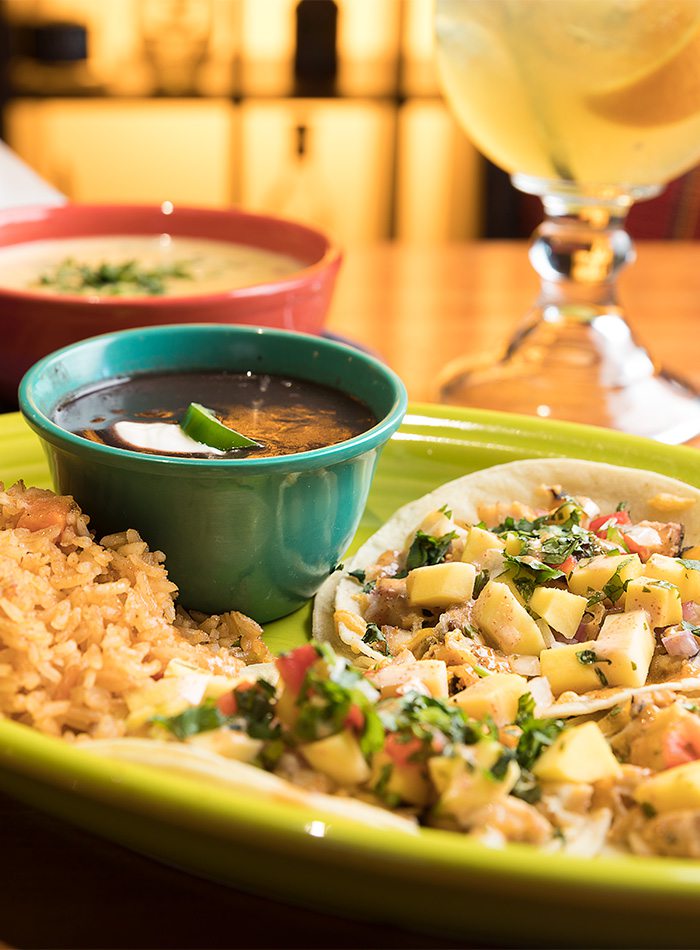 Photo by Brandon Alms
The Tropical Chicken Tacos are topped with a mango pico de gallo.
Purchase Photo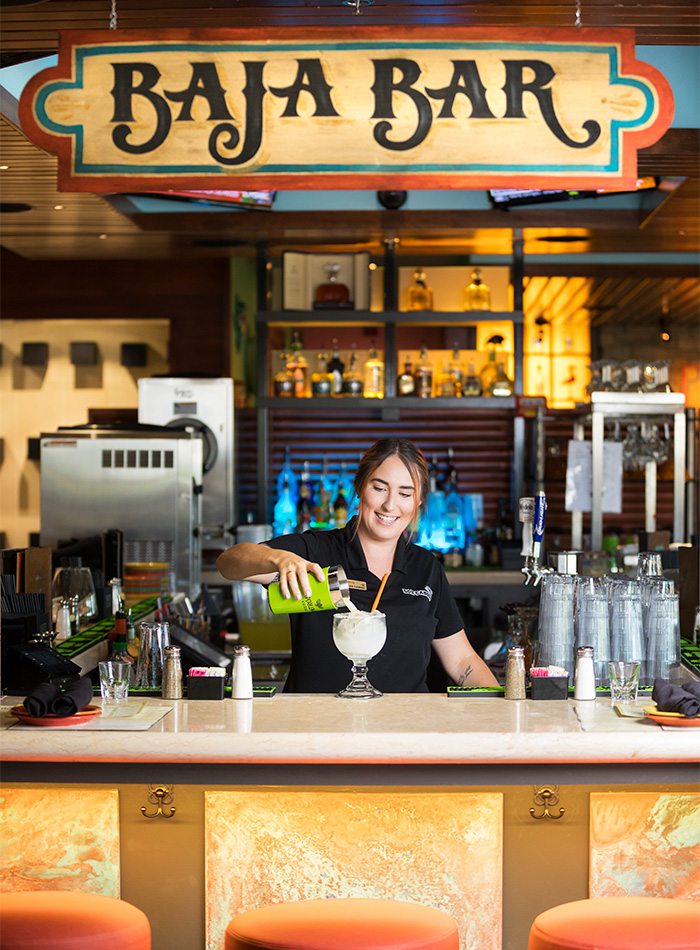 Photo by Brandon Alms
The Cabo Bueno Margarita is just one of the attractions at Los Cabos Mexican Grill & Cantina.
Purchase Photo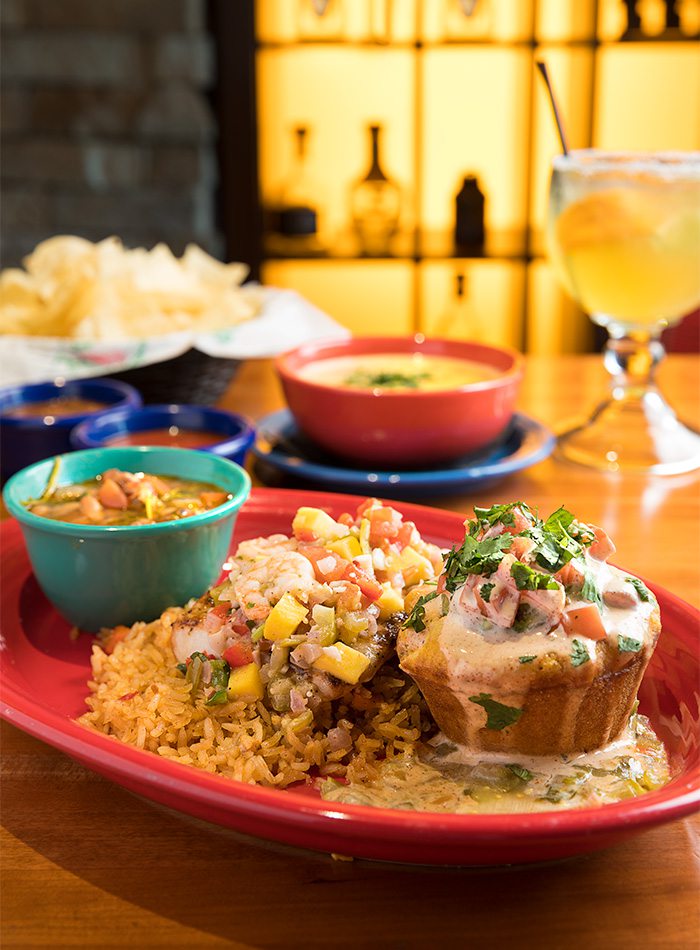 Photo by Brandon Alms
The Mahi Mahi with mango shrimp salsa pairs grilled mahi with mango shrimp salsa served on Mexican rice with a sweet corn tamale cake.
Purchase Photo
I wanted something with a fresh and fruity salsa too, so I ordered the mahi mahi entree. I was pleased with how the fish was grilled: just enough. It is so easy to dry out grilled fish, but this was the perfect texture. It was served with a mango-shrimp salsa, but the scoop I got didn't seem to have any shrimp. That was fine with me; it tasted delicious and was a fresh addition to the protein. The menu said this dish would come with a sweet corn tamale cake, and I was expecting a sweet little bit on the side. It was definitely sweet, but it was anything but little! It was the size of an oversized muffin, soft and moist on the inside with little bits of corn kernel and plenty of sweetness that didn't go too far over-the-top into dessert territory. Instead of beans and rice that would normally come with this dish, I asked for a side salad.
My mother-in-law ordered the restaurant's handmade tamales, each with a different protein inside: spicy beef, pork and chicken. I already know that's what I'll be ordering next time we visit. In fact, we might have to revisit during Hot Tamale Wednesday, a recurring weekly event where those hand-rolled goodies are on special for $3 each. And next time we'll be springing for some spicy chorizo in that queso!

---
Sweet Corn Tamale Cakes
If your entree doesn't come with one of these, order them as a side. You'll get two large sweet corn muffins topped with homemade salsa verde, avocado, cilantro and more. 
Fried Avocado Tacos
Love avocado toast? This is the dish for you. These tacos feature soft corn shells filled with crunchy and creamy fried avocado, black beans, cotija cheese and roasted corn.
Cabo Wabo Platter
Can't choose an entree? You don't have to. The Wabo Platter is loaded down with tacos, tamales, enchilada, chile relleno and rice and beans.
Los Cabos Mexican Grill & Cantina
Open daily 11 a.m.–9 p.m.
$$