Dishes
Balsamic Cheesecake at The Cosmopolitan Bistro
Plus six other things that passed the test of our taste buds.
By The Editors
Oct 2012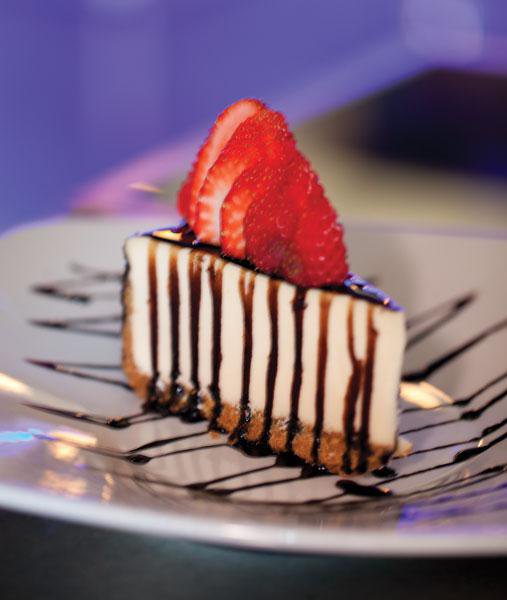 1. The balsamic cheesecake at The Cosmopolitan Bistro (2900 Green Mountain Dr., Branson, 417-335-6035, thecosmopolitanbistro.com) is a new favorite dessert for staffers who can't get enough of sweet balsamic reductions paired with dessert. The creamy cheesecake is drizzled with that tasty stuff.

2. We branched out and tried the Moonshine Margarita at Copper Run Distillery (1901 Day Rd., Walnut Shade, 417-587-3456, copperrundistillery.com). The moonshine was much smoother than expected, and the homemade sweet mix is made with orange oil and brown sugar.
3. The spinach and ahi tuna salad at The Tower Club (901 E. Saint Louis St., Springfield, 417-866-4466, towerclubspringfield.com) hits the spot with medium rare tuna, spinach, hardboiled eggs, feta, mango, almonds, beet chips and red pepper vinaigrette.
4. For an appetizer that could double as a meal, we love the GORGONZOLA-STUFFED PORTOBELLO MUSHROOM at The Rebecca Grille (209 E. Walnut St., Springfield, 417-863-7000, therebeccagrille.com). It's filled with warm and creamy gorgonzola and comes with a small caprese salad on the plate.
5. Staffers recently raved about the half chicken plate at Whole Hog Café (224 W. Sunshine St., Springfield, 417-868-0042, wholehogsgf.com). The smoky meat is super-tender and extra-juicy. We like to pair it with the mustardy Sauce #6.
6. Branching out from fondue at Fedora Social House (300 Park Central East, Springfield, 417-832-9514, fedorasocialhouse.com), we tried the bacon, chicken and artichoke pizza. It was the perfect flavor combo and a great complement to a sweet cocktail.
7. The smoked trout paté appetizer at Rockbridge Trout Ranch (1 Country Road 142, Highway N, Rockbridge, 417-679-3619, rockbridgemo.com) is incredibly flavorful and delicious. Warning: You will not be able to keep your hands off this appetizer. You may want to order the combo app, so there will be enough smoked trout to go around.