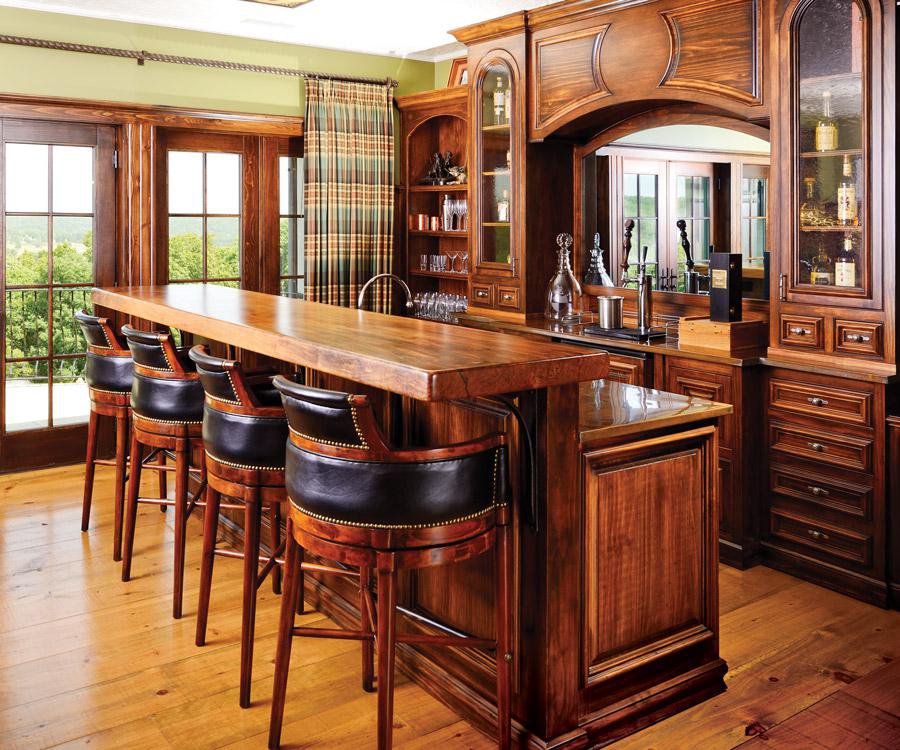 On a farm in Christian County, Ryan and Brandi O'Reilly used to lie on a blanket, gaze at the stars, and speculate about their future. They were in love with each other and the land and knew the home they would eventually build together would be on the exact same hill where they were stargazing.
As grandson of the founder of Springfield-based automotive retailer O'Reilly Auto Parts, Ryan also knew his family's Irish heritage and trips abroad would strongly influence their design choices.
"We wanted the house to be a reflection of our past as a couple—our travels and common interests," he says. "But we also wanted it to fit with the future stages of our lives: us as parents, us as part of a family, us as two old farts sitting side-by-side in our matching bathtubs."
Working from a crude sketch on a napkin, Bryon Weber of Weber Home and Land, along with designers Kim Wood and Lisa Clary of Kim Wood Designs and Fleur Interior Architecture, turned the O'Reillys' vision into a 6,000-square-foot estate. 
The couple, who has two small children, says the process was a culmination of years of team planning.
"There isn't a floorboard or doorknob that we didn't talk about, fight about, dream about," Ryan says. "The space works because the dynamics of our relationship helped create it."
 Living Room
The living room is one of two sitting areas in the home and was added to the original layout as a prime spot for entertaining. A cast concrete fireplace serves as the focal point, while the floor-to-ceiling doorways leading to the dining room and front entrance create a sense of grandeur. The antique Baldwin baby grand piano was purchased several years ago and might someday become a family heirloom, Ryan says. A set of first-run Salvador Dali prints next to the staircase also holds meaning for the couple. "We each picked one reflective of our personalities," Brandi says. 
 Kitchen
The O'Reillys wanted a functional kitchen but one that also had extra space for their kids to hang out. Inspired by a picture of a similar kitchen, the room came together one feature at a time. The island was forged from a single piece of sycamore reclaimed from Springfield's Sequiota Park. The pot rack was custom designed to incorporate found copper. A cast concrete range hood complements wood, granite and metal finishes found in the flooring, countertops, and fixtures. "We wanted to make everything look like it was purchased over time," says Lisa Clary of Fleur Interior Architecture. "If things don't match, that gives it that European flair." The window frames, painted black for an unexpected pop, outline a stunning view of the property's acreage, guest house and pool.
Exterior
Based on the look of Irish manor homes, the exterior was finished with stone and stucco. To soften the hard gray color and add a little intrigue, windows and doors were painted green, and copper elements from an Arkansas courthouse were installed above the windows of the screened-in back porch. A pergola covers an outdoor eating area, a site for live music, and a spot for pressing apples from the property's trees. Wickman's Garden Village designed and maintains the landscaping, including the area around the neighboring guest house. "Our whole outdoor space was created to connect the two houses together, so it feels like one property," Brandi says.
 Master Bedroom
Custom drapes and bedding in varying shades of white combine with pale blue walls to create a soothing master bedroom. "It was a fun project to work on because I got to incorporate some really nice fabrics from England," Clary says. This private haven features a panel mold fireplace with two reading chairs, hinting at the couple's preference for books over television, as well as 18-foot vaulted ceilings lined with distressed beams, a replication of the ceiling in the Worman House at Branson's Big Cedar Lodge. 
Bar
Known as The Hog & Hound, a nod to the couple's love of animals, every design element in the bar mimics that of a traditional Irish pub. A dark color palette extends throughout the space, from plaid curtains and wainscoting to the lower bar made from sheet copper. On the wall, a genealogical chart hangs above a map showing County Wicklow, Ireland, where Ryan's family has its connection to the old country. Even the farmland view from the adjoining balcony is reminiscent of the Irish countryside. Paintings of the couple's two pet pigs add a whimsical touch to this fun space. "There's a word they say in Ireland called craic, which is an undefinable good vibe you get in a pub," Ryan says, and that is what they hope their friends will experience here.
 Office
As a traveling pediatric physical therapist, Brandi does lots of paperwork from home. Having a room where she can complete her daily tasks without feeling stuck in a cubicle was important to her. The look was inspired by portraits of Brandi's Arabian horse, Dynamite, and was achieved using a classic black-and-white color scheme, which appears in the floral and gingham curtains and the lattice-patterned chaise lounge.