Metropolitan Grill Cooking Class
In honor of Metropolitan Grill's 20th anniversary, restaurant chef and owner Pat Duran created a special 417 Magazine Cooking Class menu with some of his favorite dishes. Plan to attend to enjoy a world of flavors, 20 years in the making.
By Savannah Waszczuk | Photos by Brandon Alms
Oct 2014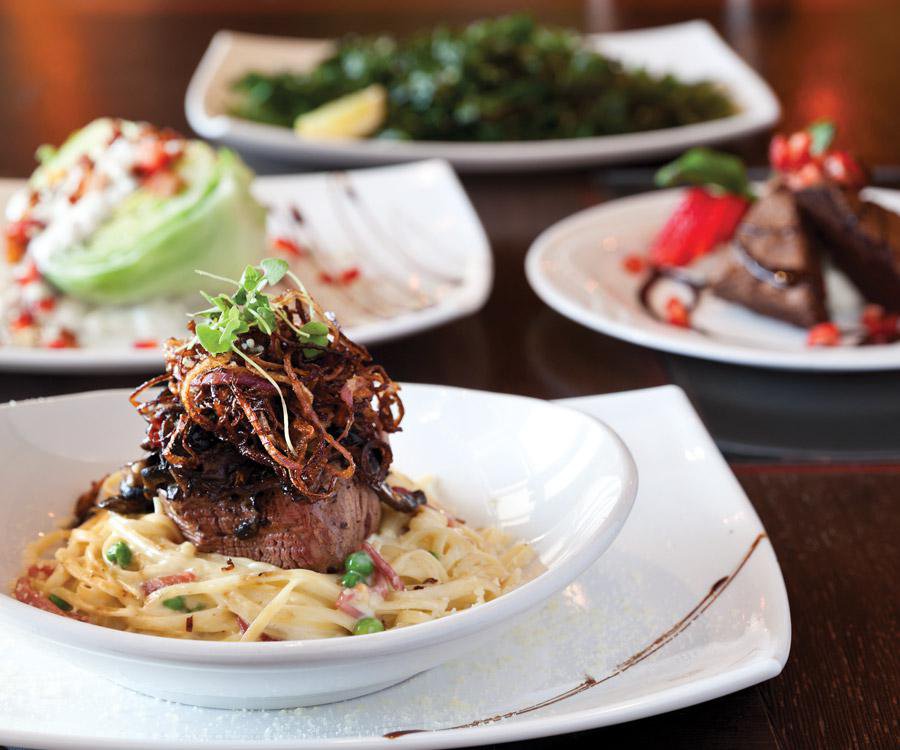 Instructor:
Pat Duran of Metropolitan Grill
Event Details:
October 21, 6 p.m. at Metro Appliances & More, 3252 N. Glenstone Ave., Springfield, 417-833-1113
Presented by:
Missouri Beef Council
Sponsors:
Macadoodles
Metro Appliances & More
Get Your Tickets
Tickets are $75 per person and go on sale October 1 at 8 a.m. Spots are limited, so call 417-883-7417 and ask for Lauren Stalder to reserve a spot.
Click through to see 417 Magazine's Cooking Class courses and recipes
"Top Secret" Flash Fried Spinach 
with Parmesan cheese, garlic and lemon juice
Serves 2–4
Paired with Mionetto prosecco
Ingredients
1 bag of baby spinach
¼ cup Parmesan cheese, grated
1 tablespoon garlic, chopped
1 teaspoon salt
1/8 cup lemon juice
1 gallon 80/20 blended olive oil
To Prepare
Preheat olive oil in a fryer to 350°F. Spread one-quarter bag of spinach in the fryer basket, and dip the basket in the oil. Stir until half of the spinach is dark green, then drain, and shake. Place in a sauté pan. Toss with Parmesan cheese, garlic, salt and lemon juice. Continue cooking the remaining spinach one-quarter of a bag at a time, and serve.
The Rita Salad
with strawberries, bacon and homemade dressing
Serves 4
Paired with Mont Gravet Cotes de Casogne
For the salad
1 head iceberg lettuce, washed and trimmed
6 strawberries, sliced
5 strips bacon, baked and chopped into pieces
4 ounces Gorgonzola cheese
For the dressing
4 ounces goat cheese
4 ounces Gorgonzola cheese
1 cup sour cream
½ cup buttermilk
½ cup mayonnaise 
4 cloves garlic, roasted and chopped
Salt and pepper
To prepare
Chop lettuce into four wedges, and chill. Combine all dressing ingredients in a mixing bowl. Mix until blended. Place chilled wedges on plates. Drizzle each wedge with dressing, then top with bacon, strawberries and remaining Gorgonzola. Serve.
Coco "Meets" O'Reilly 
with a 5-ounce filet, portobello mushroom, bacon, caramelized onion ragout and pasta with light cream sauce
Serves 4
Paired with Ferrari Carano cabernet sauvignon
For the Steak
4 5-ounce center-cut filets
Salt and pepper to taste 
1 tablespoon butter
¼ red onion, sliced thin
1 tablespoon garlic, chopped 
2 portobello caps, sliced thin 
4 ounces beef stock
3 ounces red wine
8 strips of bacon, cooked and chopped
For the pasta
½ cup snap peas
1 tablespoon butter
1 tablespoon garlic
6 ounces chicken stock 
4 ounces heavy cream
½ cup prosciutto, julienned
½ cup Parmesan cheese, grated
2 cups linguini, cooked
To prepare the steak
Season steak, and grill. Sauté butter, onion and garlic until onions are caramelized. Add portobellos, and cook until soft. Add beef stock and red wine, and reduce until incorporated. Add bacon, and remove from heat.
To prepare the pasta
Sauté peas with butter and garlic. Add stock, cream and prosciutto. Boil, and add Parmesan cheese and linguini. Plate, and top with steak.
Chocolate Thunder 
with brownies, sweet mascarpone chocolate ganache and fresh strawberries
Serves 4-6
Paired with Quinta de la Rosa Lote 601 ruby port
Ingredients
Chocolate brownie mix
8 ounces mascarpone cheese
1 teaspoon Frangelico liquor
2 ounces vanilla yogurt
½ cup powdered sugar
1 teaspoon honey
1 cup sweet milk chocolate
3 ounces Kahlua liquor
8–10 strawberries, diced
To prepare
Prepare brownies according to package directions, and bake. While they are baking, mix mascarpone, Frangelico liquor, yogurt, sugar and honey until smooth. Let settle. In a double boiler, melt chocolate with Kahlua liquor, and hold. Remove brownies from oven, and let rest for 5 to 10 minutes. Cut into triangles. Place one tablespoon of mascarpone mixture on a plate, and top with two brownie triangles. Drizzle with chocolate and Kahlua mixture, garnish with strawberries, and serve.