Travel
Quick Trip: Siloam Springs
Occasionally you have to leave 417-land to find some hidden gems, and Siloam Springs, Arkansas, has plenty, including its natural springs and historic downtown.
By Jessica Covert | Photos courtesy Arkansas Department of Parks and Tourism, by Brad Barnett
Oct 2014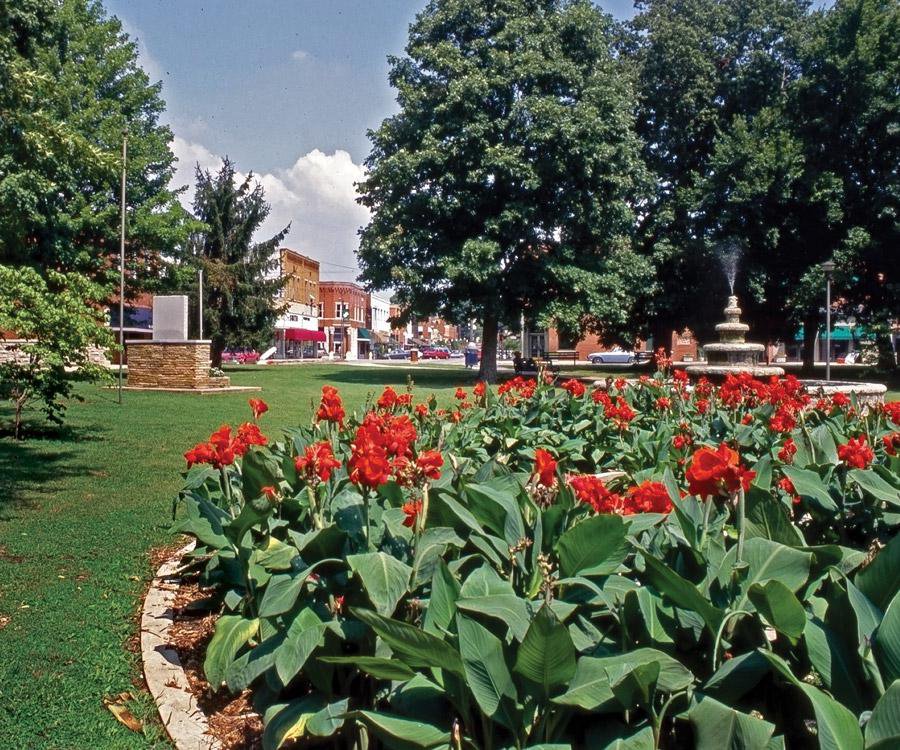 The town of Siloam Springs, Arkansas, is surrounded by 28 natural springs, which were thought to have healing properties and contributed to the growth of the area as a health resort community in the 1800s. While the health resort aspect is gone, Siloam Springs still has plenty of small town charm.
Where to Shop
Downtown Siloam Springs has been restored to its original glory and is filled with plenty of boutique-style shopping. The guys and gals you're traveling with can split up for this adventure, leaving the women with plenty of time to stop in at Joli Boutique (100-2 East Alpine St., Siloam, 479-220-8461, shopjolinwa.com). The shop carries easy-to-wear pieces and fashions that are perfect for layering with your wardrobe staples. Plus, the boutique works with a graphic designer to create one-of-a-kind T-shirts. The best part about these tees is they are designed for charities, and proceeds go to benefit local Siloam charities. 
While the girls are busy in Joli, the guys can take a look inside neighboring Ash & Ember (100-1 East Alpine St., Siloam Springs,
479-787-0797). The 100-year-old brick and mortar building is home to a large selection of gentlemen's whimsy. The store has 20 house varieties of pipe tobacco, and you can watch them being blended when you visit. Plus, there are about 150 pipes in the store, half of which are vintage estate pieces. 
Where to Eat
While you're checking out downtown, visit The Café on Broadway (123 N. Broadway St., Siloam Springs, 479-549-3556) for a quiet lunch. This downtown hangout has sidewalk dining, daily lunch specials, sandwiches (give the Monte Cristo a try), coffee and even a bookstore right inside. 
Another fantastic lunch location downtown is Fratelli's Wood-Fired Pizzeria (118 S. Broadway St., Siloam Springs, 479-524-0766). Brothers-in-law Tom Leadabrand and Scott Jones opened the pizzeria back in 2009 after Jones spent seven months in Italy and returned craving the pizza he had eaten in Venice and Rome. Fratelli's has 32 pies on the menu.


Check out the views of Siloam Springs as you skydive at the Skydive Sky Ranch.
Where to Play
If you're looking for adventure on this trip, visit the Skydive Sky Ranch (Siloam Springs Municipal Airport, Cecil Smith Field Rd., Hangar C, Siloam Springs,
1-888-456-5267). There, you can experience flight, going from zero to 120 mph in just 3 seconds. The Sky Ranch offers three types of skydives for the wimpy and the daring, and all equipment is provided. 
If you'd prefer to keep both feet on the ground, then Wild Wilderness Drive-Through Safari (20923 Safari Rd., Gentry, Arkansas,
479-736-8383) is the place for you. Take your car through a 5-mile trail to see exotic animals, including lions and antelope. There are also three petting parks along the route so you can interact with the animals and even have a picnic outside. 
Whether you're traveling with the kiddos or spending a day with some friends, Siloam Springs has everything you want from a day trip and more.