Spaces
Easy Fall Décor Transformations
These simple tips from the team at Decorating Den Interiors and Cindy Love of Cindy Love Interiors will help you transform your summer-inspired interior space into a cozy autumn abode.
By Riley de León | Photo by Heather Kane
Oct 2015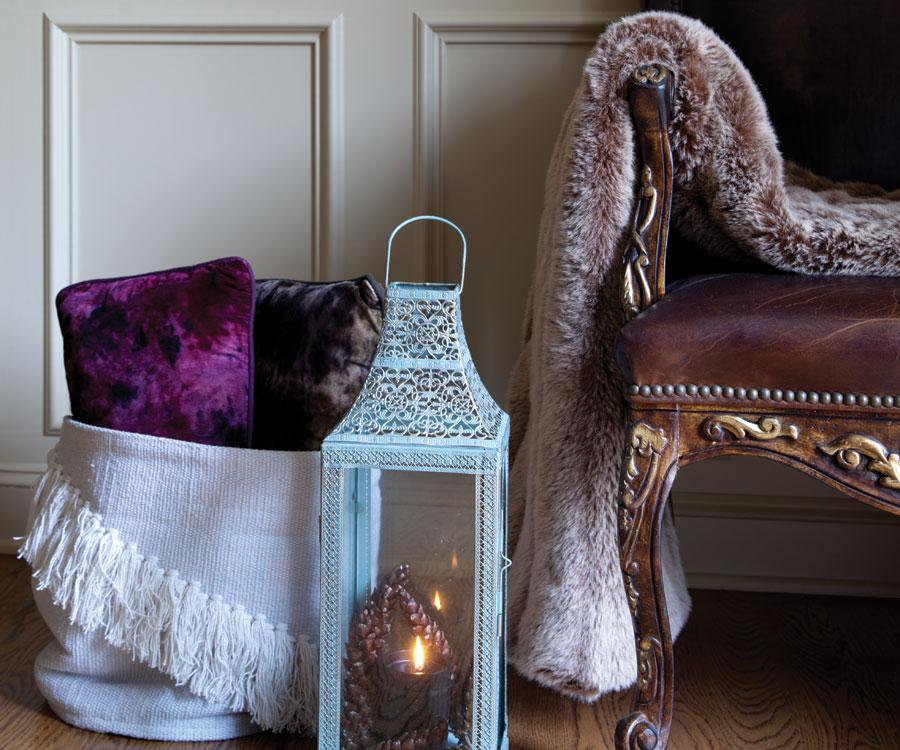 While everyone loves a good home makeover, most of us don't have the time or budget to entirely refurnish every room for every season. The team at Decorating Den Interiors and Cindy Love of Cindy Love Interiors understand this is an unrealistic idea, and they offered up a few tips for achieving a more fall-appropriate look in your home. Bonus: These tips won't break the bank.
Swap Out Pillows and Blankets
Take the light, summery feeling cotton and linen decorative pillows off of your sofa or bed and replace them with heavyweight fabrics, such as wool or velvet. The same rule applies to your throw blankets. Use burnt orange or browns for the fall season and change to red, green or silver for the winter season.

Swapping your light throws for blankets made with heavyweight fabrics is an easy way to cozy up your home for fall.
Enhance the Natural Lighting
Nola Shivers with Decorating Den recommends keeping your home well lit. Since days are shorter, add a couple of extra table or floor lamps to keep your room feeling warm and cozy. You can also add more light by placing mirrors where they will reflect daylight in the darkest areas of your home. "This will boost the gloomy winter blues," she says.
Add Seasonal Centerpieces
Take advantage of the seasonal greenery and florals to make centerpieces for your dining table, front porch and entryways. Fall brings us assorted pumpkins and gourds, as well as the always-beautiful chrysanthemums. For winter, change these arrangements out with poinsettias and holly. Nothing adds curb appeal or livens up a room like this.
Layer Accessories
Try layering your home accessories as you would your clothing. Love likes to add seasonal patterns with autumn leaves, pumpkins and gourds. Any kind of rugs, throws, pillows and blankets allow for this easy, inexpensive fall and winter look to get your home ready for the cooler weather.
Dust Out the Cobwebs
Seasonal transitions are also the perfect time for some deep cleaning around the home. Before you settle down on your sofa for the fall and winter seasons, dust out cobwebs, and you'll have a fresh, clean space for your new pillows, blankets and florals. Plus, you'll feel better knowing you tackled this pesky task.

Scented candles are a great way to bring in those beloved fall aromas and create a cozy atmosphere.
Bring in Scented Candles
Purchase spice, cinnamon and pine scented candles to enhance the atmosphere. Candles are key for fall entertaining. Many stores also offer lanterns in various colors, shapes and sizes. Love recommends layering your candles and lanterns on the mantel, by the doorways and on the stairwells. If you don't have lanterns, no worries: simply arrange your candles with your favorite vases and jars. 
Swap Out Dishes and Cookware
The weather changes during the fall, and it finally becomes pleasant for outdoor entertaining again. Seasonal table covers and dishware are key for adding that personal touch for your guests. Love enjoys shopping for seasonal dishes and cookware that carry in the season. 
Introduce Pottery
This is a personal favorite of Love's. Look for inexpensive bowls and vases that can be placed around the house on coffee tables or in the dining room. This is the perfect way to introduce rich, warm autumn colors. Love always fills her pottery with seasonal items such as pumpkins, gourds, candles and florals.
Photograph Nature
A very affordable way to bring the season into your wall décor is to head outside with a camera! "You will be surprised at the amazing photos you can enlarge and print," Love says. "FedEx or Kinkos can print in any size to fill the need of your space." 
Swap Out Hand Towels
Lastly, an affordable way to transition is by adding fall- and winter-toned hand towels to your powder room and kitchen. Be sure to look for rich seasonal colors that highlight the room.