Reviews
Missouri Spirits
Missouri Spirits is serving up flavor-packed dishes that pair perfectly with the restaurant and bar's sophisticated cocktails.
By Vivian Wheeler | Photos by Brandon Alms
Oct 2015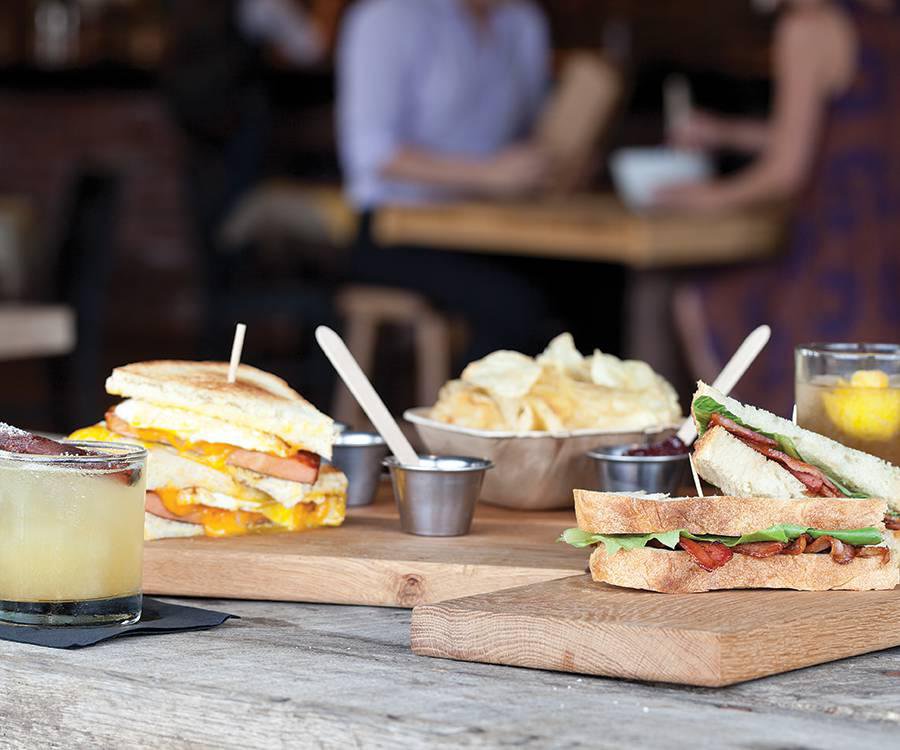 Missouri Spirits
507 W. Walnut St., Springfield, 417-501-4674, missourispirits.com 
Open Tuesday–Friday, 4 p.m.–midnight; Saturday and Sunday, noon–midnight. No food served on Tuesdays.
My desire to eat at Missouri Spirits, a distillery and bar that specializes in the company's locally made corn whiskey, bourbon whiskey and vodka, started with a bowl of ramen. I love ramen. I loved it when I was 7 and would eat a package of chicken Top Ramen for breakfast, much to the chagrin of my mother. I loved the last bowl of it I ate at a trendy brunch joint in St. Louis. When I saw ramen on the surprisingly eclectic, albeit small, menu, I was sold. Bourbon and ramen? Sign this lady up. 
On a Thursday evening, my better half, Chuck Travers, and I made our way to Missouri Spirits, located in downtown Springfield on Walnut Street—a location chosen for the fact that it sits squarely between Springfield Brewing Company and Mother's Brewing Company. 
 Missouri Spirits is huge and dark, and the décor is sparse and industrial, fitting considering there's a distillery in the back. Our eyes adjusted, and we took a seat at the bar. All around sat clear bottles labeled with blue tape, all of them different sizes and shapes and filled with colorful liquids. It was reminiscent of what I imagine an alchemist's laboratory would look like. I came to find out those bottles held a variety of house-made mixers: lemon lime sodas, cherry cordial, vanilla simple syrup, anise liqueur, different flavors of shrubs (drinking vinegars) and more. 
I ordered the Bill's Bullets. Made with bourbon, apple and tobacco shrub, fresh lemon juice, smoked ice and a lemon peel, all of the flavors combined to create a perfect balance of smoky, sweet and sour. As the ice melted, the drink was slowly infused with an increasing amount of smoke flavor. Chuck ordered the Boat Shoes: vodka, pineapple puree, cinnamon simple syrup, vanilla lime juice, a candied cinnamon stick and brown sugar for garnish. It was good, but I wouldn't have traded drinks. 
The chef, Nick Neighbors, came out to take our order—a detail I found very endearing—and I asked for the ramen. Nick's eyes fell, and my heart sank. "We're actually making the broth for the ramen right now, and it takes about six hours," he said. 
I was disappointed but hungry. Upon recommendation we ordered the B.L.T. and the Fried Bologna Sammie, and we threw in a starter of truffle kettle chips for good measure. The chips came with a trio of dipping sauces: garlic-dill aioli, smoked strawberry jam and bloody mary ketchup. All of the sauces were finger-licking good. The chips were crispy and coated with the perfect amount of truffle oil. 

Our writer made a special trip to Missouri Spirits just to try the ramen. The soup's broth takes six hours to make. It's topped with an egg and full of chewy udon noodles.
We decided to share our sandwiches and swapped halves when they arrived. I was skeptical about the B.L.T. The T. was represented by the bloody mary ketchup, which is delicious but is not a tomato. Secondly, there was no mayo on this sandwich. Who serves a B.L.T. without tomatoes or mayonnaise? But then I took a bite. The bacon was thick, smoky, crispy, salty and most importantly, there was plenty of it. I knew then why they kept the ingredients to a minimum—the bacon was the star here with the bread, lettuce and sauce all playing supporting roles. I found out they buy slabs of pork belly and then slice, cure and smoke their own bacon. 
 I can only describe the Fried Bologna Sammie as the best hangover food you could ever ask for. A thick slice of bologna is topped with smoked cheddar cheese, white onion and a fried egg. All of this goodness is sandwiched between toasted Artisan's Oven bread and served with orange marmalade. Broken egg yolk turns into a creamy, viscous sauce that soaks into the bread, making every bite a bit more luxurious. The orange marmalade, when used sparingly, plays perfectly off of the richness of the dish. It is truly an absolutely excellent sandwich. 
But I was determined for ramen. Later that week, I returned to pull up a stool at the bar and order a bowl. The broth was flavorful, the pork was tender and the udon noodles were appropriately chewy, but as I finished my last slurp, my mind had already started to drift to thoughts of that Fried Bologna Sammie.


Sit at the bar at 

Missouri Spirits to get the full atmosphere. You can talk to your bartender about which specialty cocktail (made with house-made mixers) to order. 

 
Q&A With Scott Shotts
417 Magazine: What was the inspiration behind the menu?
Scott Shotts: We're not necessarily known as a restaurant, so with that in mind we wanted to offer something different. The first item out of the gate was the ramen. 
417: When you opened the distillery did you know you wanted to also open a bar and serve food?
S.S.: We knew it was in the plan, we just didn't know it would be this soon. When we got in the building we had enough room to work with and literally everything just fell into place. It's a nice way to showcase our spirits. 
417: Have you always been a foodie?
S.S: I've been cooking since I was a little kid. I started making eggs when I was about 7. I had a lot of experience working at Noble and Associates. I was surrounded by food people and chefs. I stayed in contact with a few of them and we're always talking about food. I'm kind of a Food Channel and Food Network junkie. I love watching all of those cooking shows.