Travel
Fair Grove, MO
Just north of Springfield is Fair Grove, a hamlet where ice cream sundaes beckon and customers arrive on horseback.
By Ettie Berneking
Oct 2015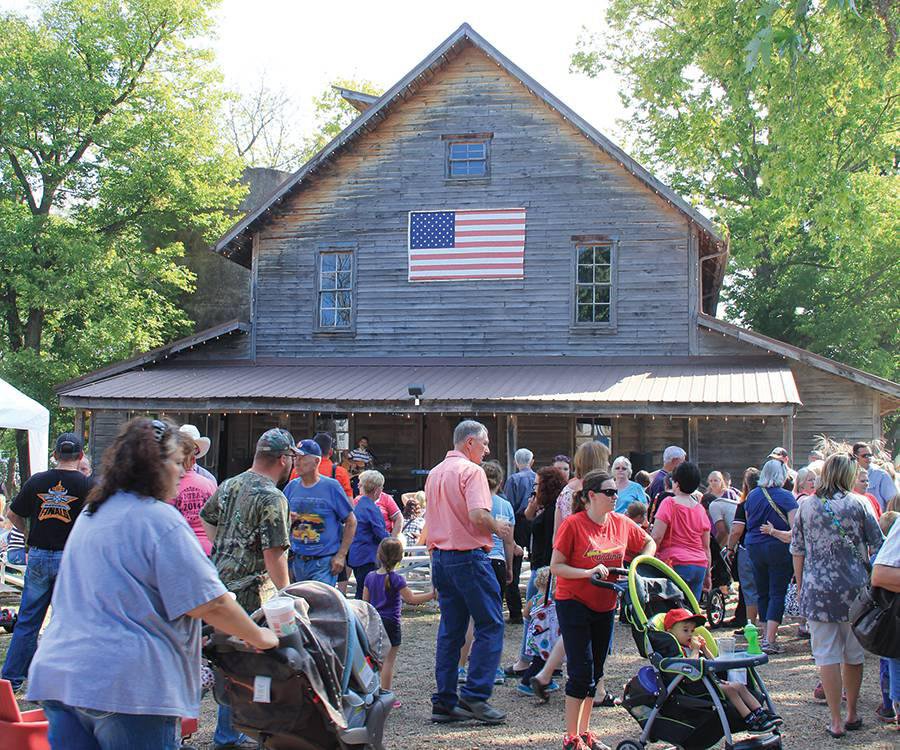 North on I-65, some 20 miles up past Springfield, a small slice of country charm still exists. This is where sleepy-eyed cats lounge on windowsills and hay bales dot the rolling countryside. Even at 8 a.m., few businesses have stirred. Welcome to Fair Grove.
Home to the annual Heritage Reunion each October, this pastoral town is caught somewhere in time between saddled up cowboys and Ozzie and Harriet. The dusty downtown row is slowly filling out as new businesses  move into town. Cool Your Jets (Editors note: Since this article was first published, Cool Your Jets has closed.) has become the regular watering hole. Griddle burgers and ice cream sundaes are served with a side of town gossip and a welcome greeting, and customers often ride up on horseback and tie up out front. 
If you're in the mood for antique shopping, duck into Somewhere in Time Eclectic Gifts & Antiques (92 S. Main St., Fair Grove, 417-655-5554). The usual cramped booths are long gone, and local art fills the shop along with a private wine tasting room tucked in the back. Across the street is the Old Mill Antique & Flea Market (99 S. Main St., Fair Grove, 417-759-2040), where milk glass vessels teeter on dusty shelves, and well-loved knickknacks fill the corner store. The pizza shop buzzes with activity come lunch time, while the ancient Wommack Mill slowly breathes back to life thanks to the devoted Fair Grove Historical Society.
Here everyone is a regular and no one is a stranger. Even out-of-towners are greeted with a cup of hot coffee and an earful of town happenings. Show up on horseback, and you might find yourself adopted into the fold.
---

What the locals have to say: 

417 Magazine: What is Fair Grove's claim-to-fame?
"Definitely Heritage Reunion. Each year, nearly 3,000 people fill up the downtown area, and hundreds of vendors set up their booths."—Leah Stein, 46, owner of Cool Your Jets 
417: How would you describe Fair Grove?
"This is a sleepy little town. Most places open later in the morning, and everyone knows each other. I've never seen another community pull together to help each other out the way Fair Grove does."—Leah Stein  
417: What might surprise readers about Fair Grove?
"This can be a busy community. We have events going on all the time, even for as small as we are. There's Heritage Reunion, then we have an annual ice cream social, an Easter egg hunt, the rodeo, a cruise-in where people drive their classic cars into town, and then the mill has events going on throughout the year."—Charles Nix, 58, retired 
417: With most of Fair Grove's population leaving each day to go to work, how is business?
"It's actually great. We get customers from all over. We've even had customers from as far away as Canada. I think the wine tasting room helps bring in new customers."—Tammy Batson, 52, owner of Somewhere In Time Antique Shop
417: What brought you to Fair Grove?
"We moved here from Springfield to raise our family. We've lived here now for 30 years. It's home."—Tammy Batson
417: What is your favorite thing to do with friends?
"We go play on the school playgrounds."—Abby Hildebrand, 6 
417: After living here just a few weeks, what is your favorite thing about Fair Grove?
"Getting to play with all the nice people and eating ice cream."—Abby Hildebrand
417: What makes Fair Grove home?
"It's just a nice, caring community. Everyone here is a neighbor. It's almost like a Mayburry here."—Josh Butler, 36, owner of Fair Grove Marine Repair 
417: How does business fare in a small town?
"I see boats from all over. I see them from Ozark, Nixa, Springfield, Marshfield and even some from Oklahoma. We really stay busy being out in the middle of nowhere, but I think it's the old school customer service that keeps people coming back."—Josh Butler
417: What is new for people to see at the mill?
"We are restoring a French vertical mill for the Heritage Festival. We've been working on the mill since 1984, and people still bring in all sorts of items—old boots, saws, photos. You name it."—Joel Tucker, 43, engineer at the Wommack Mill 
417: What keeps you in Fair Grove?
"I've never lived in a small town before. I've lived in Miami, Austin, Los Angelos, Peurta Rico… but I love talking to people, and people will stop and talk to you here. You don't run into that so much in bigger cities anymore."—Bruce Anders, 69, volunteer at the mill