Health
Intro to Meditation at Essential Yoga
Senior Editor Savannah Waszczuk takes a break from her typical Friday night routine to try an Intro to Meditation class at Essential Yoga.
By Savannah Waszczuk | Photos by Kevin O'Riley
Oct 2015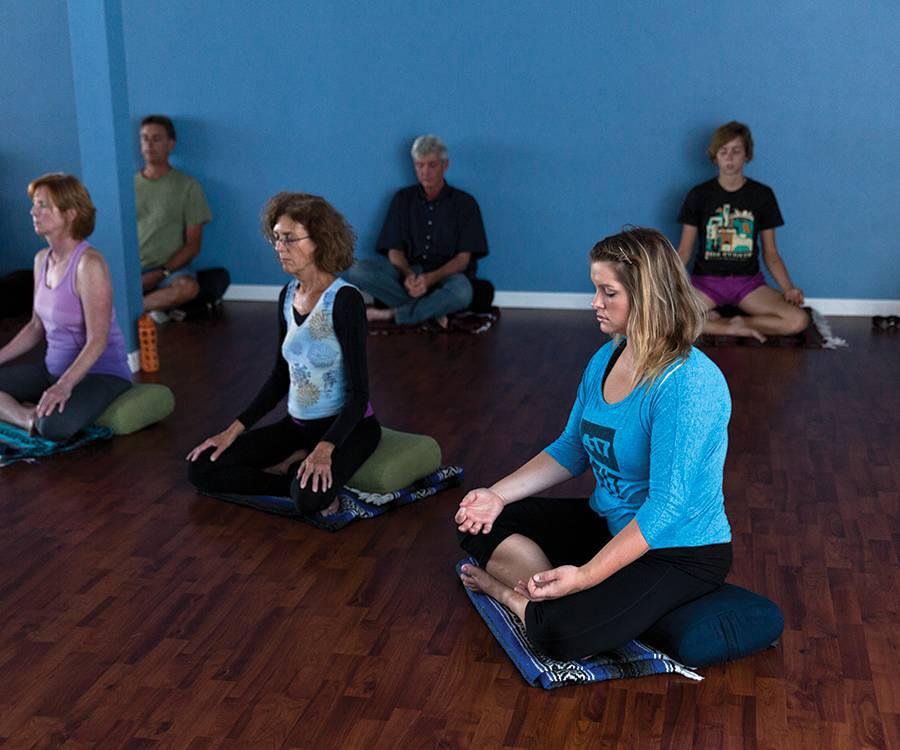 Essential Yoga
1343 E. Montclair St., Springfield, 417-886-9642 
essentialyoga.net
I've never been one to meditate. It's not that I don't love the idea of it. In fact, completely disconnecting from the world and reaching a new level of spiritual awareness with myself sounds great, not to mention super-beneficial. But I never, ever take the time to do it. When I work out on my own time, it's usually at a crowded gym, and even when I'm home alone I'm usually chatting on social media or talking on the phone. I don't know how to sit alone with no human interaction, and I don't know how to get in touch with myself. That's why my latest Get Fit assignment—the Intro to Meditation class at Essential Yoga—was a new experience in many ways. Luckily, it was one I thoroughly enjoyed, and I would definitely recommend it. 
The Studio
The studio offers a wide variety of yoga classes, including basic and level 2 hatha yoga, gentle vinyasa yoga, level 1 and 2 vinyasa yoga, power vinyasa, yin yoga, ashtanga yoga, restorative yoga, tween/teen yoga for those ages 9 to 14 and an intro to meditation class. The studio is owned by Shari McCubbins and equipped with 10 instructors, and it offers classes every day of the week. Pamela Girardot instructs the meditation class each week.
The Experience
Essential Yoga's Intro to Meditation class starts at 6:40 p.m. every Friday. For me, Friday nights typically include an adult beverage or two during happy hour, so ditching the cocktail in exchange for some meditation was a bit of a change. But I wasn't alone. I arrived at Essential Yoga and found nearly 20 others joining me for class. Many had attended the basic hatha class before, but several had dropped in just to meditate.  
I grabbed a yoga mat and blanket and made a comfortable seat on the floor. Girardot stressed the importance of being comfortable and invited us to sit against the wall if we didn't feel we could hold ourselves up for very long. 
After we settled in, Girardot had us practice a breathing technique—nadi shodhana—to gain control of our breath as we alternated our breathing through our nostrils. "This helps cultivate breath awareness," Girardot says. "It helps to balance and center our energy. Awareness of the breath is one of the most basic techniques used in meditation." Focusing on our breath helped us turn our awareness inward and quiet the senses.
Most of the class focused on meditation, which lasted 15 to 20 minutes. I eventually found myself completely at ease. My breaths were deep and slow, and my brain was at rest. I almost felt as if I was sleeping. For a moment, I even felt like I was the only one in the world. But just as all good things must come to an end, the class was over before I knew it, and Girardot brought us back to reality and invited us back for the next week.
The Effects
There are many benefits of meditation, and Girardot knows them well. "A major physiological benefit is lowering blood pressure," she says. "It helps increase our concentration, creativity and productivity." And this particular class is offered to people of all skill levels for free. For me, it was as relaxing as my usual Friday night happy hour drinks, but with far fewer calories. I was happy to leave the class and return back to the hustle and bustle of my super-social world, but I'm also glad to know that now I know exactly where to go when I need an escape.
Create a calming meditation space with items that awaken your senses, like these pieces from Renaissance Books & Gifts: Rudraksah prayer beads, $24.95; amethyst crystal, $15; Tibetan singing bowl, $90.