Profiles
Nine Questions with Zach and Adam Best
Meet two brothers who grew up in 417-land and used their passion for sports and entertainment to create a brand representing the fans.
By Rose Marthis | Photos courtesy Adam and Zach Best
Oct 2015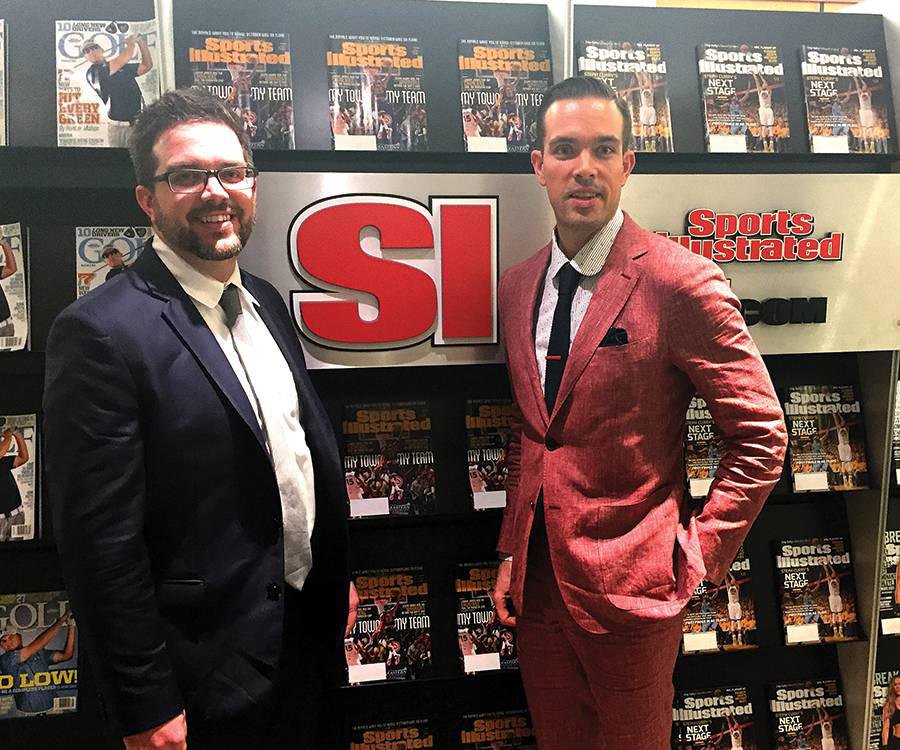 Adam and Zach Best are sports fans just like the rest of us. They cheer on their Chiefs and stay up-to-date on all the news regarding their favorite players. But unlike those of us who don a jersey every weekend before returning to our day jobs, the Best brothers turned their fandom into a career. 
The Hillcrest High School alumni started the popular online fan community FanSided in 2007. The brothers reached a point in their lives where they could take on a new challenge, and blogs were hot at the time. Adam had a background in sports writing, and Zach brought his expertise in web design and business. One blog grew into countless others (the sites have content from some 1,500 writers), and in May 2015, the site joined Time Inc. to run alongside Entertainment Weekly, Sports Illustrated and countless other brands we all know and love. Read how these brothers gave a voice to communities of fanatics everywhere and are continuing to build their dream. 
417 Magazine: How did FanSided grow from an idea to a company housing more than 300 websites? 
Adam Best: It was Zach's idea to start a Kansas City Chiefs blog and see how that went from a business perspective. We had overnight success there, so pretty immediately we decided to expand. I think the reason we had success was because, compared to other media outlets who were unbiased and objective, we decided that we were going to represent the fans from that point of view, and fans just seemed to eat it up. So after that, we expanded to cover the NFL with a site for each team, and did the same thing for pro baseball, hockey, basketball, college sports and other sports like NASCAR and boxing and mixed martial arts. Eventually we took the same concept to entertainment, and we just try to keep making our special sauce better year in and year out.
417: How did you start working with Time Inc.? 
A.B.: We were pretty deeply integrated with Sports Illustrated already. We had been a partner for two and a half years. I think it was a gradual process of us becoming more and more involved to the point where, especially with some of the possibilities for synergy on the entertainment side with Entertainment Weekly and some of the other brands, I think it just seemed like a natural progression to make this a permanent partnership on both sides. 
417: Then backing up, how did you get started with Sports Illustrated? 
A.B.: We knew some people over there and reached out, and I think they eventually reached back out and were very interested in working with us. We just put something together that was at first a commercial partnership but has morphed into a permanent partnership. 
417: How did you decide to make sports writing your career?
A.B.: I was frustrated at how many people were telling me that they liked my writing. It was so hard to make money and break into that field, that Zach and I thought there's got to be a way we can help people and empower writers to get exposure to make some money and start their careers. Given Zach's business background and leadership abilities—he's been a coach, he's been a manager in the hotels and restaurant hospitality field, he has vast web experience—he was a natural partner to help me try to take the challenge on. 
417: Did you have to recruit writers or did people come to you? 
Z.B.: It was a mixture of both. We had to do both. A lot of times we did recruit and try to find writers from all over the country, and actually now, all over the world. We also had people that were doing this as a hobby. Maybe they didn't want to do web design or didn't want to pay a hosting fee—the whole combination of things that we could offer for them so they could focus on their craft of writing and really hone in on what was really their passion. We could do all the other stuff for them.
417: How do you decide which topics to cover? 
A.B.: Originally we were having to recruit everybody, but it has gotten to the point where people now come to us sometimes with an interest in starting something new, and we cover way beyond sports. Everything from Game of Thrones to superheroes to video games to Taylor Swift, Star Wars—anything that people are a big fan of is something that we want to cover.
417: Have you guys been passionate fans your whole lives? 
A.B.: Yes. Both of us are laughing because our dad is just fanatical about sports, and we were very much born into being Chiefs fans. I was born in Kansas City, Zach was born nearby in Kansas. It was basically a birthright, you know?
417: What's next for you guys?
A.B.: On the sports side, we're making big progress with soccer. On the entertainment side and lifestyle side even, there's infinite possibility. We've been more male-focused to date. I think there are plenty of female sports fans out there, but our audience, for whatever reason, has been male-focused. So we're making a more conscious effort to reach out to women fans of all types. I think that's exciting. But really, we're so new in the Time family that we're trying to figure out how we fit in.
Z.B.: I think now as employees, we're really looking forward to working long term with Time and all of their brands and see where we can take this thing. I think we still have big plans for FanSided and really want to become one of Time Inc.'s iconic brands. 
417: How do you stay close to home?
A.B.: We grew up in Springfield. Our family still lives in the area. Zach lives in Nixa, so we have very deep roots in the Ozarks and I think it will always be that way. There are two things that I like to do when I come up [from Austin]. I love going to Branson, and I really like Artwalk.
417: When did you first realize it was growing into something huge? 
A.B.: It's been a pretty gradual growth process. There have been a few times where we stepped back and thought, "Whoa, this is really getting big." I think probably in 2009 or 2010 when we started getting invited to speak at conferences and started getting partnerships with people like the NFL and FOX Sports. We really started to think, "Okay, this can be something."
Zach Best: Our other partner, Matt Blake, would be another big asset to helping us grow as well as Patrick Allen, our VP of content. Those two people really helped. And then our relationship with Sports Illustrated in 2012. That was another big moment for us starting to realize how big this thing was. 
417: Before Matt and Patrick came on 5 years ago, was it just you two, or did you hire writers before that?
A.B.: Matt came on as our Chief Product Officer and brought more technical expertise to FanSided. But before that, really almost immediately we were finding writers to work with us as contractors. And a neat little fact about FanSided is that the original editors that we found eight years ago for our second and third site—a Miami Dolphins site and a Minnesota Vikings site—are still with FanSided. I think that speaks to the family atmosphere we've built.
417: Was sports writing something you guys always wanted to do? 
Z.B.: Maybe Adam, not me (laughs). Adam was in school paper at Hillcrest and went to Emporia State for college and to play football. But then he entered a contest in 2006 for FOXsports.com's Next Great Sportswriter II. 
A.B.: I was in the final 16. They only pick 15 people nationally to be part of FOXSports' Next Great Sports Writer II. I made that contest at a time when I was trying to be a screenwriter and get into film, and that's when I thought, "Maybe I should switch career fields. There seems to be a lot of opportunity on the sports writing side."
417: Are Chiefs games your favorite sporting event to attend? 
Z.B.: Yeah, I would say so. It's in our history. We love any type of big sporting event, but I think Chiefs games are where we felt at home as a sports fan. There is really no place like Arrowhead.
A.B.: There is no place like Arrowhead. In the past couple years, however, Zach and I have started going to UFC fights in Las Vegas. That has to be up there, as well. That's a pretty special environment. To follow up on Arrowhead, I live in Texas and have gone to that monstrosity they call a stadium in Dallas and still, nothing compares to Arrowhead. I went to it during a playoff game, and still to me, even 100,000 Cowboys fans during a playoff game still wasn't as loud as 70,000 Chiefs fans during the regular season.
417: Who have been your biggest supporters?
Z.B.: Our parents gave us a lot of the tools we need to succeed. Our dad really gave us hard work and dedication, and our mother really gave us passion and encouragement to go for your dreams.
A.B.: She was really encouraging to both of us on the creative side and our dad always knew when to give us just enough of a push.
Z.B.: I wouldn't be a good husband if I didn't say my wife, Lauren Best, has probably been our No. 1 fan throughout this whole thing. She watched us start it eight years ago and has been a huge supporter.
A.B.: She's the first lady of FanSided and was in the living room when the seed was planted.