Reviews
Canyon Grill Restaurant
We stopped by Dogwood Canyon for a lunch filled with unusual meats and tasty eats.
Written by vivian wheeler | Photos by Vivian Wheeler
Oct 2016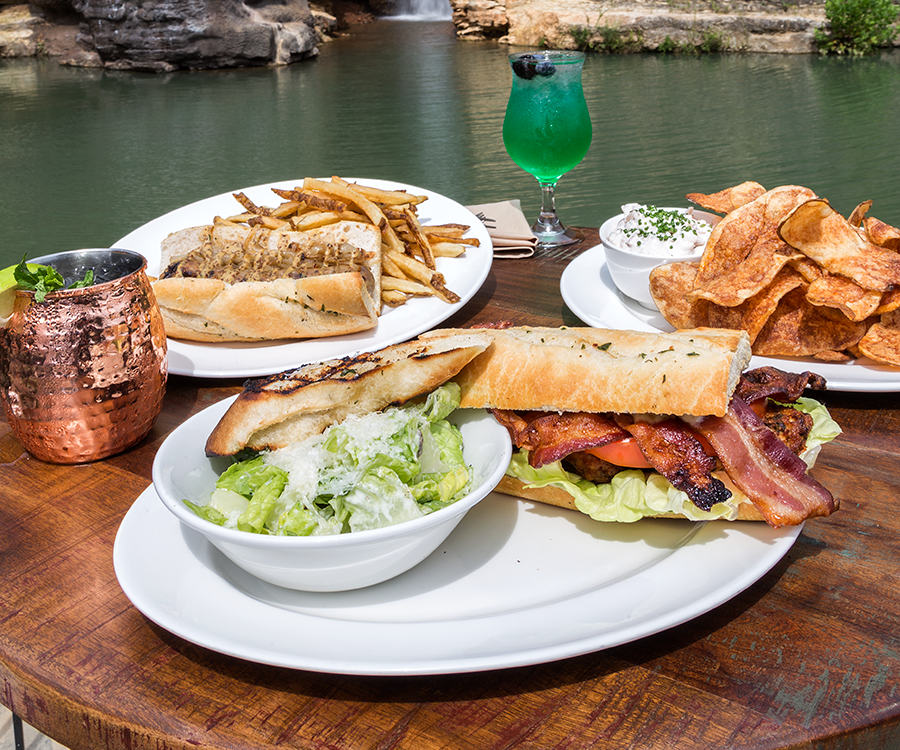 It was Friday, I was off work early, and I was on my way to Table Rock Lake for the weekend. Life was good. But it was about to get even better because I had planned a little pit stop along the way where I would be doing my favorite thing: eating. Dogwood Canyon opened a new restaurant last spring, and I had yet to try it. And its location off of Highway 86 meant it was the perfect lunch destination to kick off the weekend.  
If you haven't been, Dogwood Canyon Nature Park is a nature preserve that boasts 10,000 acres of pristine Ozark wilderness. The property is filled with gorgeous waterfalls, caves, trout streams and pastures spotted with bison and elk. You could easily spend a day
exploring all the park has to offer. But I only had time for lunch. 
The Canyon Grill Restaurant—in true Johnny Morris form—epitomizes rustic elegance. The stone building has high ceilings criss-crossed with wooden beams. A gigantic wood-burning fireplace sits on one side of the dining room surrounded by comfy chairs. My friend and I chose one of the tables that line a wall of windows. The spot gave us an unobstructed view of a rushing waterfall that tumbled into a clear, blue pool of water. After admiring the picturesque setting, we turned our attention to the food. 
The menu offers a small collection of thoughtful items inspired by some of the natural elements found in the park. Matt Lawson, the sous chef, created the menu around elk, bison, mushrooms and trout. The elk and bison are sourced directly from the park and are processed locally. Much of the menu is made from scratch, which elevates the soups, salads, sandwiches, burgers and appetizers from your run-of-the-mill cafe food to something special. 
Take, for example, the roasted onion dip appetizer. I have always loved French onion dip. I buy the Lipton packets, open a tub of sour cream and voilà, a MSG-infused party dip that is always a hit. But this version was far better than anything that could be found in the grocery aisle. The dip was made with roasted onions, sour cream, cream cheese and beef stock. It was creamy and salty with just a
subtle hint of sweetness. A heaping pile of crispy homemade potato chips came on the side as the perfect dipping vehicles. 


Diners can relax in the lodge-esque restaurant that offers views of a waterfall and a fireplace to warm up by. 
For my entree, I settled on the smoked trout cake BLT, and my dining companion opted for the house-made elk bratwurst. The BLT came on crusty French bread that was topped with tons of bacon, lemon caper mayonnaise, bibb lettuce, heirloom tomatoes and two trout cakes. Overall the sandwich was yummy. My only complaint was that the delicate trout cakes—which were delicious—were overpowered by the flavor of the bacon. I would have been happy to eat a traditional BLT with a side of those excellent trout cakes.
The elk brat was also tasty. The portion was huge, and the homemade ale mustard was a nice touch. It came with enough hand-cut fries to feed a small army. I was debating ordering one of their cocktails, but with more driving ahead of me, I opted to save it for my next visit. I'm already planning a fall picnic at the park. Since the property is private, you can take your food and drinks to go and enjoy them at one of the many picnic tables scattered through the nature preserve. What could be better?