Life
Halloween Events and Haunted Spots in Springfield, MO
Now is the time to get spooky. The Ozarks and surrounding areas are home to many fun Halloween experiences and creepy urban legends. Take a bone-chilling tour of an old prison or trick or treat in one of Springfield's coziest neighborhoods.
By Corin Cesaric and Hailey Jo Hopkins
Oct 2018
When the leaves start to change colors and homemade tombstones are shoved into the ground for decoration, you know Halloween is quickly approaching. Haunted houses open, pumpkins hit porches and horror movies take over the TV lineup. No matter your preferred level of spookiness, we've found plenty of festive activities that are sure to keep you on your toes.
Explore Haunted Spots
Haunted Bus Tour
On October 27 this one-hour bus tour shows off some of southwest Missouri's eeriest spots. You'll see Springfield's first cemetery, a mass grave from the Civil War and haunted buildings around town. It's narrated by History Museum on the Square staffers (so you know it's legit) and tickets are on sale now.
Pythian Castle
Built in 1913, The Pythian Castle is said to inhabit many ghosts and maybe even some goblins. During World War II, the U.S. Military used the castle for entertaining and rehabilitating injured troops. The Springfield Pythian Castle has even found itself featured on numerous television programs dedicated to spooky hauntings throughout the years, including Ghost Lab, Haunted Collector and Children of the Grave. It also has a mention in the book, Haunted Route 66. Take a ghost tour, attend a murder mystery dinner or schedule a private investigation where groups can bring in equipment and explore the castle freely.
Hotel of Terror
Okay, the Hotel of Terror isn't *actually* haunted, but it's a great place to pay to get spooked. The actors main job is to keep you terrified through your tour and they seem to do a pretty good job of it. All four floors of the building are used and the best way out is down the 96 foot slide. The Hotel also shows free movies occasionally for a calmer night.
The Landers Theatre
Right in the heart of downtown Springfield is The Landers Theatre. It has been rumored to be haunted since 1920 when a janitor was killed in a fire. Now, performers say they occasionally see him standing in the balcony watching as they rehearse. Throughout the years, more sightings of other ghosts and orbs have been reported, but rumor has it they're friendly. If you want to see one of many apparitions that are supposedly there, buy a ticket to an upcoming show and keep your eyes peeled.
Take a Quick Trip
Eureka Springs, Arkansas
Eureka Springs is a favorite for weekend trips and its quick two-hour drive is a bonus. Another great perk of this quaint town are the seriously spooky attractions. The Crescent Hotel is considered to be the most haunted hotel in America. It has more ghost stories than most people can remember. To learn about the morbid history of the Crescent, book a room or take a tour that is offered every night around 8 p.m. Guests are encouraged to take their own pictures during the visit
On October 27, the town hosts an epic bar crawl and costume party that is Eureka Springs biggest parade spectacle. Hundreds of people dressed in their best costumes will make their annual descent down Spring Street, with apocalyptic vehicles and Halloween floats in tow. Keep your eyes peeled for the spooky street performers. If you want to get the low-down about the haunted parts of this town, you can take a guided tour that will show you all of the hair-raising sites.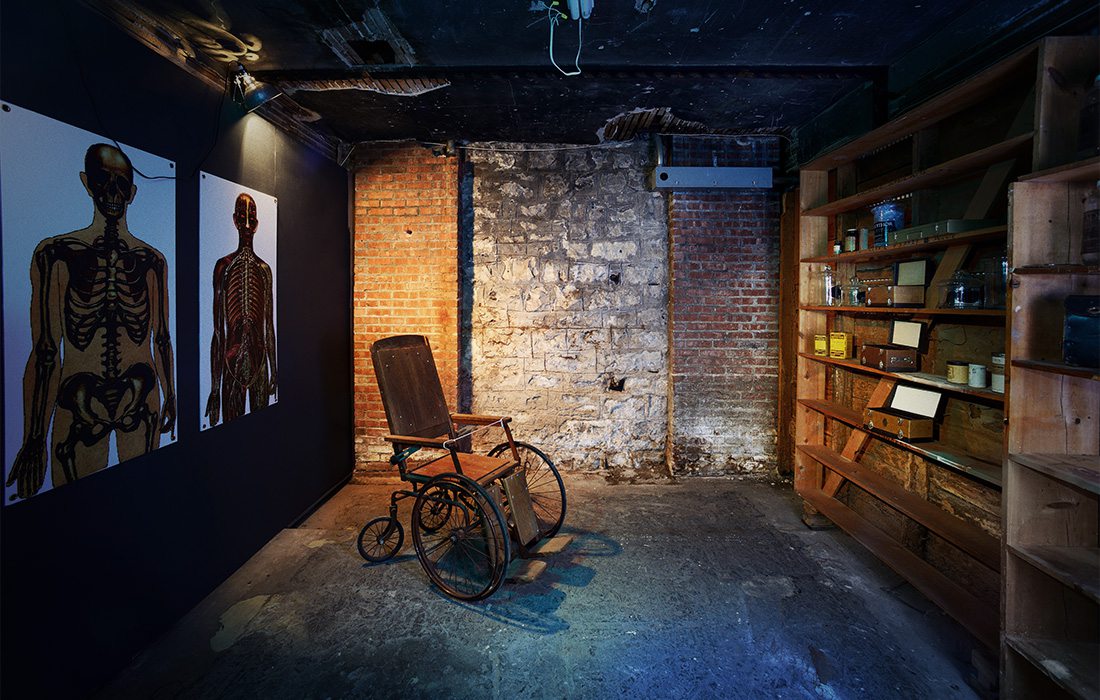 The Spook Light
The Spook Light has been a paranormal enigma for more than a century. Legends say it was first seen by Native Americans during their perilous journey on the Trail of Tears in 1836. According to the descriptions given over the years, the Spook Light appears as a ball of fire that dances and flies down the center of the road. According to locals, the best time to see the light is between the hours of 10 p.m. and midnight. Some believe it's headlights in the distance, but others swear there is no explanation. Take a trip to Oklahoma to decide for yourself.

Windyville, MO
Only locals and certain corners of the internet know about the old stories of Windyville, a Missouri ghost town near Bennett Spring State Park. This tiny town has been called abandoned; however, it is still home to a population of 165. People claim to hear screaming from the old tomato cannery, laughter in Lone Rock cemetery and footsteps in the many abandoned buildings. Take a short road trip here to see if you can get in touch with the supernatural.

Missouri State Penitentiary
Want an extra dose of spine-tingling mystery this Halloween? Known as the bloodiest 47 acres in America, The Missouri State Penitentiary in Jefferson City offers both public and private ghost tours. It housed prisoners from 1836 to 2004, and 39 people were killed in the gas chamber when it was in use. The prison has a ton of interesting history, and there was even a prison riot in 1954 that caused an estimated $5 million in damage. Prisoners no longer live there, but you can go inside during one of many tours. Disclaimer: these tours are not for the weak-at-heart.
Branson Haunted Hills
This haunted house has been open to the public and creeping people out since 2016. It is open every Friday and Saturday in October so you can explore the place and get spooked. This year there will also be a pet costume contest on October 28 and a Lite Fright Night for the kids on October 30.
Family Fun
Rountree Parade
For more than a decade, this cozy neighborhood has hosted a costume parade that is great for families and kids of all ages. After you march the streets in your costumes, jump right into trick-or-treating in one of Springfield's favorite neighborhoods.
Thriller on C-Street
Commercial Street hosts an action-packed version of Michael Jackson's Thriller. The dancers—er, zombies—train for months leading up to the show. The event brings in a ton of people and is a great way to celebrate Halloween. It's free to watch, so mark your calendar for the weekend before Halloween.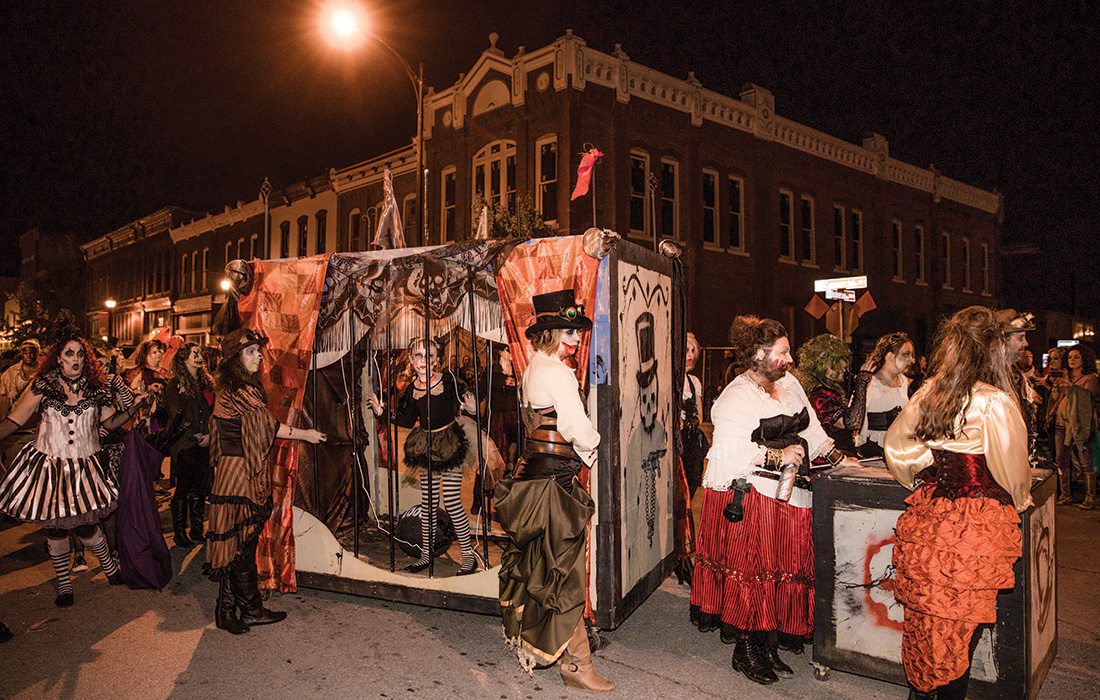 Spooky Symphony

The Springfield Symphony hosts a free Halloween concert on October 29. It's the perfect night out for the family. Dress your kiddo in a costume, and they can be a part of the costume contest.
Make a DIY Costume
Putting together a crafty Halloween costume with your family can be a blast and maybe even challenging but the outcome is always worth it. Here are some of 417 Magazine's very own DIY costumes.