Farmers Cooking Class
The second Farmers Cooking Class features a gourmet three-course meal, wine pairings and plenty of tips for cooking with the seasons—and you're invited to attend.
by Savannah Waszczuk | Photos by Kevin O'Riley
Sep 2014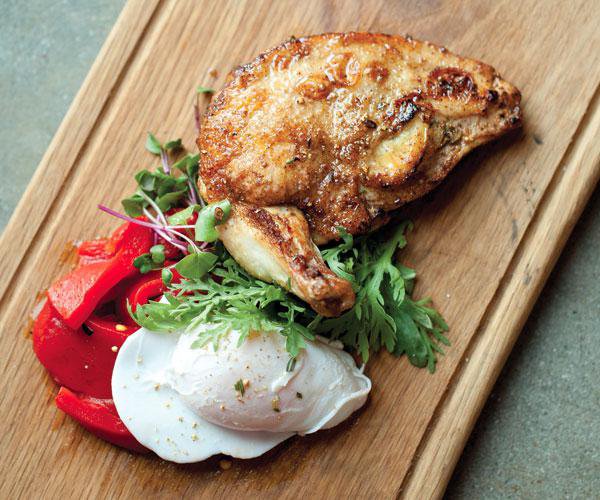 When
11 a.m.–1 p.m., Tuesday, September 9
Where
417 Magazine, 2111 S. Eastgate Ave., Springfield
Tickets
$25, available via 417-883-7417
Last July, Chef Wesley Johnson of Metropolitan Farmer served a delicious three-course meal to 24 guests at our first-ever Farmers Cooking Class. 417 Magazine teamed up with Farmers Market of the Ozarks for the event, where Johnson focused on teaching guests all about eating with the seasons as he prepared the meal with locally sourced ingredients. Now that we're just past the peak of summer, Johnson is gearing up for the second class with an all new pool of ingredients on September 9. "A lot of the more delicate greens are fading away," Johnson says. "As we roll into September, we're getting away from a lot of the lighter, more delicate vegetables and seeing more hearty things come into play."
Johnson's menu features a variety of fresh fare, including produce from Millsap Farms, a radish and pea shoot salad made with goodies from Five Oaks Farms and seared trout from Rockbridge ranch. If you're a lover of desserts, you'll be especially excited for course No. 3: a cheesecake made with Terrell Creek Farm goat cheese atop a crust made with Granolove's granola. Guests will also receive swag bags filled with goodies from Farmers Park retailers, the market's vendors and more.
Soup Course:
White gazpacho with Millsap Farms produce
Ingredients:
¾ cup toasted almonds
2 cloves garlic
2 cups white grapes
2 each Millsap Farms cucumbers, peeled and seeded
1/2 cup water
4 inches Artisan's Oven French bread, crusts removed and torn into pieces
2 tablespoons Hammons black walnut oil
Millsap Farms herbs, chopped for garnish
To prepare:
Place almonds, garlic, grapes, cucumbers, water, and bread in a blender. Puree and strain. Pour in a bowl, garnish with black walnut oil and chopped herbs and serve.
Entrée Course:
Seared Rockbridge trout, Five Oaks Farms radish and pea shoot salad, lemon vinaigrette 
Ingredients for the salad:
2 each lemons, juiced
¼ cup cider vinegar
2 tablespoons local honey
Salt and pepper to taste
1 cup olive oil
1 cup pea shoots
1 cup 5 oaks farm radish sprouts
To prepare the salad:
In a medium jar, combine lemon juice, cider vinegar, honey, salt and   pepper. Cover and shake, until salt and sugar have dissolved. Add oil and shake until thoroughly combined. Toss sprouts and shoots with the lemon dressing, and plate with the trout fillets.
Ingredients for the trout:
4 Rockbridge trout fillets, deboned and scaled
2 tablespoons olive oil
Salt and pepper to taste
4 cloves garlic, smashed
4 sprigs thyme
To Prepare:
Rub fillets with olive oil and season with salt and pepper. Place a smashed clove of garlic and sprig of thyme on each fillet. Let set in the fridge for 1 hour. Preheat a heavy skillet over medium high heat. Add two pieces at a time, skin side down. Cook about 2 to 3 minutes on both sides until skin is crisp and lightly browned. Serve on sprout salad, skin side up.
Dessert Course:
Terrell Creek Farm goat cheese cheesecake with wild gooseberry jam and a Granolove crust
Ingredients:
12 ounces Terrell Creek Farm goat cheese, room temperature

1/4 cup granulated sugar

1/2 cup sour cream, room temperature

2 tablespoons local honey

1 cup Granolove plain granola
3 large eggs
To prepare:
Preheat the oven to 300°F. Combine the goat cheese and sugar in the bowl of your mixer mix on medium speed for 1 minute. Add the sour cream and honey. Mix on low speed just until incorporated. Turn off the mixer, and scrape down the sides of the bowl. With the mixer running on low speed, add the eggs one at a time and mix until combined and smooth. Pour the mixture into muffin tins, allowing a little room at the top to put the crust in. Top each filled tin with a thin layer of granola. Bake in the oven for 20 minutes or until the cheesecake has set and is no longer liquidly. Cool for several hours, remove from tins by flipping them upside down and serve with your favorite jam.