Style
Relics Antique Mall
With more than 400 vendors, nearly a million antiques and collectables and an on-site tea room, Relics Antique Mall is the perfect place to look for treasures.
By Savannah Waszczuk | Photos by Brandon Alms
Sep 2014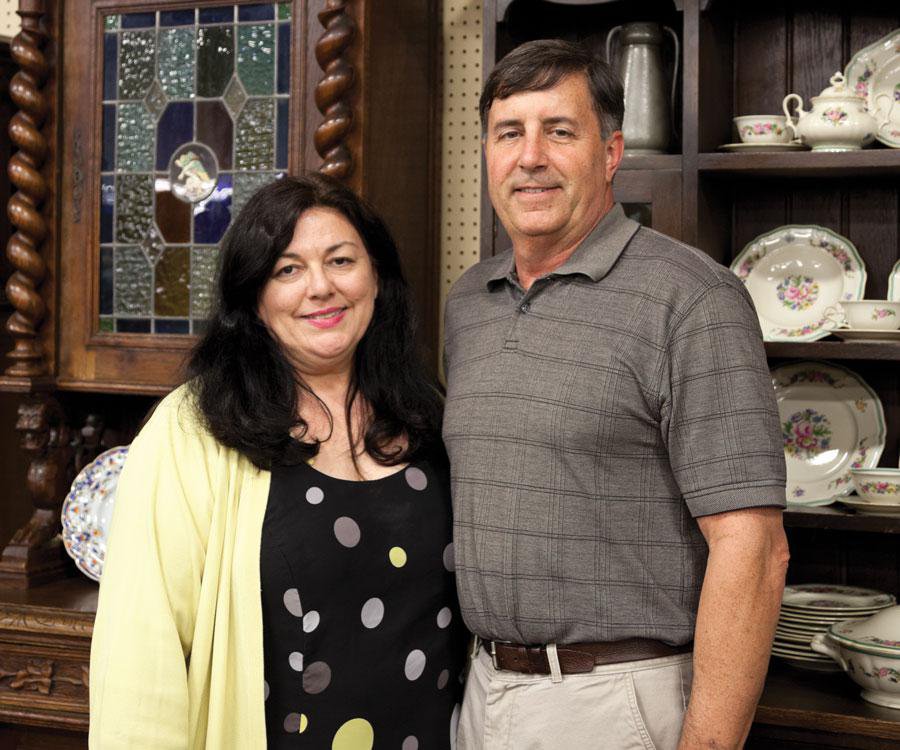 Relics Antique Mall
2015 W. Battlefield, Springfield, 417-885-0007, relicsantiquemall.com
Open Mon.–Sat., 10 a.m.–6 p.m. and Sun., noon–6 p.m.
Matthew and Beverly Robb first met while they were attending college at Southwest Missouri State University. After the two became a serious couple, they got engaged and eventually got married and moved in together. "We started going to auctions to get furniture for our first apartment," Matthew says. "A lot of times, we would want just one thing, like a set of dishes, but we would bid on a cluster of things and get a lot of extras." As the two acquired more and more extra housewares, they decided to get a shelf at a flea market in town. "Not long after we had the shelf, we started making money on it," Matthew says. 
Meanwhile, the two graduated from college and moved to Texas for their new careers: Matthew worked in engineering and Beverly worked in marketing. But they brought along a lot more than just their own home furniture. They also brought all of that extra houseware and furnishings they had amassed and took it all to a big outdoor market. "We sold the heck out of our stuff that day," Matthew says. "It was very exciting, and it hooked us." Next, the two started having antique shows on the weekends, and they eventually got their own booth at an antique mall. "Then we got another booth and another booth," Beverly says. "We had four booths in Dallas and Fort Worth before we started our own mall in Texas. Our antique business eventually added a third income." 
In 2006, the Robbs moved back to 417-land, and in 2009, they opened their first Relics Antique Mall in Mt. Vernon (1001 Daniel Dr., 417-466-2646). The following June, they opened the massive Springfield location, which is located in a 90,000-square-foot building. "We have more than 400 dealers here," Beverly says. 
When you walk into Relics, you see rows of booths dressed with everything from $1 pieces of sheet music to $3,000 pieces of furniture imported from Europe. Since each booth has a separate owner who is responsible for stocking their inventory, you can find just about anything. "It's really like we have 400 small businesses in one building," Beverly says. Antique and repurposed furniture is popular, as well as mid-century modern furnishings and a huge range of decorative home items. And of course, many of these items ring in at a great price. Soon, you'll be able to shop for even more bargains. "We're in the process of adding about 100 more booths, plus an event center," Beverly says.
If you stay for several hours (and chances are, you will), you can even grab lunch at the Relics tearoom, which is located toward the back of the mall and offers a tasty variety of salads, sandwiches, quiche and desserts. "We have some people who stay all day," Beverly says. "For so many people, shopping here is an escape."
Q&A with Relics Antique Mall Owners Matthew and Beverly Robb
417 Magazine: What was your first-ever experience with antiques?
Beverly Robb: I used to go to antique auctions with my grandfather. To keep me satisfied, he would let me pick out a box to bid on. 
Matthew Robb: I bought an oak filing cabinet for $11, used it for 20 years and then sold it for a profit. 
417: Describe a typical day at Relics.
B.R.: Oh, you could almost make a reality show about this place. Working with 400 vendors, 30 employees and lots of customers, we have a lot of personalities going on. But we work seven days a week, so we always make sure we create a lot of friendships and have a lot of fun.
417: How often does inventory change?
B.R.: Hourly. Even minutely. It's constantly changing. We have some vendors who bring items in several times a day sometimes.
417: What's the best antique you've found?
B.R.: Mine would be a pair of bronze statues in Fort Worth that I absolutely had to have. They're a boy and a girl, and I still enjoy them.
M.R.: A really early American silver cup I found in Stockton. I didn't know much about it then. I paid $1 for it. It's probably worth about $600.