Dishes
Mocha Pecan Turron
These seven dishes or drinks have passed our taste buds and made us rave. They are ranked by level of yumminess.
Photo by Kevin O'Riley
Sep 2014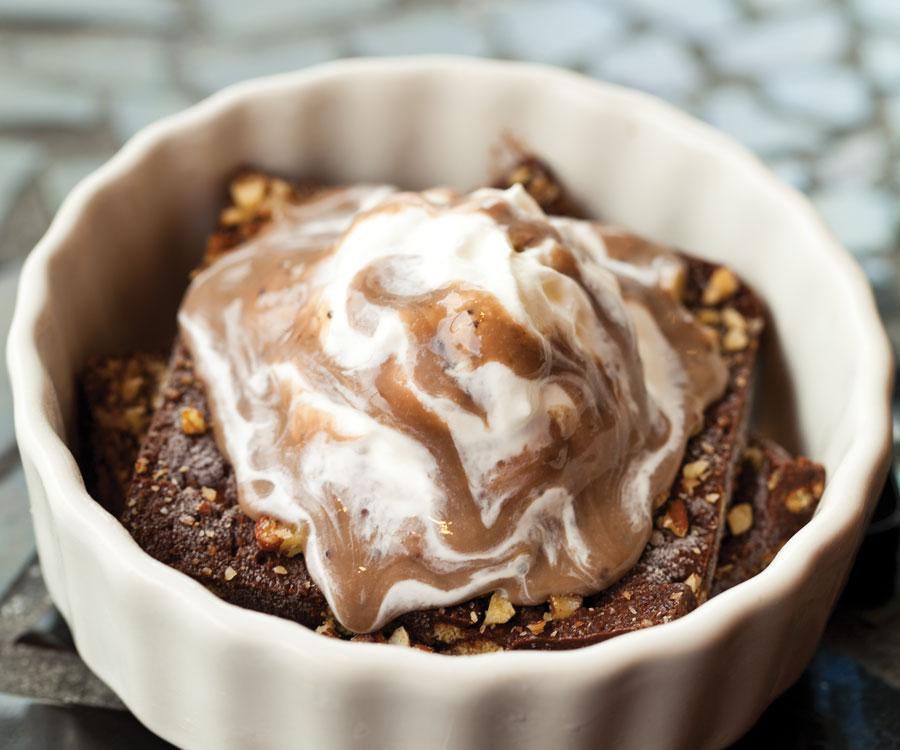 1. The Mocha Pecan Turron from Cafe Cusco (234 E. Commercial St., Springfield, 417-868-8088) is a luscious blend of Nutella-mocha fudge, graham cracker, pecans, whipped cream and a blueberry, red wine and espresso drizzle.
2. For a fresh breakfast, we loved the Greenhouse Wrap at Cecil's to Go (1421 S. Glenstone Ave., Springfield) when the food truck was parked at Farmers Market of the Ozarks. Soft pita is filled with hummus, eggs, roasted brussels sprouts, kale and more.
3. For a fun take on a banh mi, try the one at Scotch & Soda (301 South Ave., Springfield, 417-719-4224). It's made with garlic and black pepper chicken, pickled veggies, jalapeño peppers, mayonnaise and cilantro and served on a baguette.
4. We love ordering the General Tso's Chicken at Flo (2925 E. Battlefield, Suite 105, Springfield, 417-886-0356) with grilled chicken instead of fried for a lighter lunch with a delicious sauce.
5. We've been loving the fish tacos at The Grotto (301 E. Battlefield, Springfield, 417-886-9600). Corn tortillas are filled with fried grouper, cabbage, chipotle crema, cotija cheese and fresh cilantro.
6. Want to try a killer pizza topping combo? Order a bacon and avocado pizza at Cravin PIzza (3641 E. Sunshine St., Springfield, 417-890-8255) on the restaurant's crispy thin crust.
7. One of our favorite season treats at Andy's Frozen Custard (multiple locations; eatandys.com) is the pumpkin pie concrete. A concrete blended with a whole slice of pie to get us in the mood for autumn? Yes, please.