Health
Nutrition for the Whole Family
Crystal Spangler, a nutrition specialist with Head Start and nutrition consultant for McDonald's, shares how she is helping Head Start aid local families and gives us the inside scoop on healthy eating at home and on the go.
By Alissa Robertson | Photo by Kevin O'Riley
Sep 2014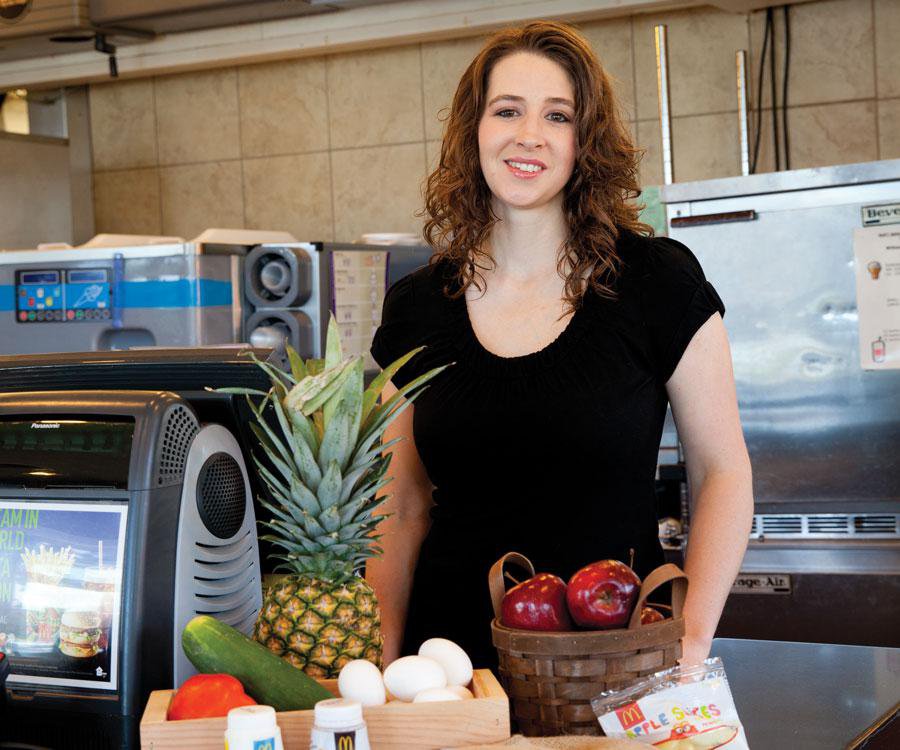 What is your background in nutrition?
I am a registered dietitian. I graduated from the Missouri State University dietetic program. From there I went on to complete my dietetic internship at the University of Oklahoma in Oklahoma City. After completing my RD exam, I started working as a clinical dietitian for Cox Health and did this for about a year. Since then I have been at OACAC Head Start. 
What is your role at Head Start? 
I am the nutrition specialist. I provide nutrition education to staff and families, participate in program planning and lead the foodservice program. I assist our menu planning committee in designing menus that meet the USDA's CACFP meal requirements as well as the Missouri Eat Smart requirements. Our program does more than meet the minimum meal requirements to reduce added sugar and fats while providing the additional whole grains, fruits and vegetables children need. 
You also work with local McDonald's restaurants. What is your role there? 
I am a nutrition consultant for McDonald's. It is an opportunity to share with others that McDonald's is more than hamburgers and French fries. They have a lot of wholesome options. When I talk to friends, family and patients about this, they are really surprised to hear a dietitian say that. One of the great things about the wholesome options that McDonald's offers is that they provide good options for busy families and people who are traveling. 
Is eating healthy at fast food realistic—especially for kids?
It can be very realistic. I know it can be especially difficult while traveling, but I think McDonald's is doing a good job of making it easier. They are increasing the availability of fruits and salads, low-fat dairy, whole grains and grilled, lean meats to people away from home. Another thing I am really excited about is that they are revamping their happy meals. McDonald's no longer offers soda as a standard choice in their happy meals. Instead, they encourage low-fat milk (chocolate or white milk) and 100-percent juice. Parents and children can now choose between apples, Go-Gurt and the traditional French fries.
Where did your passion for nutrition come from? 
When I went into college I thought I wanted to pursue marketing, advertising and graphic design, but one day I realized I wanted to know more about health and how to care for my family when I got older. My passion for nutrition stems from learning about the body and how it works. It is impossible to separate nutrition and health because nutrition affects our health on so many levels. Preventative health care and taking responsibility for our own well-being allows us to make informed choices and be proactive instead of reactive concerning our long-term health. 
How did you get involved with Head Start? 
A friend of mine mentioned that OACAC Head Start was hiring a dietitian and suggested that I apply. The more I learned about the program the more I fell in love with its mission and all the great things it does for the communities, children and families that it serves. 
What does Head Start do? 
Head Start is an amazing program available to low-income families. It is an early childhood program operated locally by OACAC which stands for the Ozarks Area Community Action Corporation. Early Head Start serves children 0 to 3 years of age, and Head Start serves children 3 to 5 years old. One of the greatest things about Head Start is that, in addition to early childhood education and child care, they provide individualized services in the areas of medical, dental, mental health, nutrition and family support. Head Start and OACAC are designed to work toward alleviating the causes and conditions of poverty in Southwest Missouri. Parents of children participating in Head Start can utilize opportunities provided by the program to build work and resume experience by sitting in on interviews, serving as board members or working in the classroom or kitchen to build on-the-job experience and references. 
What would you say is the key to a healthy lifestyle?
Start small, identify something you want to change, and do it. Don't let it become an overwhelming goal in your head that you can never get started on or never achieve. Just scale it down to where it is reasonable, measurable and achievable. Once you achieve this goal move on to the next one, but avoid tackling too much at once. Take time to be happy and do things that are fun. Do things you like. 
How many people do you get to work with on a regular basis with your job at Head Start? 
I have the opportunity to work with a variety of people. The majority of my interactions are with the nutrition assistants of our program. There are about 50 to 60 of them. I also work with family advocates, education staff and our administrative team. We have centers in 10 surrounding counties including Barry, Christian, Dade, Dallas, Greene, Lawrence, Polk, Stone, Taney and Webster. I enjoy traveling to our centers and offering support in areas of sanitation and food safety, food production, child nutrition and nutrition education. I also enjoy when the staff attend training sessions throughout the year related to food safety, menu planning and various health topics.
What is a good meal for parents to try with their kids?
There are a variety of meals that parents could try with their children. The key is variety and repeated exposure to foods. A great resource for parents to utilize for meal planning is MyPlate (choosemyplate.gov). This website offers lots of great tips for busy parents and even has a section for parents of preschoolers. Children who attend Head Start and Early Head Start are exposed to fruits and vegetables multiple times a day during family-style meals. During family-style meals the children sit together at the meal table with at least one adult, who serves as a good role model, and serve their own food and beverage. Everything from the utensils to the chairs is child-size. The children are responsible for serving their foods, choosing how much to eat and for clearing their dishes and cleaning their spot at the table (with assistance as needed). This type of meal setting encourages positive food experiences. Two of my favorite things about our program are the family-style meal service and the dramatic improvement of fruit and vegetable intake by the children from when they start attending to when they complete the end of the year. Providing repeated exposure to fruits, vegetables and unfamiliar foods and participation in family-style meals are two of the best things parents can do to increase food acceptance and decrease "picky eating."
How can people be healthy on a budget? 
There are quite a few things you can do when thinking about your budget. Planning ahead is really important. When planning ahead you're not only thinking about your money but also your time and how to get the best nutrition for your money. Planning ahead allows you to plan menus, review sale ads and make grocery lists before you get to the store. Utilize dried beans, lentils and peas. They don't cost a lot and are nutrient powerhouses.
What is the most common mistake people make when they eat out? 
A common mistake is to assume that the salad is always the best nutritional choice. People will often choose a salad because they think it will have fewer calories than the other menu options. However, salads at restaurants are often served with high-calorie dressings and extras. A tip for avoiding this mistake is to look on the restaurant's website for nutritional information before you go, so you can make an informed selection when you order. Another tip is to eat well throughout the day, so that you are not tempted to make poor food choices while eating out. 
McDonald's has done a great job of providing nutrition information both in the store and on-line. This information is available through "My Meal Builder" at McDonalds.com, on menu boards and tray liners in stores, and they have an app that allows you to quickly access nutrition information
What are some of the healthful options at McDonald's that you recommend? 
For breakfast they have the Egg White Delight, which is freshly cooked egg whites available on an English muffin made with 8 grams of whole grain. The traditional Egg McMuffin is served on the same muffin and includes freshly cracked eggs. Something I really like there is their oatmeal; it is made from whole grain rolled oats, available any time of day and easily customized. At lunch and dinner they have premium salads and a side salad which include more than just iceburg lettuce. The spring mix they use includes a nice mix of dark leafy greens consisting of a variety of gourmet lettuces. Sliced apples are another of my favorites that are available to add to entrees and meals—not just Happy Meals—and they make a great snack. McDonald's is also working to decrease the sodium content of their food.