Paint it Forward
Three local organizations band together to inspire creativity for ill and injured kids.
BY Alissa Robertson | Photo by Kevin O'Riley
Sep 2014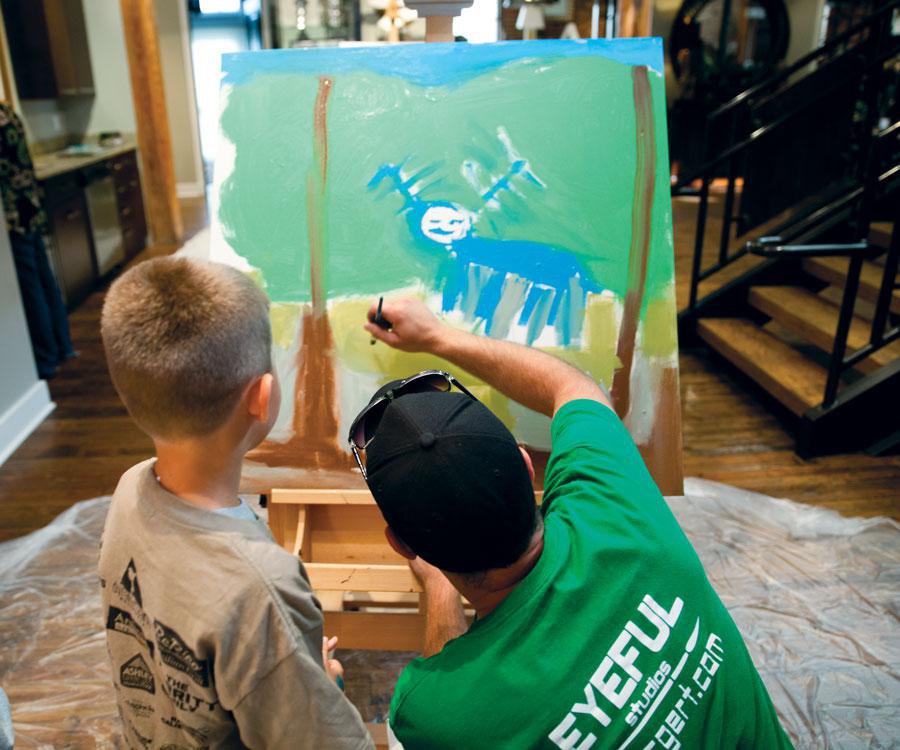 Obelisk Home and the Ronald McDonald House Charities of the Ozarks have been brainstorming a new way to raise money for seriously ill or injured children in 417-land, and the idea they came up with is beautiful. On September 27, 18 pieces of art—all hand painted by RMHC children—are up for auction at the inaugural Paint it Forward Cocktail Party and Auction. 
Obelisk Home is pairing kids who have benefitted from RMHC with 14 local artists to make the 36-by-36 one-of-a-kind works of art and extra 8-by-10s for keepsakes. Participating artists include Stephanie Cramer, Jane Troup, Jared Gillett and others.
Seeing these kids get excited to paint really tugs at the heart strings, says Obelisk Home's Director of Strategic Relations Nicole Fuller. "It will be fun and exciting for them to see their work on display, and they will get to take something home," she says. "We hope to make this an annual event."
Obelisk Home has also recruited ETHIC, a teen-founded non-profit that provides young adults with a wide range of service opportunities and a chance to give back. ETHIC volunteers are entertaining the children and making them comfortable while the other kids are painting. ETHIC is also serving tables and helping facilitate the cocktail party and auction. 
"Paint It Forward is an opportunity for teenagers to get involved, give back, and impact their community in a positive way," ETHIC founder Nikki Shah says. "We hope that projects like this will continue to thrive in Springfield in order to promote a world of caring and engaged teenagers."
 One hundred percent of the proceeds for the auction are donated to Ronald McDonald House of the Ozarks. Come out, have some hors d'oeuvres and wine, and see the breathtaking pieces that these children created. The paintings will be visible on Obelisk's Facebook page when they are finished, and bids can be called in if you can't make it to the event. Paint it Forward is free to the public, so you don't have an excuse to stay away.