Reviews
The Wheelhouse
Located in Springfield's food truck park, The Wheelhouse offers fresh Mexican-Thai fusion flavors at affordable prices.
By Savannah Waszczuk | Photos by Kevin O'Riley
Sep 2014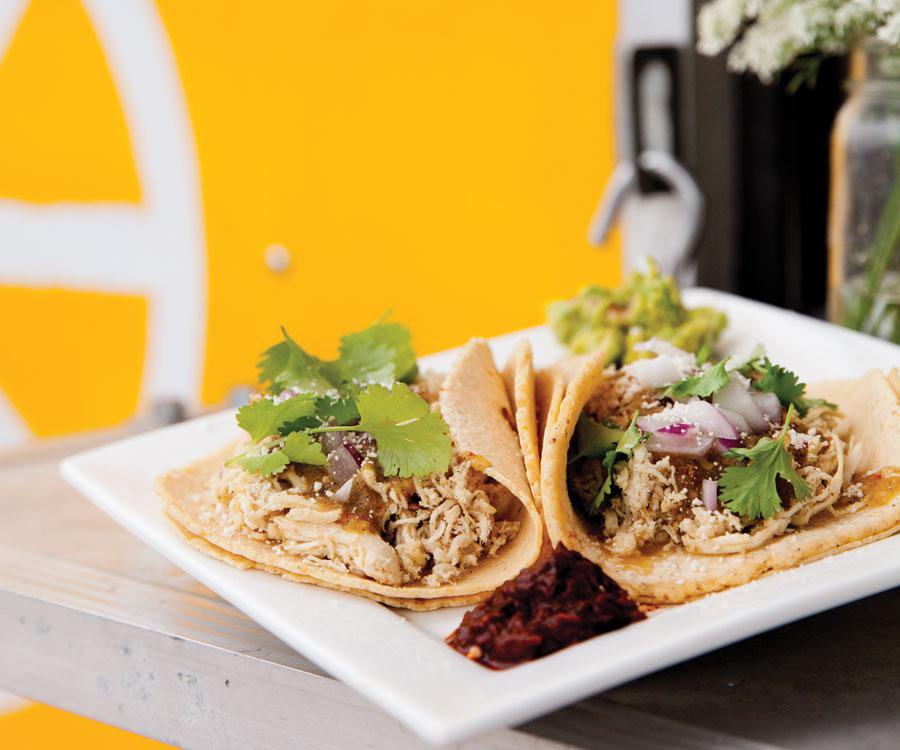 I've been obsessed with tacos lately. And I'm not talking about run-of-the-mill tacos that come on wimpy little flour tortillas loaded with everything else under the sun. While those kinds of tacos held a dear place in my heart for many of my younger years, my maturing palate has recently fallen in love with street tacos. I'm talking about the kind that are served up on soft, warm corn tortillas and finished off with a sprinkle of fresh cilantro, red onion and a squirt of lime. Those are the tacos dreams are made of.
I had a hankering for those dreamy tacos on a recent Friday afternoon when I headed to The Wheelhouse, one of Springfield's most popular food trucks. The Wheelhouse was perhaps the most hoppin' truck at SGF Mobile Food Park that day, so I was thrilled to snag a table with my dining buddy, 417 Magazine's editorial designer Abby Gust. We decided to start with an order of guacamole, and I ordered the Mojo Chicken tacos while Abby opted for the drunken noodles with chicken. As we waited for our meal, we noted all the food being delivered to other diners. We quickly learned that The Wheelhouse's burritos, which come tightly wrapped in foil and look to weigh nearly as much as a newborn baby, are quite the popular option. I decided I'd try one next time—on this breezy afternoon, I was all about those tacos.
Soon, a smiling server walked from the adorable little yellow food truck to deliver our meals. My tacos came with a heavy handful of tortilla chips and some spicy slaw, and a couple more servings of chips were delivered in a white paper bag. Chip party! We had enough chips to feed a small army, but this was a good thing—the chips had just been cooked in the truck, so they were fresh and crispy. They were the perfect vehicle for transporting the just-made guacamole, which was a tasty combo of avocado, jalapeno, lime juice, salt, pepper and fresh tomatoes. This guac was decent, but I think a little more lime juice would have put it over the top. 
And now about those tacos. An order consists of two, and they come housed in homemade corn tortillas that The Wheelhouse makes fresh every day. I was impressed at these shells because, unlike many corn tortillas, they didn't taste grainy and they actually held strong throughout my entire meal. When taco shells bust mid-bite and juices explode on my hands, I get a little angry. These puppies went the distance, despite being jam-packed with tons o' goodies. The star of this two-man taco show was the chicken, which is boiled and then shredded and tossed in a wok with garlic and lime-infused olive oil before it's served. On top of the garlic and lime flavors, my chicken was tossed with mojo sauce made of broiled tomatillos, garlic, jalapeños and spices. Yes, this chicken was really flavorful, just as it sounds. The little beauties were finished with a light dusting of Cotija cheese, cilantro and red onion. I squeezed on some lime juice and went to town, eating every last delicious bite.
The drunken noodles at The Wheelhouse are mixed with crunchy veggies and flavorful spices.
After my tacos were gone, I cried a little, then I tried Abby's drunken noodles with chicken. The dish included a combo of flat, wide rice noodles, broccoli, carrots, shredded purple cabbage and a sauce made of palm sugar, star anise, Thai basil and two kinds of Vietnamese soy sauce. Everything about the dish tasted fresh and delicious, and we loved how it paired familiar Thai flavors with the spicier, more peppery mojo chicken. 
I was also a fan of The Wheelhouse's salsa, which is a slightly sweet variety made with tomatoes, jalapeños, red onions, garlic, palm sugar, black pepper and a blend of spices. Honestly, there was nothing I didn't like about this spot, including the price tag: It was only $19.50 for two very filling meals, two bottles of water and an order of guacamole. I can't wait to head back and try that baby-sized burrito.
Q&A

with Co-Owner Steven Smallwood
417 Magazine:  Who owns The Wheelhouse?
Steven Smallwood: We're truly a family business. It's owned by my father, Steve Smallwood, plus me and my brother, Zach. My brother and I work here every day.
417: How did you all end up opening The Wheelhouse?
S.S.: Our cousins in California own Mexican restaurants. My brother, Zach, worked there growing up, and he has a huge passion for cooking. Zach is our chef now, and the truck was born out of his passion for cooking, primarily.
417: If someone is visiting for the first time, what do you recommend they try? 
S.S.: Check out the special for the week. Those are normally really good. Also, the peanut chicken tacos are really popular. 
417: What's the most popular item on the menu?
S.S.: Probably the peanut chicken taco or the peanut chicken burrito. A close runner up is the drunken noodles with chicken. 
417: Are there any off-the-menu secrets here?
S.S.: We have gluten-free options for people who eat meat—the mojo chicken tacos. We can also make peanut noodles with rice noodles, veggies and peanut sauce, which are really good.
417: When items are made "spicy," what makes them spicy?
S.S.: We make one sauce—a homemade vinegar-based Thai sauce, that we mix with jalapeños, habaneros, bird's eye chilis and Thai chilis. People can order dishes spicy with the sauce—spice is rated from one star to five stars. 
417: How would you describe your food to someone who's never visited?
S.S.: It's mostly a Mexican-Thai fusion, but there are also other Asian flavors involved.