Aviary Cooking Class
Four master chefs from Aviary have created a delectable spread for this month's 417 Magazine Cooking Class. Between the caprese salad, sea bass with citrus compound butter, filet au poivre and sweet cream puffs, you'll leave fully satisfied. Can't make it
By Rose Marthis Photos by Brandon Alms
Sep 2015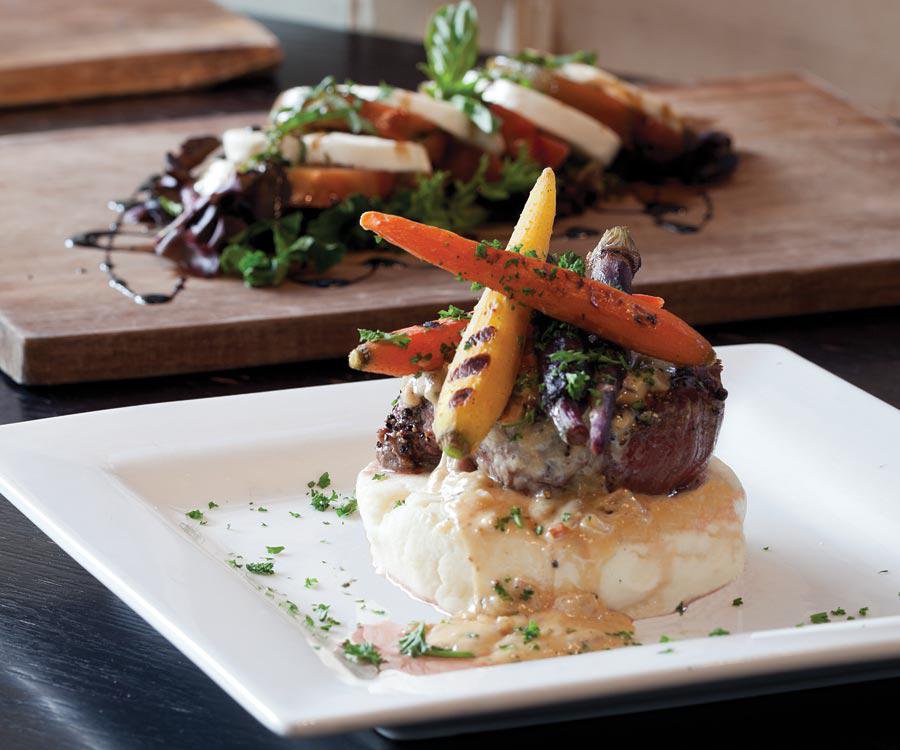 Instructors: 
Aviary chefs John Allen, Branden Bentley, Brad Lyons and Bruno Marchandise
Event Details: 
$60 per person; 6 p.m., September 15; Metro Appliances & More, 3252 N. Glenstone Ave., Springfield 
Presented By: 
Missouri Beef Council
Sponsors:  
Metro Appliances & More
Macadoodles 
Course 1
Roasted Garlic and Balsamic Caprese Salad
Recipe by Chef Branden Bentley 
Serves 4
Paired with Bocelli prosecco
Ingredients for garlic-basil oil
½ cup olive oil
3 cloves of garlic, smashed
¼ cup fresh basil leaves, cut into thin ribbons
Pinch of salt
Ingredients for salad
2 cups spring mix
2 medium heirloom tomatoes, cut into small wedges
8 ounce log of mozzarella, cut into thin rounds
¼ cup fresh basil leaves, for garnish
3 tablespoons balsamic vinegar, reduced by half in a sauté pan and cooled
To prepare 
Heat oil in a pan on low. Add garlic, and cook just until it starts to brown. Add basil and remove from heat. Allow to cool and strain. Toss spring mix in garlic-basil oil. Top with tomatoes and mozzarella. Garnish with basil leaves, and drizzle with balsamic reduction before serving. 
Course 2
Sea Bass en Papillote with Citrus Compound Butter

Recipe by Chef John Allen
Serves 4
Paired with Mazzoni pinot grigio
Ingredients for sea bass
4 6-ounce portions of sea bass, seasoned lightly with salt
4 cups quinoa, par cooked 
1 small zucchini, cut in half and sliced thin on a bias
1 small yellow squash, cut in half and cut thin on a bias
4 tablespoons citrus compound butter
8 ounces chardonnay
To prepare sea bass
Heat oven to 425°F. Separate ingredients into four equal portions, and assemble ingredients in the center of four 12-by-12 pieces of parchment paper with the sea bass on top and the wine over the sea bass. Fold over the side of the parchment and seal well by rolling and crimping the edges. Bake for approximately 16 minutes depending on the thickness of the fish. Open at the table for service, and garnish with additional compound butter.
Ingredients for citrus compound butter
½ pound butter, room temperature
½ teaspoon salt
½ teaspoon herbs de provence
2 tablespoons lemon zest
1 tablespoon orange zest
2 teaspoon fresh parsley
To prepare the citrus compound butter
Mix all ingredients and refrigerate for one hour.
Course 3
Filet au Poivre with Cognac Sauce

Recipe by Chef Brad Lyons
Serves 4
Paired with Arcanum il fauno
Ingredients 
4 5-ounce center-cut filets
Liberal salt (per taste)
4 tablespoons cracked green peppercorns
2 tablespoons clarified butter
1 tablespoon fresh horseradish, grated
½ cup cognac
1 teaspoon chopped shallot
1 teaspoon freshly minced garlic 
1 cup heavy cream
1 tablespoon whole butter
To prepare
Heat oven to 450°F. Season both sides of the filet with salt, and crust one side with the cracked green peppercorns. Place the clarified butter in a medium hot sauté pan, then place the filet in the pan, pepper side down. Bake for 8 minutes, then remove from pan. Using the residual cooking liquid and the original pan, add the horseradish, cognac, chopped shallot and garlic in pan. Flame the cognac, and reduce by ⅔. Add the heavy cream, and reduce by half. Mount with whole butter, and serve over the steak. (Chef Allen recommends serving with goat cheese potato puree and baby heirloom carrots.)
Course 4 
Chef Bruno's Cream Puffs 
Recipe by Chef Bruno Marchandise
Serves 4
Paired with fratelli moscato di asti
​
Ingredients
1½ cups water
1 stick plus 1 tablespoon 
unsalted butter, cut into cubes
1 teaspoon sugar
½ teaspoon salt
200 grams all-purpose flour (about 1½ cups)
8 large eggs
Egg wash
2 cups sweetened whipped cream combined with 2 cups pastry cream
64 raspberries
Confectioner's sugar for garnish
To Prepare 
Heat the oven to 400°F. Line two large baking sheets with parchment paper. In a large saucepan, combine the water, butter, sugar and salt and bring to a boil. Reduce the heat to moderate. Add the flour all at once, and stir until a tight dough forms and pulls away from the side of the pan. Remove the pan from the heat. In a bowl, beat 7 eggs and add to the dough in four batches, stirring between additions until the pastry is smooth. The dough should be glossy and stretch and fall from the spoon in thick ribbons. If necessary, beat in the last egg. Transfer the dough to a piping bag fitted with a ½-inch plain tip. Pipe 1½-inch mounds onto the baking sheets, 1 inch apart. Brush with egg wash. Bake for about 35 minutes, until browned and puffed, shifting the sheets halfway through. Let cool. Slice off the tops and reserve. Fill bottoms with cream mixture. Top with 8 raspberries each. Replace the tops, dust with confectioner's sugar, and serve.