Life
Little Free Libraries
Sweet bits of community are scattered all over Springfield in the form of Little Free Libraries. Darling painted boxes on people's lawns or outside elementary schools invite residents to share books and read for free. Here's where to find them.
By Julie Sedenko Davis
Sep 2015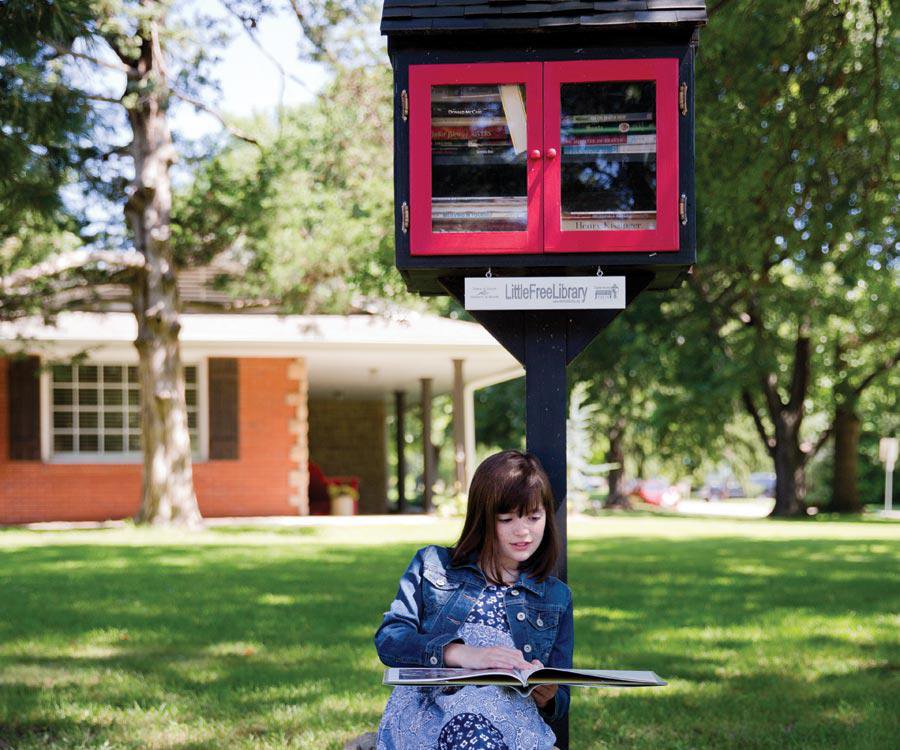 Free. The very word conjures suspicion. Where's the fine print? There must be a catch. A required deposit. A signature. A credit card number to be kept on file. A membership fee. Something. We all know there's really no such thing as free. 
Well, keep your eyes peeled as you're driving around Springfield. If you see a wooden box—bigger than a birdhouse—sitting on a post in someone's yard, pull over. Open the door on the box, look inside and take whatever you want. No need to check for cops. Just take it. Now, if you want, slip a little something of your own inside to make a trade. It's not required. It's just, well, sharing.
What's inside the box? Books. Free books. The houses are called Little Free Libraries, and their concept is based on community and trust. The idea is: Take a book, leave a book. There is no staff. No membership cards. No signatures. No fines. In fact, you don't even have to return the book. Ever! It's the perfect solution for those who are voracious readers with burgeoning bookshelves and a propensity for racking up library late fees. 
Debbie Clary found her first little free library while geocaching. (Hint: Several of the libraries are also geocache sites.) After researching the idea, Clary designed a library and recruited friends to help her build and paint it. Then she planned a grand opening. "I walked 50 invitations around to the neighborhood," she says. "Lots of people came. It was a neat thing to bring the neighbors together." 
Each little free library is unique. Clary put a spiral notepad inside her library so people could leave notes or even reviews on the books they borrowed. Patrick and Diane Thomlinson have a bench next to their library, so people can sit and look through the books. Eugene Field Elementary School has one decorated to resemble the outside of a "real" library. A painted tree has a Very Hungry Caterpillar crawling toward it, the back features a small door, and all around it are sayings like "Read for Fun," and "Blossom into Reading." Inside is a goldmine of children's books.
Kara Daniel says her Little Free Library is a passionate family project. Her husband built it, and her 6-year-old daughter, Natalee, helps pick out books at yard sales to keep it stocked. Inside each book is a personalized stamp: "Natalee's Little Free Library. Always a gift, never for sale."
If you want to set up a Little Free Library, there are a few guidelines. First and foremost, make sure the library is completely waterproof. A window is nice, so people can quickly see what's inside. Some people even use solar-powered lighting for night owl readers. Pinterest has tons of ideas for what can be a fantastic parent-child project. 
Also, try to put popular books in the library. (No one is likely to borrow your eighth-grade graffiti-laden math book.) Include a nice variety for all age groups, from kids through adults. When you're selecting a book, be sure to leave something as valuable as you take. 
If you choose to be registered on Little Free Library's international website, there is a $40 fee. They will send you a plaque to hang on your library and include your location in their directory. Or go to the local site springfieldfreelibrarynetwork.com to register for free. The site will even promote your grand opening if you let them know ahead of time.
Diane Thomlinson says the libraries are more than a way to borrow books. "It makes you feel like a community," she says. "Like you're all sharing stuff. It's fun. It makes you feel good."
Ready to Trade Out Some Books?
We put together a list of the Springfield-based Little Free Libraries writer Julie Sedenko Davis visited with her daughters, but there are many more out there. Visit springfieldfreelibrarynetwork.com or littlefreelibrary.org to find more locations. There are also unregistered libraries that can only be found by hitting the pavement and exploring local neighborhoods.