Profiles
Meet a Staffer: Rose Marthis
On this page, we introduce you to one of the people who help make 417 Magazine happen. This month, meet Assistant Editor, Rose Marthis.
Photo by Brandon Alms
Sep 2015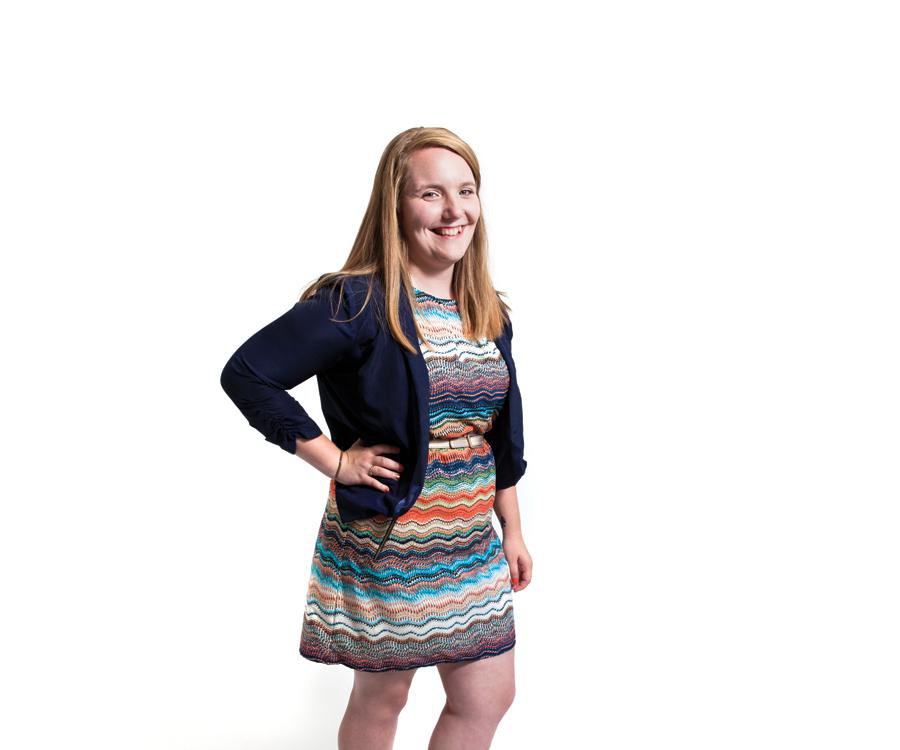 Describe what you do at work day-to-day.
You can find me running in and out of the office, doing anything from conducting interviews and writing stories to pitching ideas and fact-checking articles. I'm always working on something for 417 Magazine, 417 Home or 417 Bride.
Describe something you worked on recently that you're proud of. 
I was really proud to write the "Top Doctors" feature this year and get to share all those amazing stories. And for this issue, writing the "10 Most Beautiful Women" feature has been so fun. The women are truly inspiring.  
What's your favorite thing you've ever had to do for this job? 
I'm starting to become the unofficial Q&A girl, and my favorite thing is getting to meet all the amazing people in 417-land and share a part of their stories. I've talked to a Disney sculpture creator, a young entrepreneur, a woman who works behind-the-scenes for an iconic American show, a local celebrity crafter and, most recently, an NFL player with local ties (see story p. 46.) I love the opportunity to have a conversation with people I would otherwise never have the chance to meet. 
What's the weirdest thing you've ever had to do for this job? 
Some weird things happened on the WERD houseboat, but I'm pretty sure I can't talk about that. (Editor's note: WERD is the acronym we use for Whitaker Employee Recreation Day, the off-site day of fun that our entire staff has taken aboard a houseboat for the past two years. What happens on Table Rock Lake stays on Table Rock Lake.)
What's your favorite thing to do in 417-land?
My favorite thing is a Saturday with no time commitments. Sleeping in, going to the farmers' market to eat free samples for breakfast, spending the afternoon by the lake or at a fun event and grabbing dinner with friends at our favorite bar to watch the game, listen to local bands or play a round of pub trivia. I love that Springfield has the variety to do all that in one day!  
What's your favorite piece of magazine lingo?
Does the intercom saying "free food in the kitchen" count? If not, probably doubletruck or evergreen. (Editor's note:  A doubletruck is an ad that fills two pages and goes across the gutter—a full spread. An evergreen story is one that has no specific time peg, so we can run it in the magazine any time.)                         
What's your favorite thing to eat that you can only find in 417-land?
Anything from The Wheelhouse! Mexican food and Thai food are my two favorites, so I love the food truck that fuses them together. I would eat there for breakfast, lunch and dinner if I could. 
If there were a movie about your life in 417-land, what would its title be?
The pun gods would shun me if I didn't say Through Rose-Tinted Glasses. 
What celebrity would you most like to have coffee and conversation with? Why?
I'd have a three-way date with Tina Fey and Amy Poehler. They're brilliant and hilarious and don't let anyone hold them back. 
Do you have a nickname in the 417 Magazine office?
Usually just some phrase that has "Rose" in it (Roseabose, Rosalita, Rosie Posie), but lately the amateur comics around here like to call me every other flower besides "Rose." I get "Lily" semi-frequently, and one time I got "Chrysanthemum." Points for originality on that one.  
What do you do in your free time? 
Most of my hobbies have to do with food.  I like to find new restaurants to fall in love with, go to the farmers' markets to find fresh treasures, and pretend I'm on Chopped in my own kitchen. Other than that, I'm making memories with my friends and planning the next adventure.  
What would you do if you won $1 million?
I'd take care of my debts, take care of my parents' debts, sail around the world and land permanently in Italy.  
What would your co-workers say is your most distinguishing feature at work?
Both fortunately and unfortunately, my distinguishing feature here is my sass. I'm just very blunt, and I think the office would be void of some brutal honesty if I weren't around.