Health
Goat Yoga is Your New Favorite Workout
Our managing editor got bendy with some goats, and somehow among their bleats and bucks, her stress melted away. Plus a video of a goat wipeout.
By Claire Porter
Sep 2017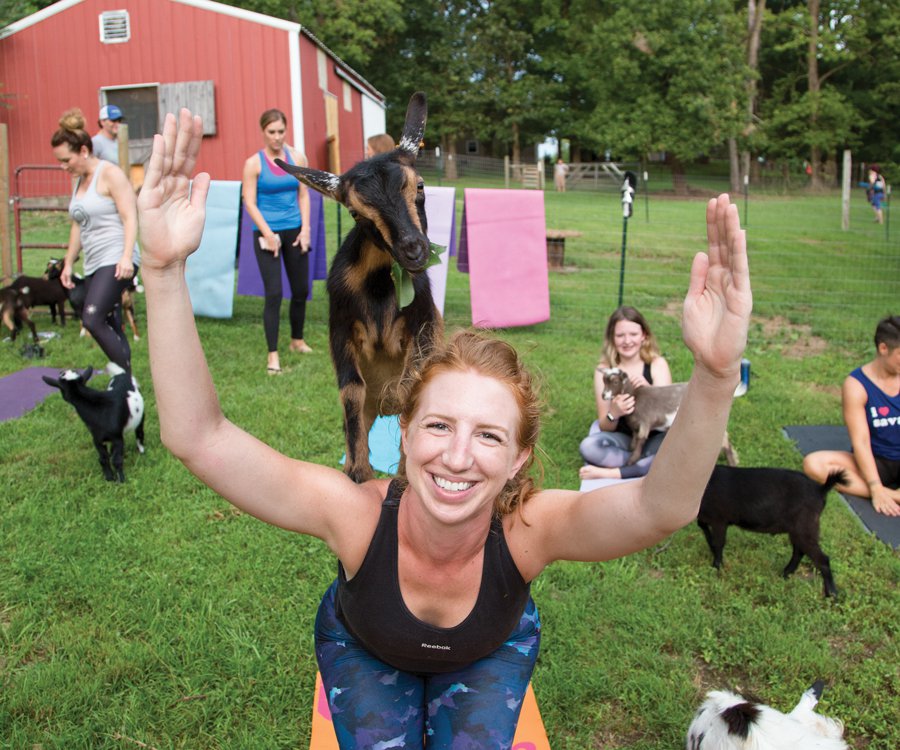 If you're anything like me, you might periodically spend an hour scrolling through Facebook and Instagram. Lately, something had been popping up on my feed: itty bitty goats, hopping, bopping, bleating and head-butting their way around bucolic green pastures—and straight into my heart. I started looking for ways to get my goatie fix without subjecting myself to traumatic flashbacks to a childhood spent in chaotic petting zoos. 
Luckily, Stephanie Wubbena, owner of Live Pure Yoga, had been struck by the same bug. Wubbena had heard of a concept called goat yoga as a form of animal-assisted therapy. Goats are naturally curious, smart and small, making them great candidates for a workout class. After doing her research, Wubbena decided to go all-out and buy the farm—literally. "I'm kind of an all-or-nothing kind of person, to be honest," she says. 
Wubbena and her husband bought a 5-acre plot of land in Rogersville, acquired a herd of 10 Nigerian dwarf goats and founded Goats and Yoga in July. After seeing the kids popping up from their Instagram account, @goatsandyoga, I couldn't wait any longer and visited Wubbena and her billy bunch for a weekend yoga session.


The Property
Wubbena and her family moved onto the property in May. It's a partially wooded lot perched atop a hill in a picturesque pastoral setting, and her goats have the run of about 2.5 acres of it. "They're living the dream," she says. Wubbena chose Rogersville because it's a mere six minutes from Farmers Park and only 10 minutes from her Springfield studio, making it an easy escape for clients. Although the farm is technically a business, it doesn't feel that way. "It's the goats' home, and it's our home first, so it has definitely less pressure and less of a business feel and business edge for me, which is kind of a respite," Wubbena says. 
When I took my class, Wubbena was building a yoga barn beside her home under a cluster of oak trees. The barn, when completed, will be fully covered and have its own separate driveway, public restrooms, lockers and space for classes in addition to an outdoor wooden pen for goat yoga classes. While the yoga barn is in the works, Wubbena hosted the class in a fenced-in area behind the goats' barn. "The view is just amazing," Wubbena says. "We have it at 6:30 on purpose because, this fall, the view of the sunset is just awesome."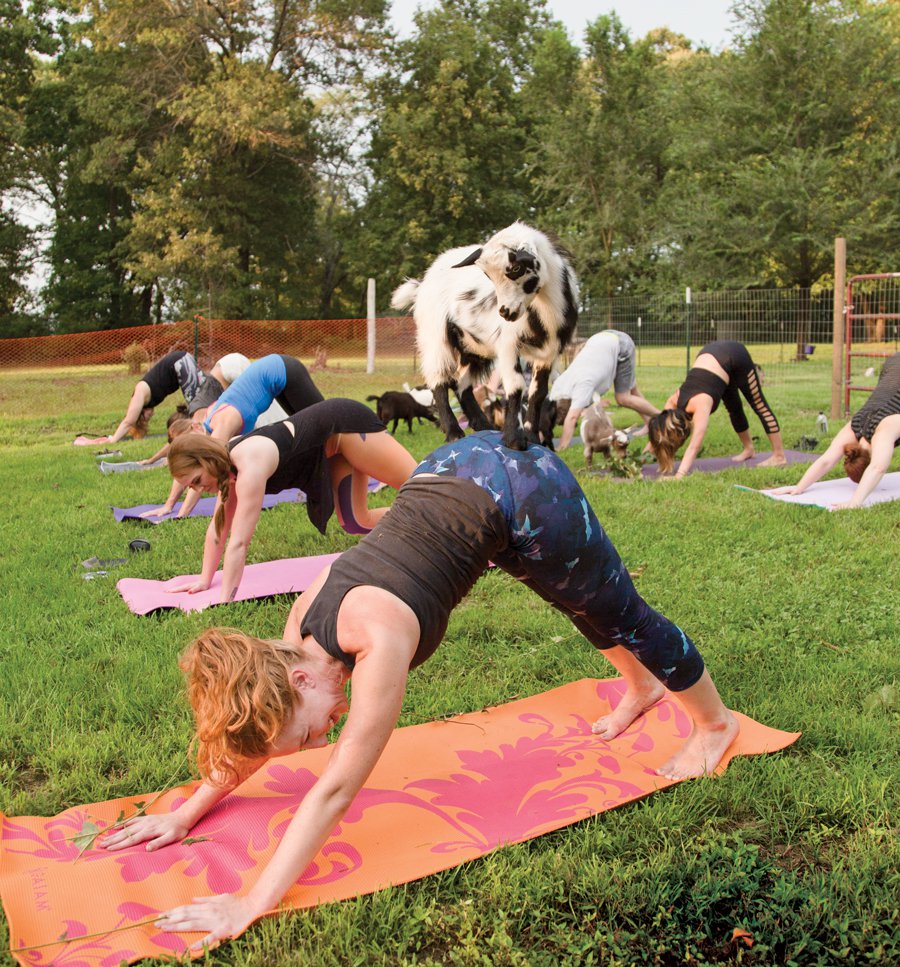 The Workout
When we approached our yoga pen, 10 bleating voices echoed from the barn as 40 hooves eagerly clip-clopped their way out of the barn and into the paddock adjoining our fenced-off yoga area. As the herd jumped at the plastic fencing, my classmates and I spread out our mats in two rows, dropped anything we didn't want munched on outside of the fence and readied ourselves for a 75-minute class of vinyasa yoga and playtime. As soon as we were settled, in tumbled Violet, Hank, Don Draper, Archie, Frankie, Sammy, Abe, George, Roger and Otis. Wubbena asked us to sit calmly and focus on our breathing—not an easy task with these cuties gallivanting around the pen, walking (and pooping) across our mats and nibbling everything in their sight.
Wubbena led us through a vinyasa flow series, and as we hit certain poses, we'd find goats perched upon our backs, butts and shoulders. "For them, they're just doing what they naturally do," Wubbena says. "Every class that we have, they do something new. Like, they'll jump on somebody in a different pose. It's a learning curve for them to trust people and be happy around them. Every class that we have, they are more adventurous and more friendly." 
Often, the goats needed no persuading to climb over you as if you were a rock formation, but if they needed coaxing, Wubbena guided them by trailing leafy tree branches around like a bovid pied piper. They eagerly scrambled over one another—and us—to munch the hickory and oak leaves. 
As for the workout, you know how I said the goats treat you like a rock formation? You really have to act like a boulder, meaning your abs have to be rock solid. When you're holding a plank pose and three goats jump on you, you want to be as sturdy as possible. But, other than the many ab challenges, the rest of the workout was very, very gentle. So gentle I'd hesitate to call it a workout. And that's on purpose. "You don't want a really intense yoga class around the animals because you don't want to be moving quickly," Wubbena says. "You don't want to be in a position where, maybe you're a little precarious, and a goat jumps on you, and you tweak your knee or something like that. You have to think about the mechanics and the anatomy and making sure that your clients are safe and that the goats are safe." 


The Results
Going into the class, I was concerned about following the usual yoga directive of keeping my mind to my mat, but Wubbena encouraged us to interact with the goats to unwind. "We say at the beginning of class you can be silly, you can take pictures, you can stop and play with the goats," she says. "That's what yoga is: it's a connection. So much of yoga sometimes becomes the physicality. The pose is not yoga." 
Wubbena, who has more than 20 years of experience in fitness and is working on her master's degree in occupational therapy, cites the many advantages of spending time with animals, including lowering your blood pressure, reducing anxiety and stress and lessening the physiological effects of stress—that is, if you're not afraid of animals. If you're stressed about goats or allergic, animal-assisted therapies might have the opposite effect. Those benefits are not just lip service. As I watched the sun dip behind the trees, I listened to the cicadas singing and felt the goats nibbling at the grass beneath me, and my stress melted away. I might not have broken a sweat, but this is definitely one workout class worth trying. 


Wubbena leads the goats around using leafy tree branches. Here, Violet the goat takes a tumble while attempting to hop on a yogi's back.
Barnyard Bonanza
Goats aren't the only reason to visit Stephanie Wubbena's Rogersville property. Check out the other furry, fuzzy or feathered farmyard friends on the property, too. 
Furry 🐶
Wubbena has two working border collies who help round up and guard the herd. Lily and Finn can be seen wagging their tails, bopping around the farm and keeping an eye on their charges. 
Fuzzy 🐰
Starting next spring, get your hands on some super-soft bunny action. Wubbena is starting a rabbit meditation garden with several set meditation class times throughout the day so guests can unwind and de-stress by spending some quiet time with little hoppers.
Feline 🐱 
The two strapping young gents of the feline variety are Wubbena's barn cats, Bobby and Ted. Wubbena named them after the Kennedy brothers but worries that she might have cursed them and their brother, Jack, who passed away after getting a disease as a kitten. 
Feathered 🐔
If fur and hair aren't your thing, maybe feathers are. Wubbena's farm has 36 chickens who will start laying eggs in a few months. Wubbena is focused on breeding and raising heritage chicken breeds and plans to sell eggs and chicks as the business develops. 
Friendly 🐐
And of course Wubbena's 10 goats are the stars of the show. The four-month-old Nigerian dwarf goats are exceptionally friendly and curious, and they'll nibble or nose anything you bring near them. Wubbena takes great care to introduce them to humans in a safe and gradual way so they have only positive experiences with yogis. "Animal activists don't have to worry," Wubbena says. "The safety and happiness of our goats is our No. 1 priority because if they weren't happy, it wouldn't work." 

4089 S. State Highway J, Rogersville 
724-777-3093
• $20 per class, price varies for private parties
• Classes are Fridays at 6:30 p.m. Includes 45 minutes of yoga and 30 minutes of playtime. More class times at goatsandyoga.com. 
• Bring a mat and towel 
• Interested in teaching a class? Email stephanie@goatsandyoga.com.