Reviews
Fresh Flavors at Frida Mexican Cuisine
Located in the old The Argentina Steakhouse building, Frida Mexican Cuisine uses fresh flavors to brighten classic Mexican creations.
By Savannah Waszczuk
Sep 2017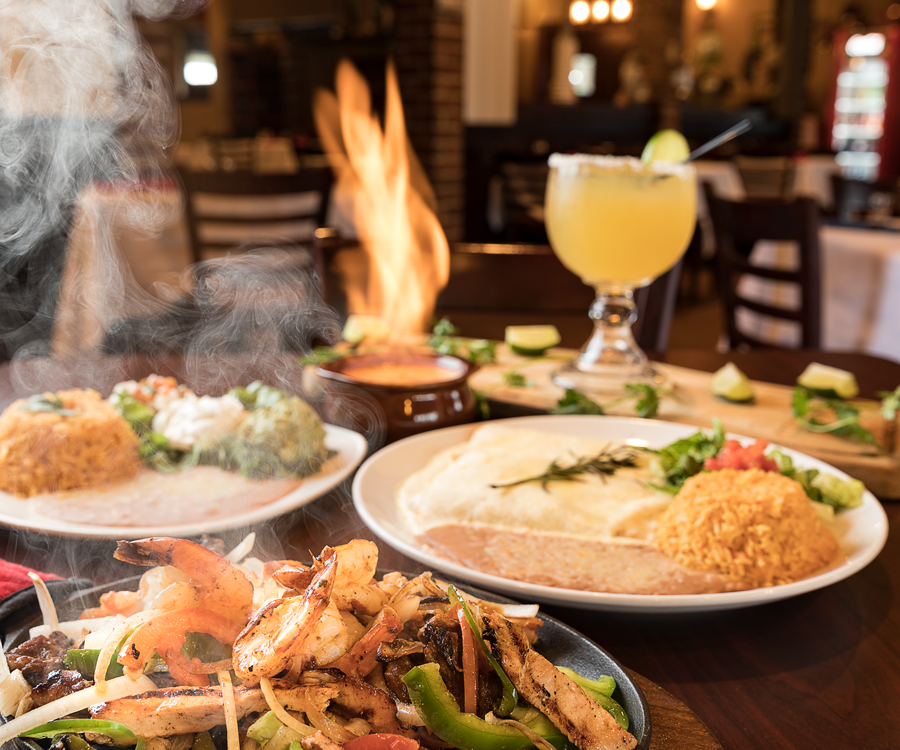 I recently declared chips and salsa as one of my top 5 snacks. For all the foodies reading this, don't pass judgment—I still enjoy dining on the finer things in life. But when it comes to stuff I can eat and never tire of, this crunchy-fresh combo nears the top of the list.
I was drooling at the thought of my favorite chip-dip duo on a recent Friday when I went to Frida Mexican Cuisine (1410 E. Republic Road, Springfield, 417-886-8010). I'm pretty sure I blurted out "We'll take two waters and a top-shelf margarita" before our waiter even got to our table. I knew a quick drink order meant a quick delivery of those chips and salsa.
I was eating dinner with my guy, Dylan Gideon, and we debated starting with classic queso or queso flameado. What better way to up your chip and dip game than with a melty bowl of liquid cheese? I'm a purist and voted classic, but Dyl wanted the flameado—it's melted cheese topped with chorizo and pico and served on fire. Our waiter (who, fun fact, is also named Dylan but spells it Dylyn), proposed a peace offering. "I like the queso flameado made with the queso instead of just cheese," Dylyn said. It was settled.
Dylyn soon returned holding a bowl filled with queso and shooting with flames. Dinner and a show! All eyes were on us—everyone oohed and aahed and asked about that dip. Dylyn explained the creation as other Dylan and I dove in. The fresh flavors of the pico broke through the smooth sea of cheese, and each bite had a slightly alcoholic aftertaste—they use Everclear to light it on fire. The chorizo could have been spicier. The marg—rim coated thick with salt, just as I like it—was the perfect way to cleanse my palate between bites, and I liked dipping the warm tortilla chips in the salsa even more than in the queso. That salsa tasted like they had made it just minutes ago.
To continue our meal of sights and sounds, I ordered the Texas fajitas that come with steak, chicken and shrimp and are featured on the menu's Fridas Famous Sizzling Platter section. I love when a meal comes out sizzling. I also love having my very own little container of warm, ready-to-fill tortillas. I mean, was I really getting enough carbs with that basket of chips? And that second basket of chips? 
If I had to pick one word and one word only to describe the fajitas, it would be huge. There was an entire skillet of meat, another plate of toppings (give me that fresh guac!) and a pile of tortillas. The shrimp were plump and juicy, but they were quick to go with only four to an order. There were plenty of sauteed onions to go around, and I enjoyed loading them high with the chicken and steak. The chicken was my favorite due to the steak's slight lack of seasoning.
Dylan chose the chicken enchilada plate with rice and beans. His was also a classic choice, and I think that's a great way to get the feel for a new place. The enchiladas were plentiful, and I appreciated a pulled chicken filling rather than diced. The inside was filled with red enchilada sauce, onions and tomatoes for a fresh twist. The creations were finished with sour cream sauce and melted Jack cheese.
After eating far more than one person should ever eat at one meal, I left Frida with a full belly and a happy heart. I now have a new Mexican restaurant where I'll feast on my faves. Chips. Dips. Margs. Carbs. What's not to love? 
---


Q&A with Frida's Chef Alejandro Kim


417 Magazine: How did you develop the menu for Frida Mexican Cuisine?


Alejandro Kim: I brainstormed with my friend, Javier Olguin, who is the co-owner. We're business partners. He's been cooking for 15 years, and he's from Mexico, so a lot of it just comes to him. 
417: What would you tell someone to try on their first visit? 
A.K.: I really like the Steak Ranchero. It's an 8-ounce KC strip grilled to temperature and served on a sizzling platter, topped with sauteed shrimp and vegetables and finished with our Ranchero sauce. 
417: What's your favorite appetizer?
A.K.: The quesadillas. I like it with steak, shrimp and bacon. I put everything on it, for myself! But if I was ordering it from the menu, the steak and bacon.
417: What other appetizers are popular?
A.K.: The shrimp poppers are popular. People like the empanadas, and we also sell a lot of queso, of course, and guacamole. 
417: What are your most popular entrees? 
A.K.: Our fajitas and burritos are a must-try, but most of our customers enjoy our seafood menu. We get many compliments on the baja shrimp tacos and the seafood casserole.