Profiles
Sailing on Stockton Lake with Paul Nahon
For Paul Nahon, General Manager of the Springfield Lasers, Stockton Lake is paradise without the palm trees. He shares the tools to confidently hit the water.
By Paul Nahon
Sep 2017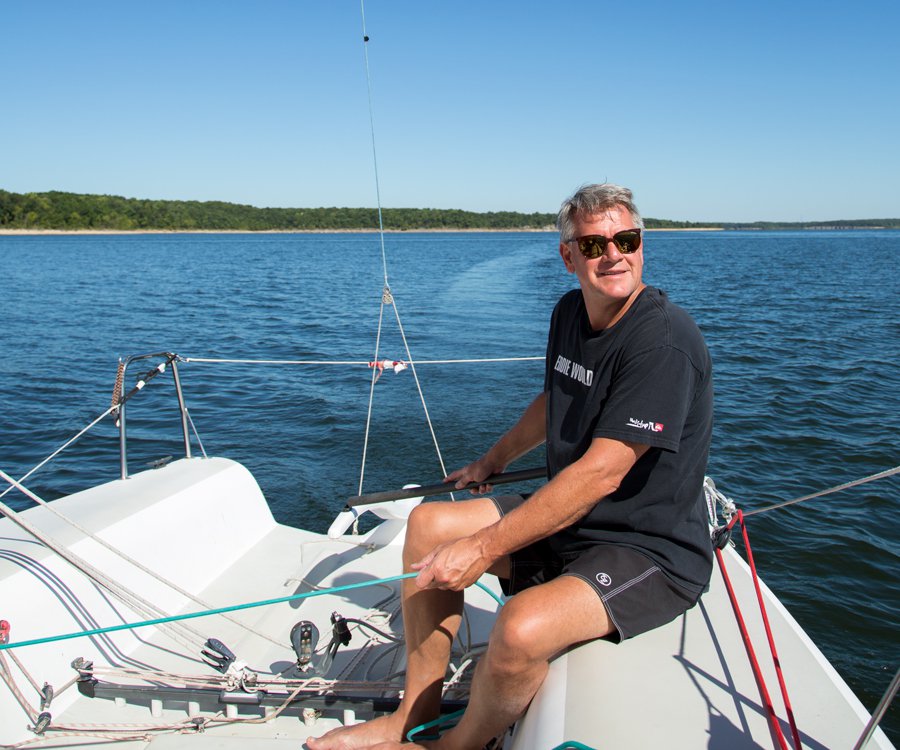 Most of my sailing over the years has been on Stockton Lake. To me it is another paradise, just without the palm trees. My first sailing experience on Stockton was on a 32-foot 6-inch Columbia Sabre owned by the late Mark Nixon. This was the first large, heavy monohull boat I sailed on, and one week later I found myself sailing in a race with Mark. Although I was not sure what was going on with the flags, horns and boats going every direction, I was hooked.
That was 36 years ago, and since then I have logged many miles on my sailing journeys. I have been fortunate to sail all over the country in regattas on both coasts. Of all the venues, nothing compares to the beauty and peace of Stockton Lake.
Sailing at an entry level can be very easy. If you watch the weather and have a properly rigged boat, someone with very little experience can enjoy a great time on the water. As you gain more experience and test yourself, the challenges and risk can increase. Even Stockton can be fierce with a 30-plus knot breeze and 3-foot waves crashing over the bow of your boat. If you closely monitor the weather, the likelihood of you getting caught in these conditions is minimal.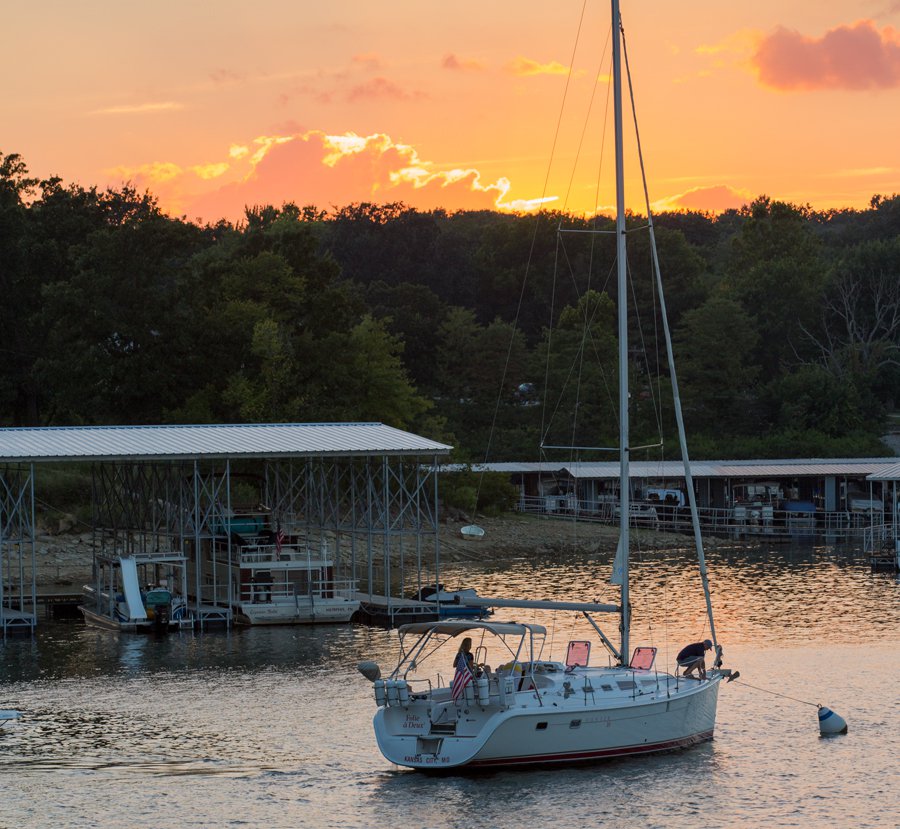 Most sailors hail from one of two ports: Stockton State Park Marina and Orleans Trail Marina. State Park, closer to Springfield, offers sailing lessons through its ASA-Certified Sailing School. Orleans Trail has quite a few more sailboats and offers unique social experiences from F-Dock, where you would expect to find fine wine and cheese on any given night, to E-Dock, which has a fire pit, barbecue and Todd McQueen, who is the Mayor of E-Dock and self-proclaimed master of ceremonies. Lake Stockton Yacht Club also hosts themed parties at Shark Park after races.
Lake Stockton Yacht Club (LSYC) has a 40-plus year history on the lake with numerous opportunities to participate in a broad range of events. LSYC is a paper club, no brick and mortar, and is run by volunteers. Members pitch in and help run the events throughout the year. Check out the club's website at
stocktonyachtclub.com.
LSYC offers a Cruising Series geared toward newer racers. These are very low-key races that embody the Corinthian spirit with everyone focused on having a good time.
For those who like to compete, LSYC offers Spring and Fall Racing Series as well as the Governors Cup, and 2017 will be the 43rd Annual Governors Cup. There are typically two fleets, JAM (Jib & Main) as well as Spinnaker. The JAM Fleet is a little more laid back, and the Spinnaker Fleet is fiercely competitive.
If you are looking to purchase a sailboat, OTM and Surgeon's have active brokerages, or just walk the dock to find several "For Sail by Owner" boats available and plenty of sailors happy to share knowledge and experience.
Every journey is an opportunity to connect with nature—no phones, no motors, nothing but the chorus of wildlife enticing you to stay and play. When you truly connect and become at one with sailing, you see every wrinkle in the sail, every ripple on the water. Paradise.
---
Drive time and route: About 1 hour northwest of Springfield via Highway 160 West to Highway 123 North to Highway 215 North

Learn to sail: Stockton State Park Marina 
Grab a bite: The Squeeze Inn
Rest for the night: Cabins at Stockton Lake