Trails
Explore the Ozarks with 37 North Expeditions
Assistant Editor Adrienne Donica headed to southeast Missouri for an extraordinary, otherworldly experience with 37 North Expeditions.
By Adrienne Donica
Sep 2018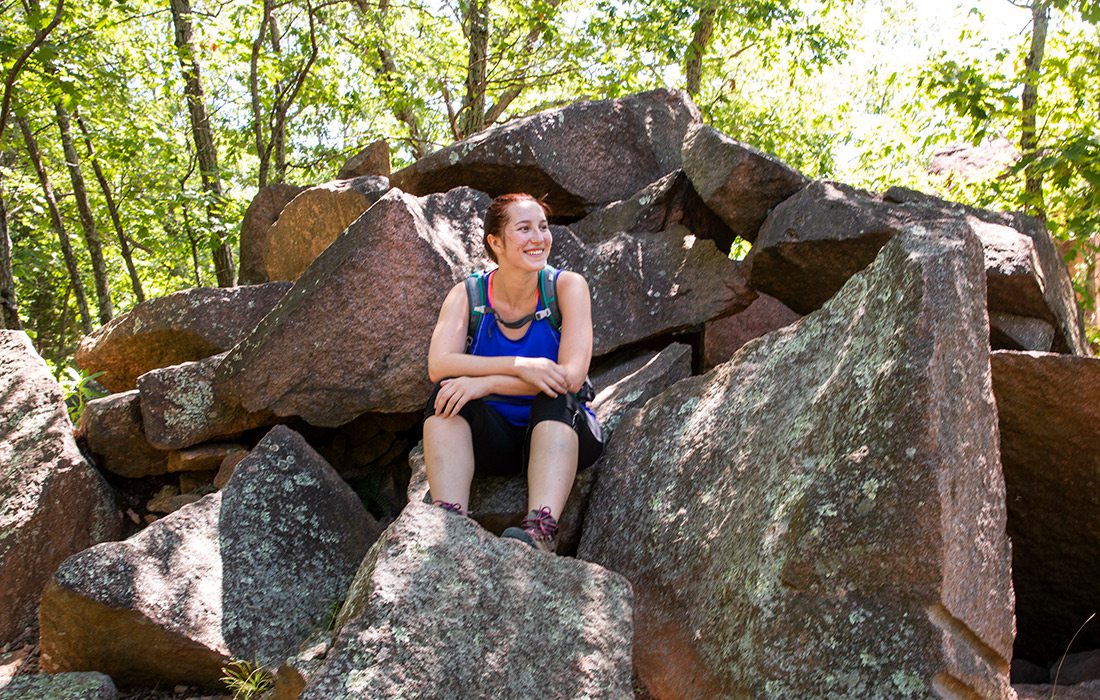 This summer, I inadvertently challenged myself to explore the Ozarks every weekend possible. It started in May when I went on my first floating trip on the Buffalo River. Then, I headed to the Joplin area to take a dip in a swimming hole. There were some day hikes at Busiek State Forest and camping trips at nearby state parks. Before I knew it, I had spent the most time outside since I had trained for a half-marathon in 2015.

One day, a co-worker mentioned I looked trimmer. Ha! I haven't been to the gym in months, I thought. But more people started to compliment my somehow-slimmer physique, and I realized my time in the great outdoors was paying off. I certainly felt better after spending time in nature. With compliments coming in and a calendar to fill up, the unofficial challenge was officially on.

Enter 37 North Expeditions, a Springfield-based outdoor adventure guiding business that launched in April. On the daylong excursions, participants are shuttled to various state parks and recreation areas around Missouri and Arkansas where they typically hike and enjoy one or two other activities. It was the perfect way to continue my summer in the sun, so I decided to sign my boyfriend, Brad, and myself up for a trip in early July.

The Formula
Danny Collins, a native Springfieldian and full-time architect, is the mastermind behind the operation. He became a part-time hiking guide and earned his Wilderness First Responder certification while living in New York City before moving to Ecuador where he worked as the expedition manager at a National Geographic lodge. In 2017, Collins and his fiancée, now his wife, moved back to 417-land, and he began appreciating all the outdoor adventures within reach.

In the fall, he started the Springfield chapter of Mappy Hour, a nationwide community for city-bound outdoor enthusiasts, but he wanted to encourage people who didn't have much experience to get outside, too.
Named after Springfield's geographic location, 37 North has a simple and relatable tagline: get sweaty, get connected, get happy. "Instead of just strapping on your running shoes every single day, it's the same great exercise… but it's a change of pace [and] a change of scenery," Collins says. 

"Instead of getting connected and meeting people through the bar scene in Springfield, this [is] an awesome way to meet other like-minded people who love the outdoors." Collins hopes participants can also connect with nature and themselves on trips, which he designs to balance exercise and community building.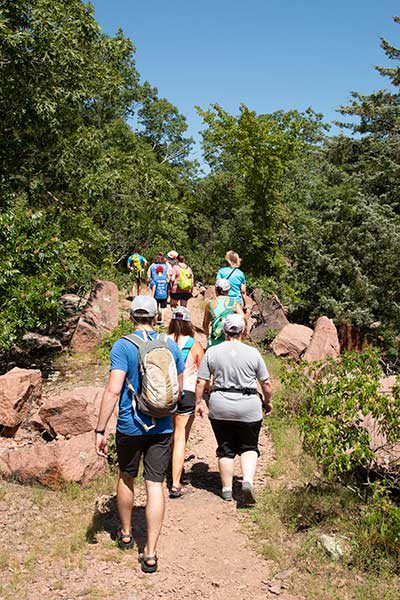 The concept of leaving no trace is especially important to hike leader Collins, who hopes participants gain a better appreciation of and help preserve nature.
Purchase Photo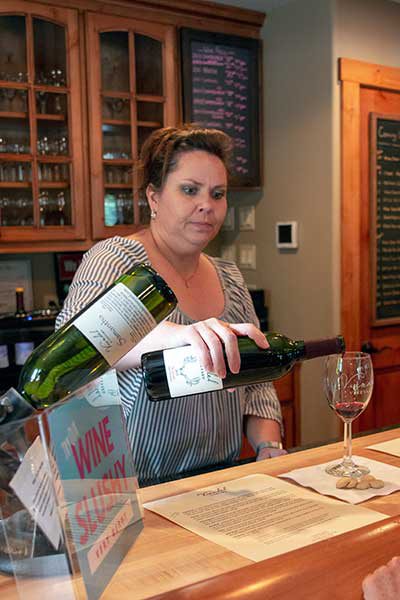 After a day of exploring, the group visited Viandel Vineyard where co-owner Johnna Swineford led them through a tasting.
Purchase Photo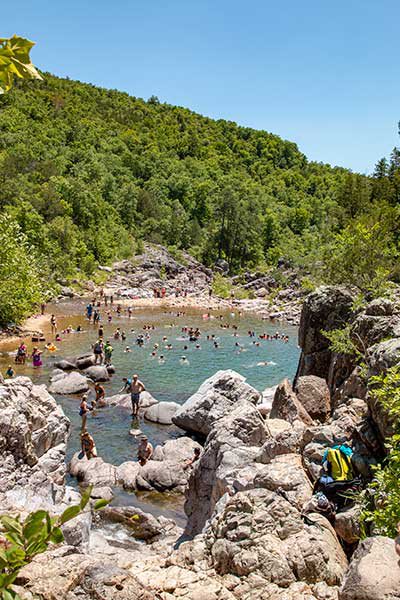 Johnson's Shut-Ins State Park is a favorite spot for hikers to cool off in its gorgeous swimming holes.
Purchase Photo
Photos by Adrienne Donica
The Workout
Signed up and ready to explore, Brad and I met the group at 7 a.m. on a Saturday, and we promptly left for our first destination: Elephant Rocks State Park. I was excited to explore southeast Missouri, a part of the state to which I had never been. Eager to wander, I was a little disappointed knowing our hike there was a mere 1.1 miles. At the site, Collins led our group of 12—the maximum number for any 37 North trip—through an ice breaker and some basic wilderness knowledge including how to read a topographical map and the concept of leave no trace. The latter is especially important to Collins, who hopes participants gain a better appreciation of and help preserve nature. Then, we hit the trail, a mostly paved route that passed tons of interesting rocks and an old quarry.

Every so often, Collins would stop to share a quick lesson with the group. The further we went, the more my disappointment dissipated. These were some seriously cool—and gigantic—rocks. Toward the end of the hike, we had a little free time to climb around and explore the crevices between the rocks. I had never experienced anything like it. All too quickly, it was time to go.

Next was Johnson's Shut-Ins State Park, another new place for me. We ate our pack lunches then changed into swimsuits before heading to the water. Even though the hike wasn't long, swimming felt like the perfect reward on this hot summer day. At this point, the group split, and everyone explored at their own pace. Brad and I meandered through the chutes, occasionally watching people jump from the rocks into the cool river water. We agreed this was our favorite part of the trip and again lamented that we didn't have more time to explore.

The last stop of the day was Viandel Vineyard in Mountain View where the owners led us through a wine tasting. While we waited, we sat on the winery's lovely back patio, got to know our trip mates and enjoyed a charcuterie and cheese board. If I could end every hike at a place like this, I would hike more often!
"Instead of getting connected and meeting people through the bar scene in Springfield, this [is] an awesome way to meet other like-minded people who love the outdoors."
— Danny Collins
The Results
The trip wasn't the most strenuous exercise, but I did work up a sweat on the hike, and navigating the rocks at both parks left my glutes a little sore (perhaps my no-gym routine isn't cutting it). I couldn't believe I had waited this long to explore these natural wonders and realized it would have taken me even longer had it not been for 37 North. I liked getting to meet new people and not having to worry about planning every detail of the day's outdoor outing. But mostly, I was glad to have spent another day outside in the Ozarks.
Type of Activity
Cardio. All trips are designed for people of average fitness level.

Price
Day trips from $35

Schedule
Day trips are offered year-round each weekend. See the most up to date schedule here and get signed up for your adventure.

Types of Trips
Grab the kids for an outing in the Family Adventure Series. Once or twice a month, excursions combine hiking with a visit to a local brewery, winery or distillery. You can also book private trips for parties, company outings or other special occasions.

What to Bring
Comfortable athletic clothing and shoes, lunch and water. Check the website for trip packing lists.

On the Horizon
This fall, 37 North Expeditions plans to host its first overnight trip in the Ozarks. Eventually, the company hopes to offer multi-day trips to other parts of the country and the world.