Life
Keep Your Kids Active with Winter Indoor Activities in Springfield, MO
Kids plus winter weather equals cabin fever. Keep the fever at bay with these fun indoor activities in Springfield, MO.
By Katie Pollock Estes
Nov 01 2019 at 8 a.m.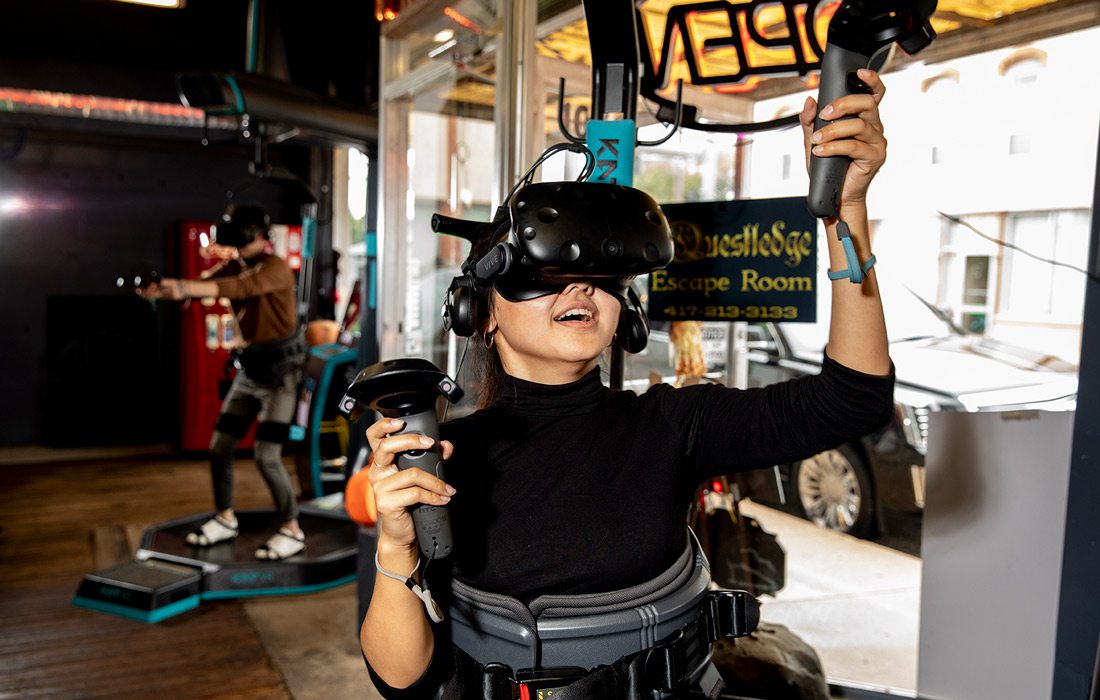 Avatar VR
107 S. Main St., Nixa
Get video-game-loving kids off the couch and onto their feet at this local virtual reality arcade. There are VR games appropriate for all ages, for 10 and older and for 17 and older, and even VR newbies can get into the game.
Bonus: Avatar VR is in the same facility as Questledge, which is home to escape room and treasure hunt puzzles.
Urban Air Springfield
Inside Battlefield Mall, 2825 S. Glenstone Ave., Springfield
Trampolines are one of the main attractions at Urban Air, but there are tons more daring adventures than that. Kids can engage in an American Gladiators–style battle on a balance beam over a foam pit. They can test their mettle on the challenging American Ninja Warrior–style obstacle course, a high-up ropes course or several towering climbing walls. And little aspiring gymnastics can even practice their best tumbling routines on the Runway, a long and springy trampoline perfect for tricks.
Bonus: There's a Wipeout course for ambitious kids willing to tackle a moving obstacle course.
Zenith Climbing Center
3534 E. Sunshine St., Springfield
The wide open gym and beautifully bright climbing walls make Zenith Climbing Center as visually appealing as it is fun. Kids can use the auto belay ropes or get assistance from staff as they learn to how to test their upper body strength with some rock climbing. There's even a little kids play area for adventurers who aren't quite ready to tackle the big walls.
Bonus: There's a bouldering wall for kiddos brave enough to give the gravity-defeating activity a try.
Editor's Note: In a previous version of this story, we incorrectly listed Zenith Climbing Center as Zenith Climbing Gym. We regret this error.
Big Air Trampoline Park
3300 N. Gretna Road, Suite D, Branson
The trampolines at Big Air Trampoline Park often launch you into soft places where you can land your best tricks (i.e. foam pits). With spaces set aside for smaller jumpers, the spot is safe for just about everyone. Some trampolines even have spinning beams rotating above them, for kids who want to practice ducking, jumping and conquering the obstacles. Then they can move on over to the Gauntlet for a serious obstacle course experience.
Bonus: Cowboy wannabes will love The Bullpen, where they can try their best to stay seated atop a bucking bull.
Fritz's Adventure
1425 Missouri 76, Branson
There are 80,000 square feet to explore at Fritz's Adventure, and some of the indoor park's activities are perfect for kids who love to take a little risk. A huge ropes course is suspended from the ceiling, tall treehouses are connected with climbing ropes and a city-style brick wall is set up for climbing and rappelling. The multi-level play area has underground tunnels to explore, an airplane to poke around in and some seriously fast multi-story slides.
Bonus: Even if your kiddo is too small for the daredevilry, she can get in on the fun too. There's a little-kid-friendly climbing zone and even a toddler ropes course.
Springfield Warrior Sports
425 W. Farm Road 182, Suite 6, Springfield
It's all about the obstacle course at Springfield Warrior Sports. Kids won't even realize they're working their little muscles; they'll be having too much fun testing their limits as they climb, jump and swing their way through numerous physical challenges.
Bonus: There's a warped wall!
This page was updated with new information—12/10/2019.