Style
The Dos and Don'ts of Winter Shoes
We rounded up a few tips for rocking your favorite heels all season long. With these expert tips, you'll be walking on sunshine.
By Lucie Amberg
Dec 2019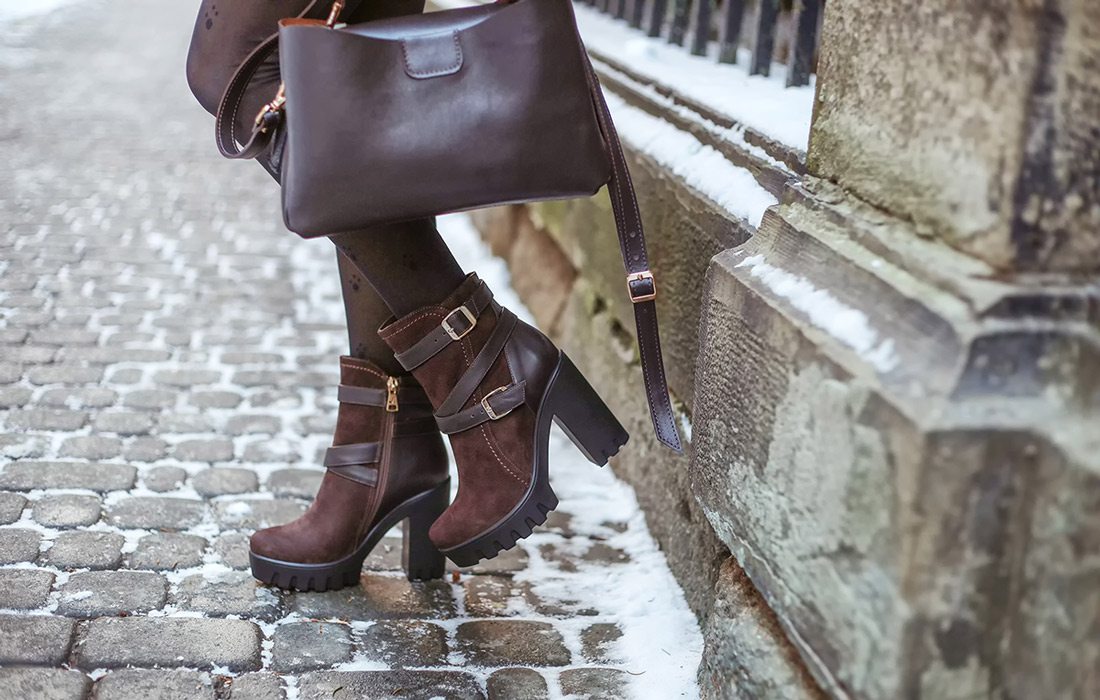 DO: Put Your Feet First and Look for Comfortable Shoes
"Comfort is in right now, so lower heels are an option. There are alternatives to high heels—like loafers and booties—that still look very chic." —Julie Schuchmann, Harem & Company
DO: Get Sneaky with a Pair of Sneakers
"We're seeing so many refined-looking sneakers that you really can wear with professional attire. They're a step above athleisure." —J.S.
DO: Mix Styles
"I'm loving the trend that lug soles are having. Pairing these, especially with red laces, and an easy slip dress with an oversized chunky sweater is not just cute—it's realistic for our crazy weather!" —Tara Hamilton, Staxx
DON'T: Limit Your Heel Choices
"The block heel, kitten heel, wedge or stacked heel is a great option to experiment with for comfort, and—let's be honest—safety." —T.H.
DO: Go For Tall Boots
"Over-the-knee heeled boots will keep you warmer in cool weather, and they're a nice option to pair with maxi dresses or midi skirts." —T.H.
DON'T: Wash Out with Shoes that Can't Get Wet
"Technology has advanced, and we have more options in water-resistant materials, like vegan leathers, that better withstand harsh weather." —J.S.
DO: Prep for Ice and Snow
"Keep a good conditioning base on your shoes. Clean them, condition them, waterproof them, polish them. If you've got a good polish on them, it will help keep the shoes from getting stained." —Lynn Quinn, Tom's Shoe Repair
DON'T: Knock Your Socks Off
"Go with fun socks or tights. Pairing it with heels, even open-toed, can be adorable if done right." —T.H.
DO: Reach for the Sky in Platforms
"We're still seeing lots of platform soles, which are a good way to add height without sacrificing stability." —J.S.
DON'T: Slip
"The original caps that come on heels are typically made of a plastic blend. If you have these replaced at a shoe repair shop, you'll have a better-quality heel. And your shoes will wear better." —L.Q.
DON'T: Give Into Gloom
"We're seeing a lot of glitter for shoes and a new treatment called caviar that adds a sense of fun. It goes with everything." —J.S.
DO: Nod to the Season
"Winter is a great time to consider shoes with touches of fur." —J.S.
DON'T: Take Things with a Grain of Salt
"Sometimes in the winter, with all the snow and salt, you'll get a white line on your shoes. A good shoe repair shop can often clean that off, and there are products that can help you clean that yourself, too." —L.Q.
DO: Ask for Help
"Sometimes a really deep cleaning is needed. There's a process that soaks the leather down and gets the salt out from within. Shoe shops can do this for you." —L.Q.
DON'T: Fret
"If you love a shoe, just wear the shoe. It's inevitable that things wear out, so wear the shoe you want." —J.S.