Travel
Cozy Cabin Getaways in Southwest Missouri
Whether you prefer deep woods solitude, high bluff views or river and lake experiences, we've got you covered with this roundup of great nature-centric lodging escapes.
by Sony Hocklander
Oct 2022
Feel like you need to recharge? Try unplugging for a while. Everyone needs time away from daily routines, and what could be better than planning a nature weekend hideaway. Whether you seek romance with a partner, quality fun with family or bonding with friends, book a secluded vacation spot with outdoor amenities and amazing views where you can hunker down and completely relax. But where to start? Whether you prefer deep woods solitude, high bluff views or river and lake experiences, we've got you covered with this roundup of great nature-centric lodging escapes.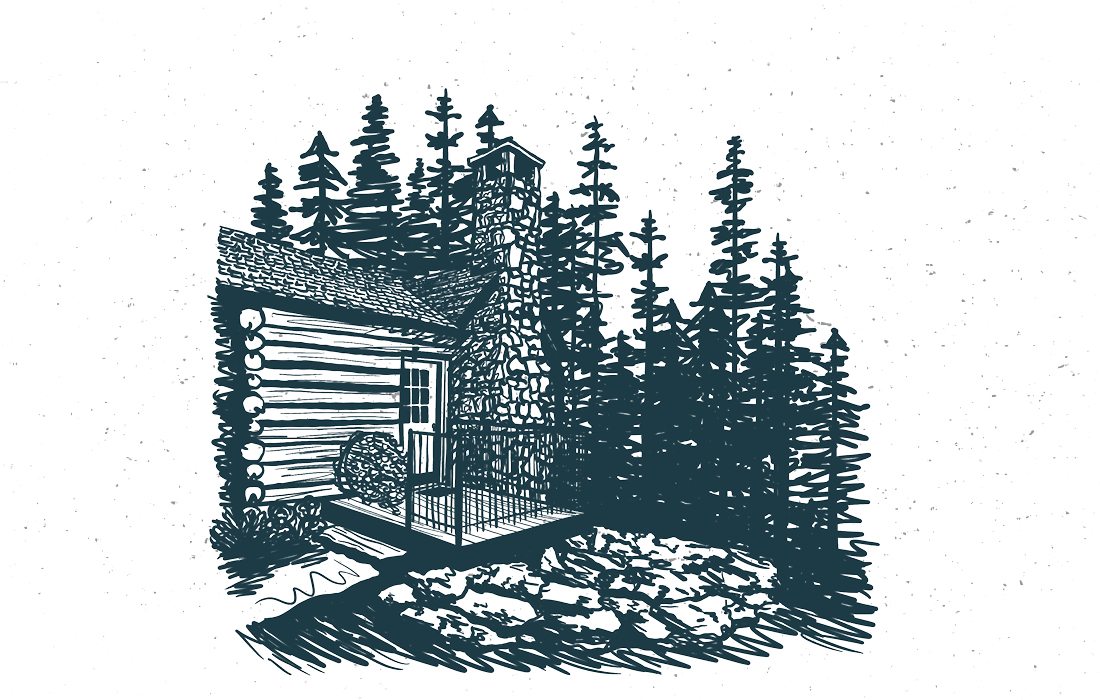 Big Cedar Lodge Rustic Cabins
For a Romantic Resort Getaway
55 miles south of Springfield in Ridgedale
The Vibe: Spend your downtime in a cozy rustic cabin, the perfect retreat after enjoying big resort amenities.
How to Unplug: While the Big Cedar Lodge resort isn't secluded, you can still get a hideaway vibe by booking a rustic cabin retreat. One-room cabins are especially cozy for couples seeking a romantic getaway. The open floor plan features a king-size bed and full sleeper sofa, a bathroom with luxury tub and separate shower, a kitchenette, plus a private deck. The cabins are tucked into the woods or lakeside. To request a preference, make your reservation by phone. For the most secluded options, ask for a Cedar Trails cabin for the woods, or a Devil's Pool area cabin near the water. When you aren't relaxing, explore the resort to enjoy a variety of dining options, swimming pools, game spots, walking paths, a lakeside marina and more.
While You're in the Area: Take a shuttle from Big Cedar to Top of the Rock for dining and exploring.
Book your stay.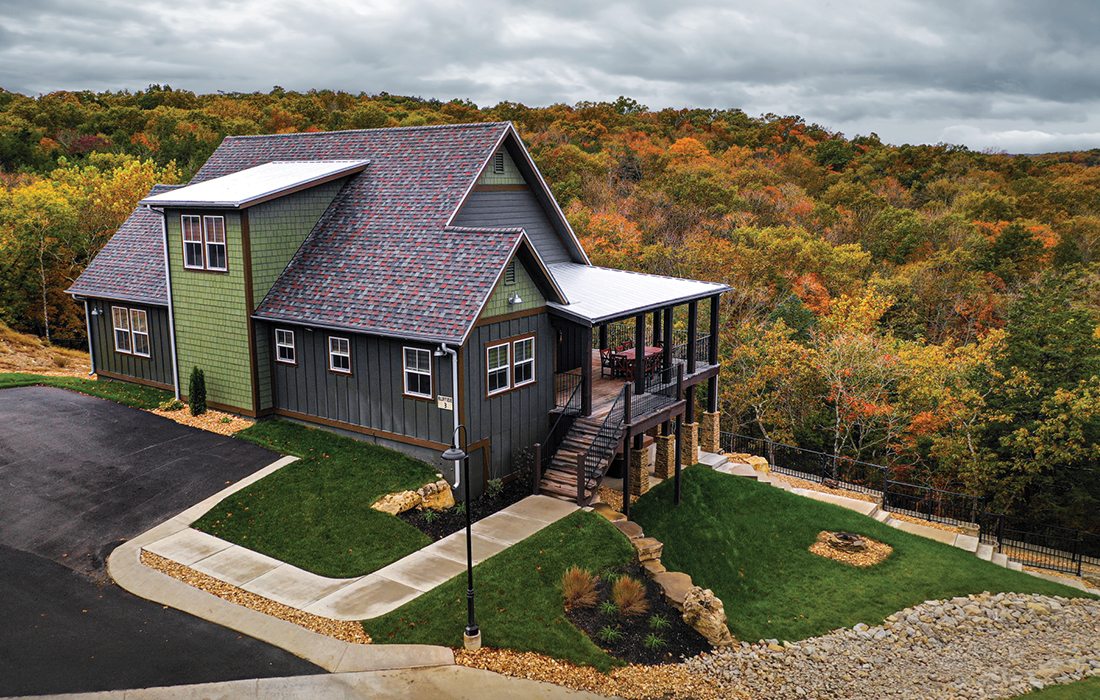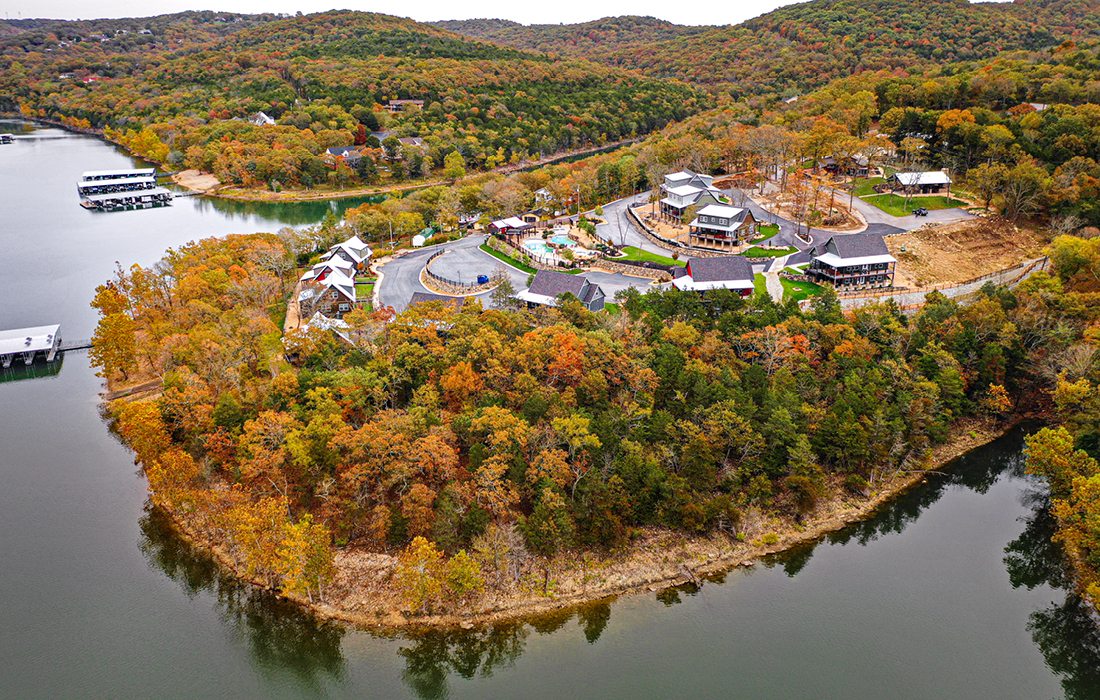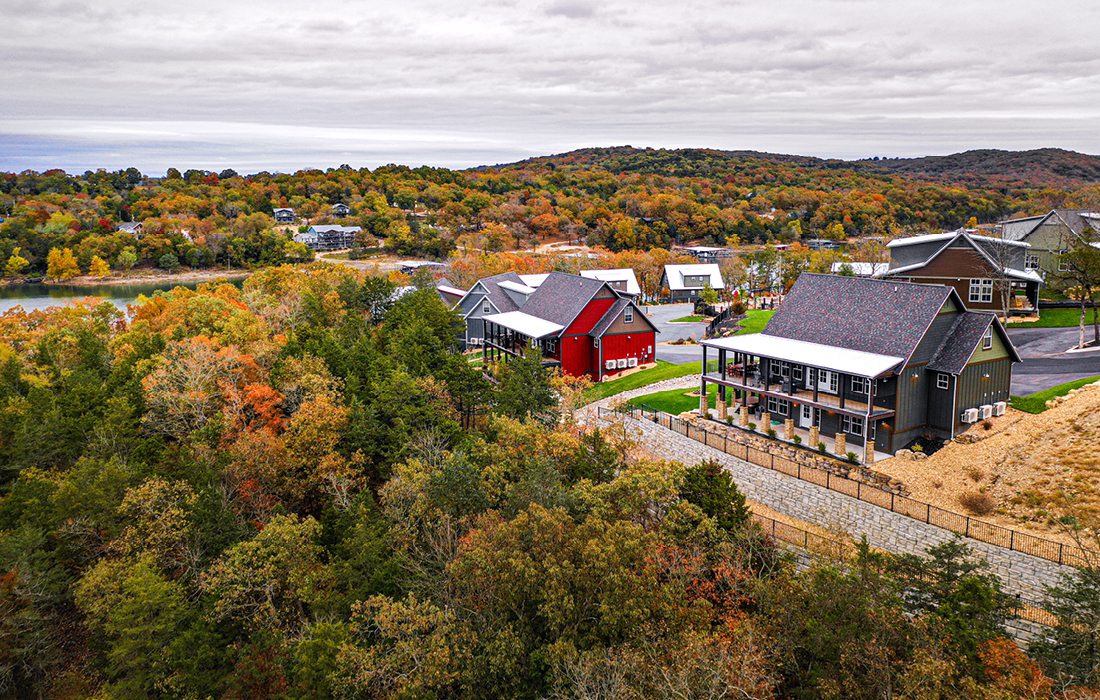 Table Rock Shore Resort Bluff Cabins
For a Lakeside Family or Friends Hideaway
43 miles south of Springfield in Kimberling City
The Vibe: These newer cabins at Table Rock Lake have extra space for groups on a getaway.
How to Unplug: While Table Rock Shore Resort isn't tucked away in the woods, the resort's new Bluff Cabins–especially Cabin No. 2–are a little farther from busy resort activity and have everything you need for a relaxing no-stress getaway with family or friend groups up to 18. These three-level cabins feature farmhouse kitchens, more than one living space, two master bedrooms, additional bedrooms including a bunk room, large deck and patio, game room, gas grill and more. Cabin No. 2 has a great view of the lake and is closest to a wet-weather waterfall and grotto. When you feel like more activity, the resort features walking paths, a waterfall, swimming pools, boat launch and a dock. Need a boat or golf cart? Rent them from the resort! There's no shortage of ways to enjoy getting away.
While You're in the Area: Take your family to Silver Dollar City, go boating on Table Rock Lake, or shop and dine in Downtown Branson.
Book your stay.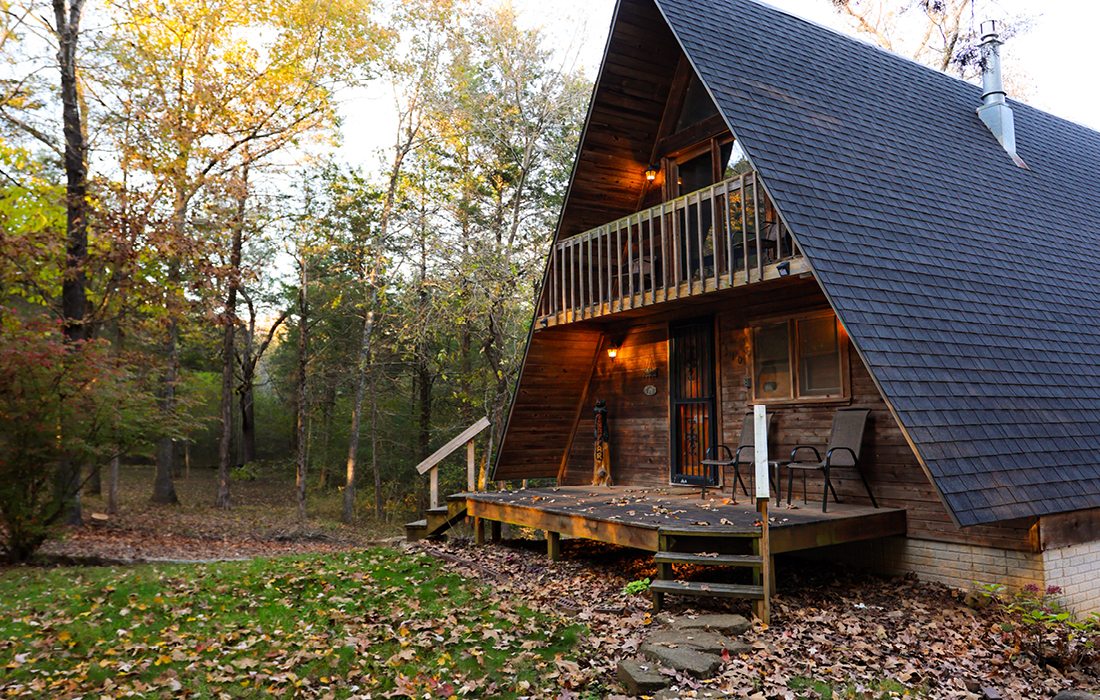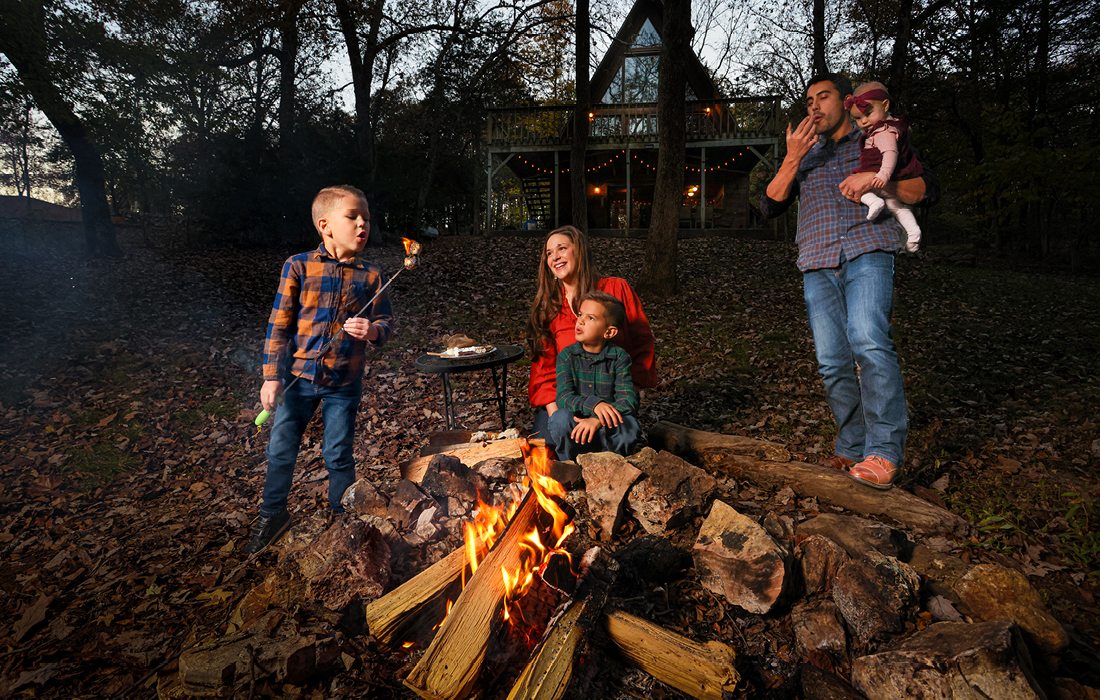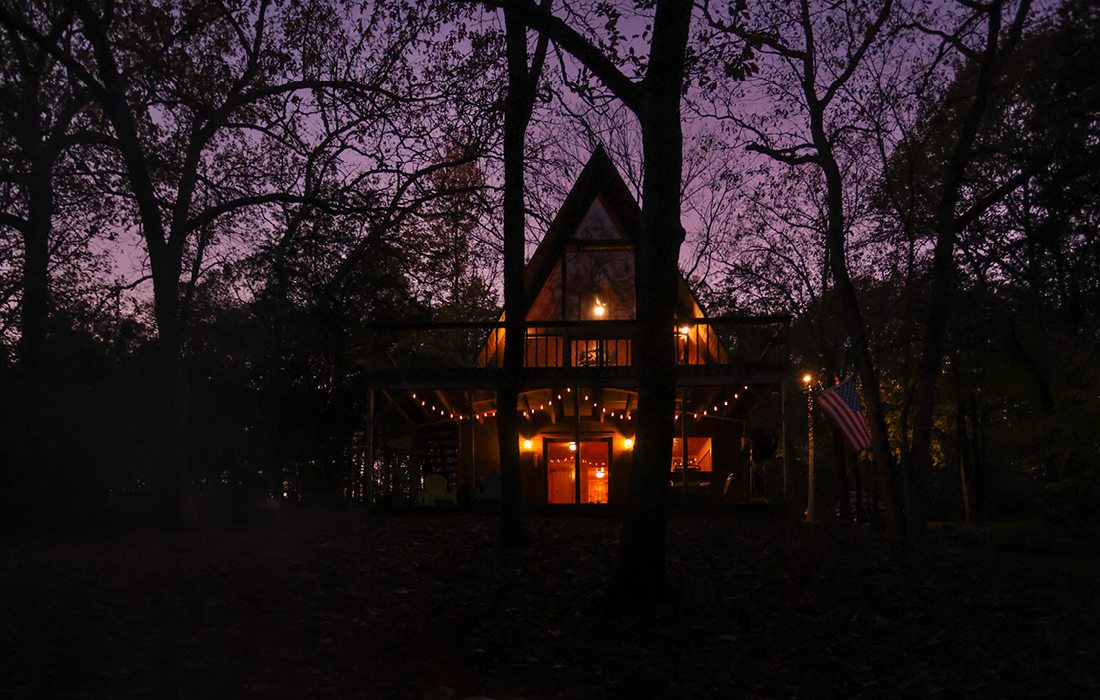 Wildwood Cabin on Table Rock Lake
For Lake-Loving Families
70 miles south of Springfield in Shell Knob
The Vibe: Quaint and cozy, this charming A-frame lake house in the woods is remote enough for privacy yet conveniently close to restaurants and a marina.
How to Unplug: As evening falls and festive string lights turn on, warm your hands by the firepit while making s'mores. By day, stroll down a path to your private cove on Table Rock Lake. Or relax on the wide-open upper-story deck while soaking up the natural surroundings. This rustic three-bedroom A-frame cabin in the woods, especially pretty in the fall as leaves change colors, is cozy enough to feel remote yet large enough for your entire family. It sleeps up to nine with three queen beds and three bunk beds. With on-site laundry facilities, a shuffleboard game in the sitting area and a barbecue grill on the patio, you won't need to leave. But if you do, the cabin is located minutes from a marina and not far from area attractions.
While You're in the Area: Rent a boat from Kings River Marina, dine in the small town of Shell Knob, visit Dogwood Canyon Nature Park, or hike and fish at Roaring River State Park.
Book your stay.
If you're less about cabins and more about camping, check out our roundup of the best places to camp in the Ozarks.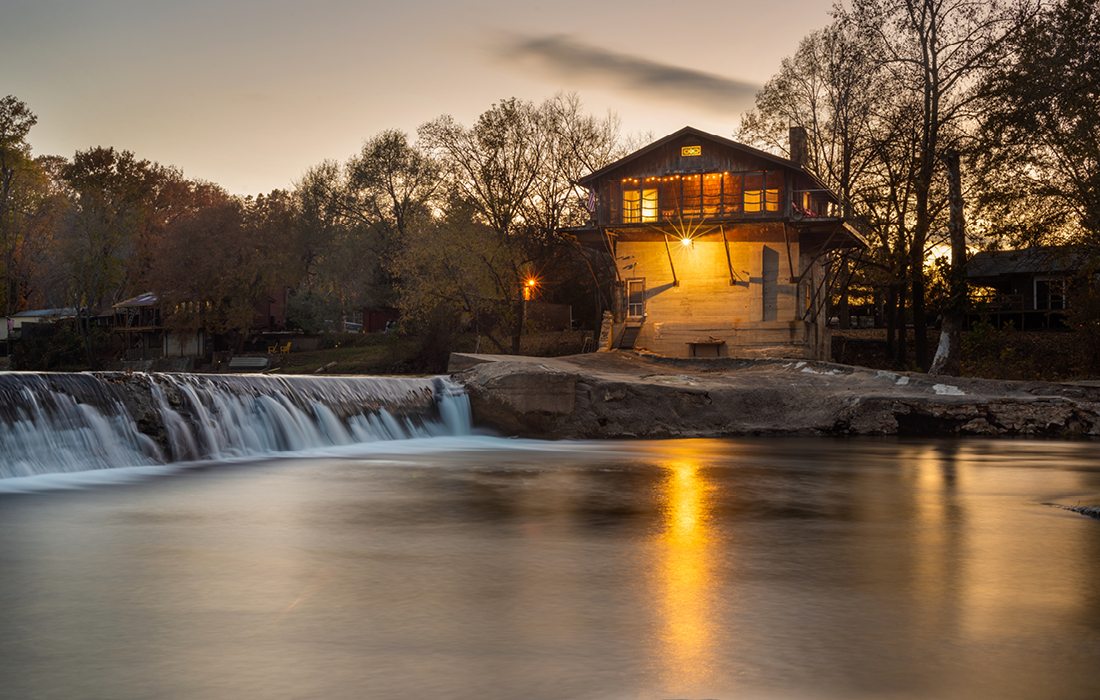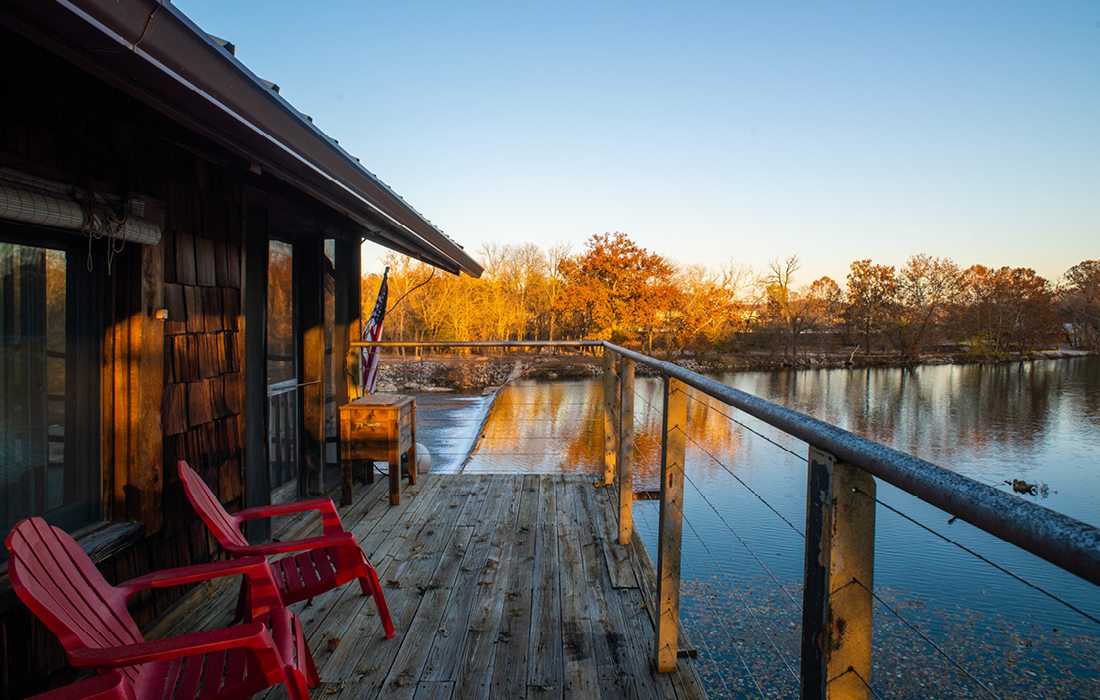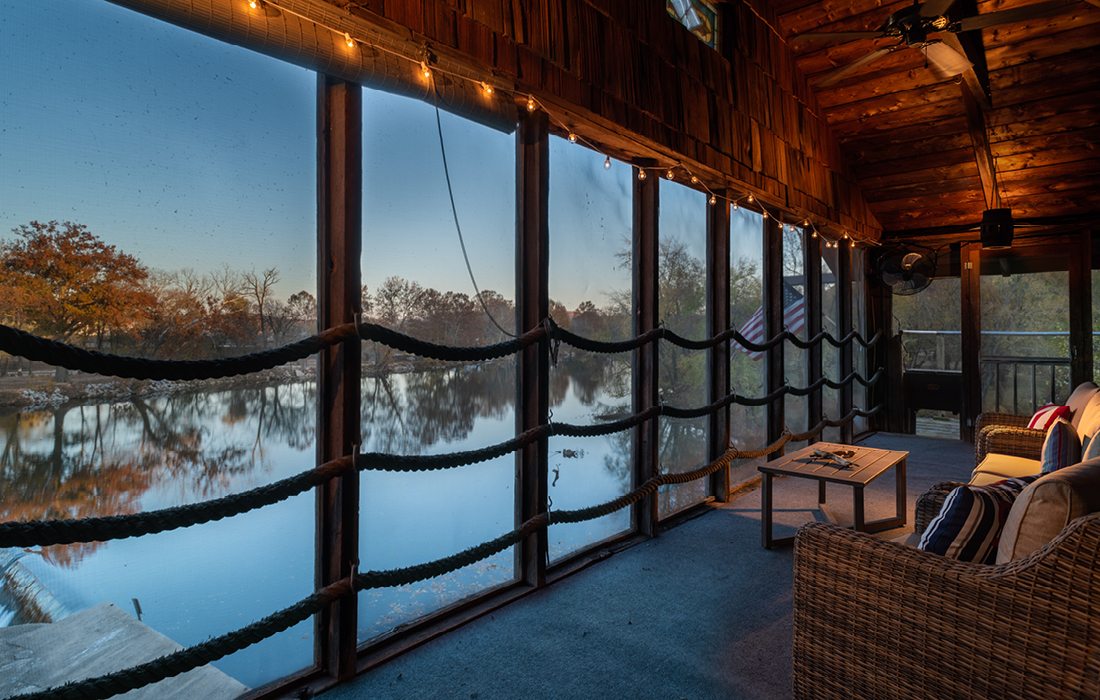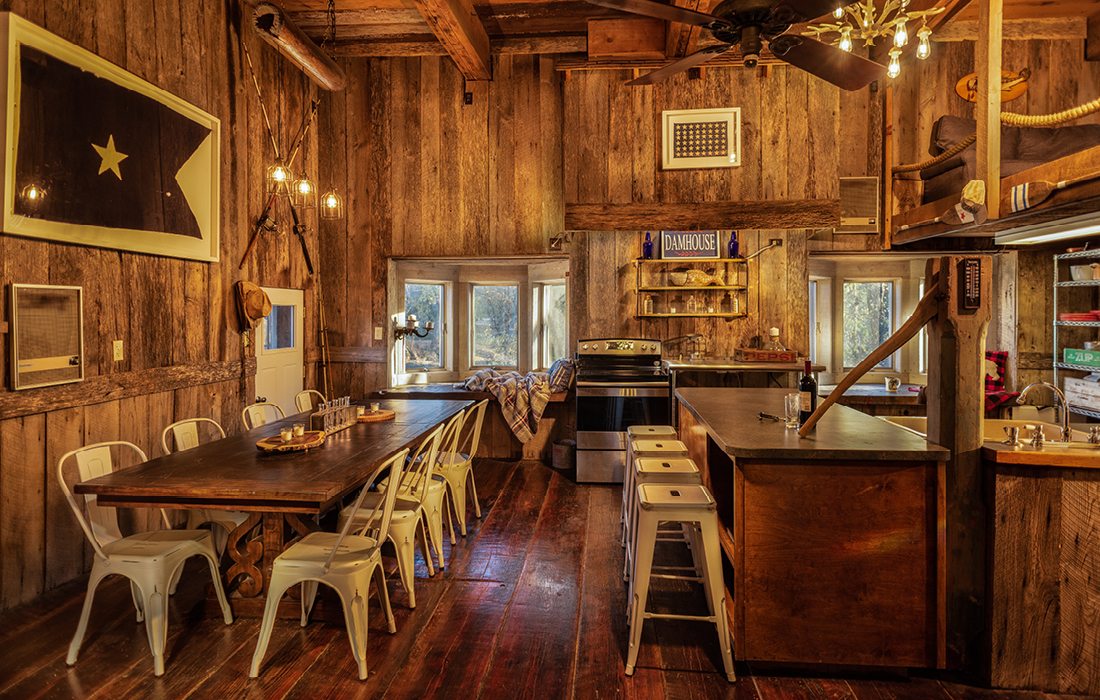 Riverfront Dam House
For a Unique Riverside Experience
105 miles southwest of Springfield in Noel on the Elk River
The Vibe: This unique rustic rental for up to eight was once a functioning electricity-producing dam building until it was converted in 1975 to a riverside house.
How to Unplug: Settle in at the Dam House to soak up the soothing sound of rushing water while relaxing on a large wrap-around deck overlooking the Elk River. Furnished and renovated like a rustic lodge, the cozy getaway features a large stone fireplace in the living area and a well-appointed kitchen with enough dining space for your crew. Kids will enjoy the loft. A spiral staircase leads to the second floor, which includes two upstairs bedrooms with a king bed, queen bed and three twins (in a triple bunk). A sitting area, a wrap-around deck with great views of the river and dam, and a screened-in porch add ambiance to this hideaway.
While You're in the Area: Float the Elk River, tour the Bluff Dwellers Cave or the Old Spanish Treasure Cave, or hike to the waterfall on the Tanyard Creek Nature Trail in nearby Bella Vista. 
Book your stay.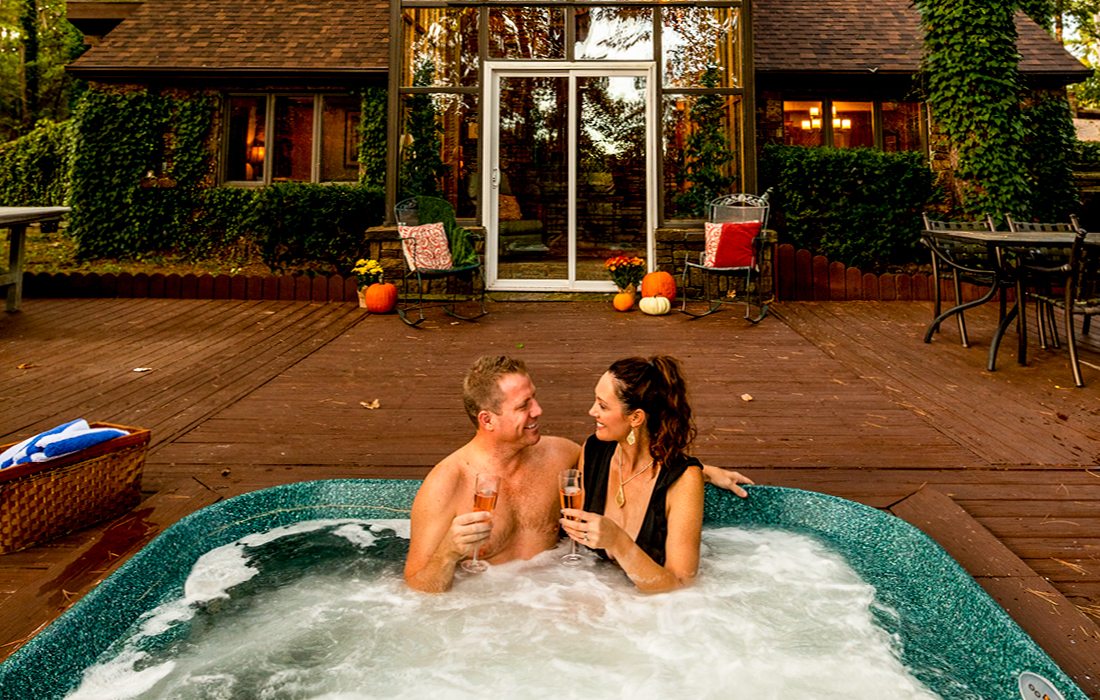 The Sanctuary on Table Rock Lake
For a Luxurious Retreat With Friends
60 miles south of Springfield in Pine A Township on Table Rock Lake
The Vibe: Inspired by the architecture of Frank Lloyd Wright, this beautiful contemporary lake home exudes tranquility with waterfalls and ponds on the property.
How to Unplug: Tucked onto a slope and nearly one with nature, this upscale ivy-covered home is aptly named. One of seven built into the 40-acre landscape of the Tall Pines Country Estate, you'll marvel at the seclusion of the home made from native stone and wood, with a solarium made of glass. Yet you'll enjoy shared estate amenities such as a communal firepit, walking trails, playground area and disc golf. Indoors, enjoy an open-concept kitchen with lots of windows, comfortable family room with game table, laundry facilities and plenty of sleeping space for up to 12 guests among three bedrooms plus a bunk room. On the deck, relax in the private hot tub, play a game of pool, grill dinner or settle in with a book and a drink on comfortable outdoor furniture.
While You're in the Area: Visit Branson Landing, walk along the trail at Dogwood Canyon Nature Park, or play a round of golf at Top of the Rock.
Book your stay.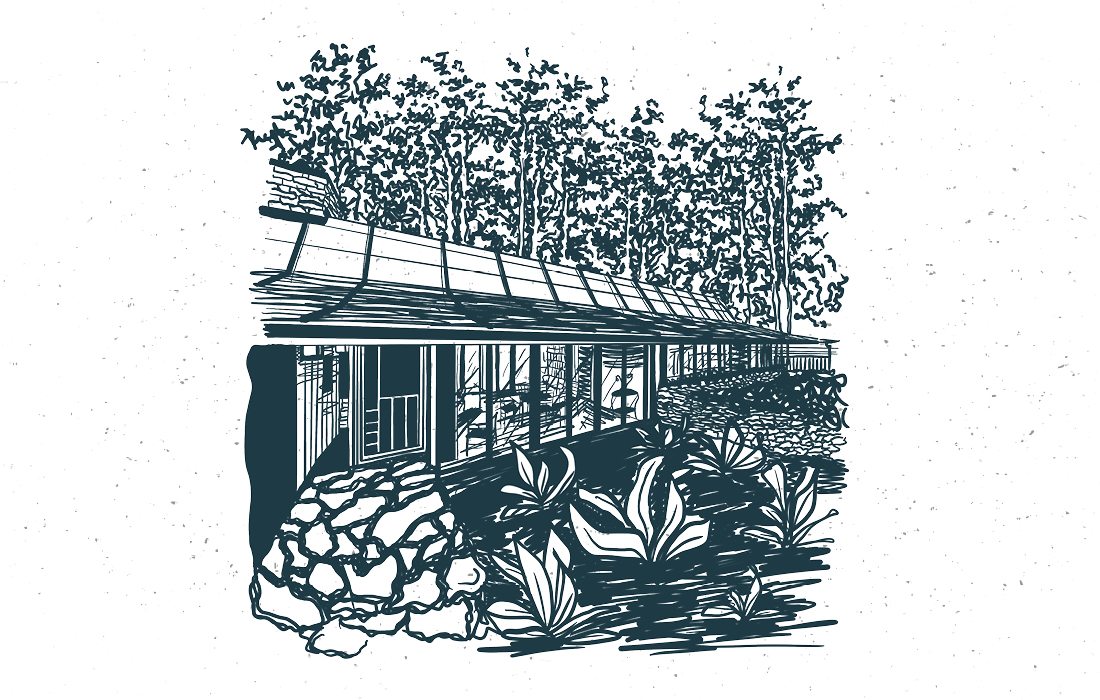 The Deepwood House
For Travelers Who Appreciate Great Architecture
152 miles southwest of Springfield in Fayetteville, Arkansas
The Vibe: This book-filled award-winning architectural masterpiece is close to city amenities while nestled deep in the woods.
How to Unplug: Designed in "mid-century Ozarkian" style, this comfortable home on 40 acres sits on the crest of Mount Kessler. Constructed of cedar and glass with stone floors and fireplace, it was aptly named "Deepwood" by its architect, Herb Fowler, for its nature hideaway setting. The three-bedroom house with laundry facilities and a large deck offers plenty of space for up to six people. Forgot a book? You'll find something to read in the living room library. Around the property, guests can enjoy paths for walking, running or biking. After spending a day in Fayetteville you'll love coming back to the Deepwood House as a relaxing retreat.
While You're in the Area: Ride the Razorback Greenway Trail from downtown Fayetteville to Bentonville, drive to Crystal Bridges Museum of American Art, or enjoy an outing at the nearby Botanical Gardens of the Ozarks.
Book your stay.
Your Cozy Cabin Reading List
Find a cozy cabin spot to relax with a book. Pagination Bookshop owner Jennifer Murvin recommends these good reads for your magical, back-to-nature getaway.
World of Wonders: In Praise of Fireflies, Whale Sharks, and Other Astonishments
By Aimee Nezhukumatathil
Beautifully illustrated, the author's insightful essays help readers see and appreciate the natural world more completely.
Braiding Sweetgrass: Indigenous Wisdom, Scientific Knowledge and the Teachings of Plants
By Robin Wall Kimmerer
Using a gentle approach to awakening our ecological consciousness, Kimmerer shows how plants and animals offer us gifts and lessons. 
The Seed Keeper
By Diane Wilson
Spanning several generations, this novel follows a Dakhóta family's struggle to preserve their way of life, and to protect what matters most.
Foraging the Ozarks: Finding, Identifying, and Preparing Edible Wild Foods in the Ozarks
By Bo Brown
Author and wilderness expert Bo Brown explores the history of foraging in the Ozark Mountains and offers tips about edible foods. 
The Thirteenth Tale
By Diane Setterfield
A magical tale that's perfect for reading while deep in the woods, this novel is about an aging author of enchanting stories who reveals her own gothic past and, doing so, is transformed.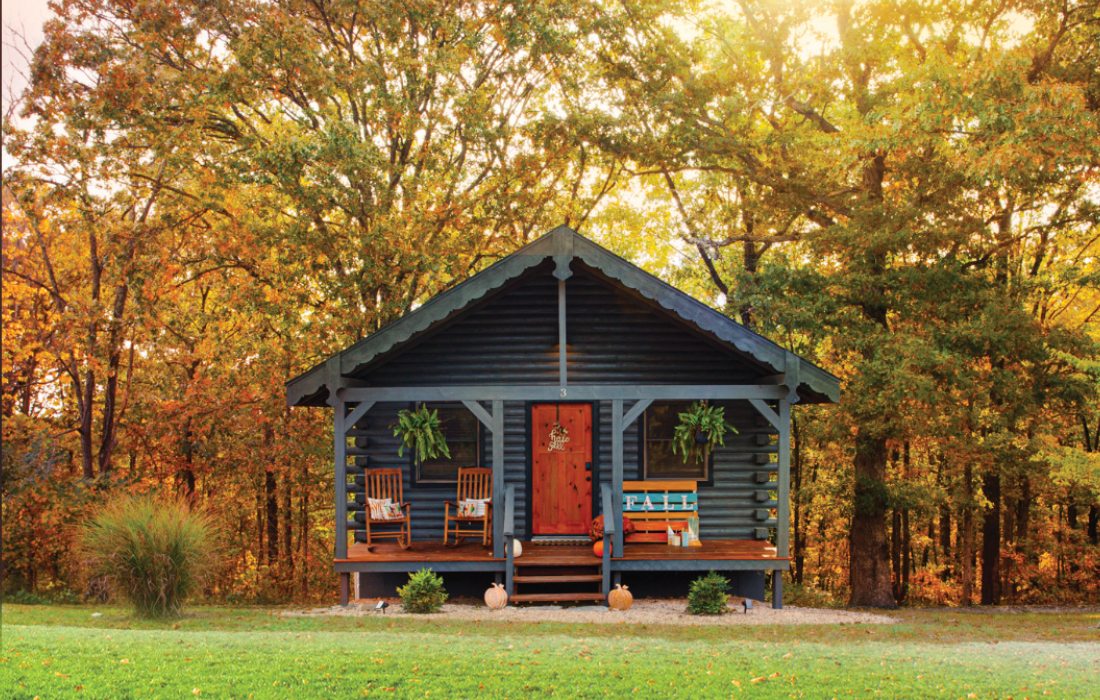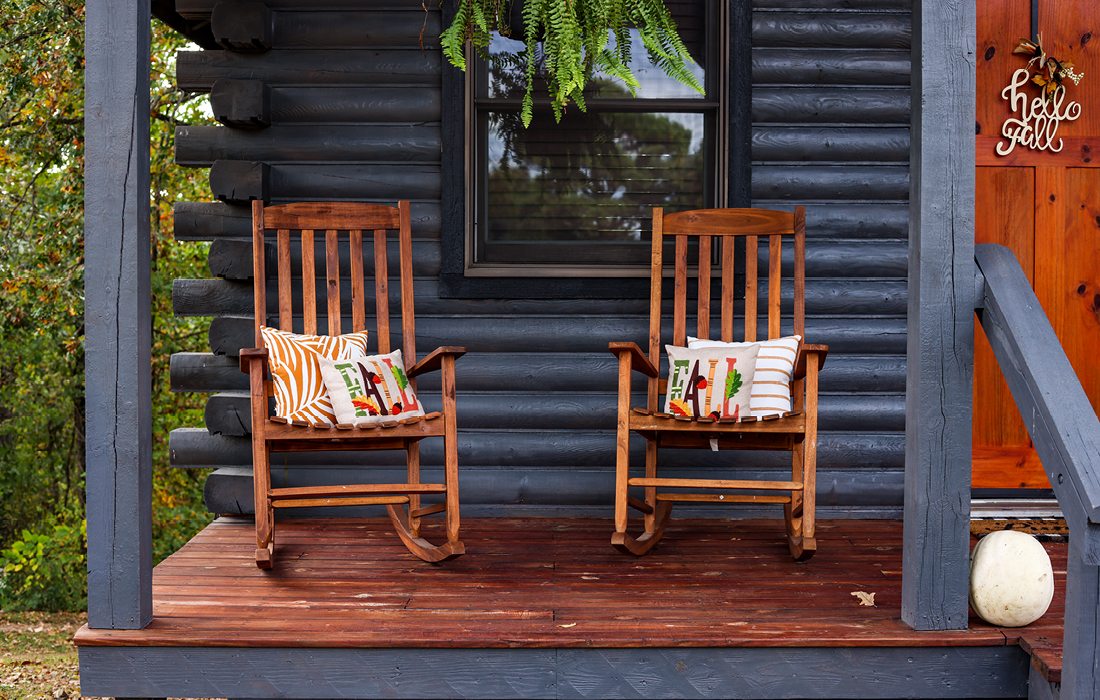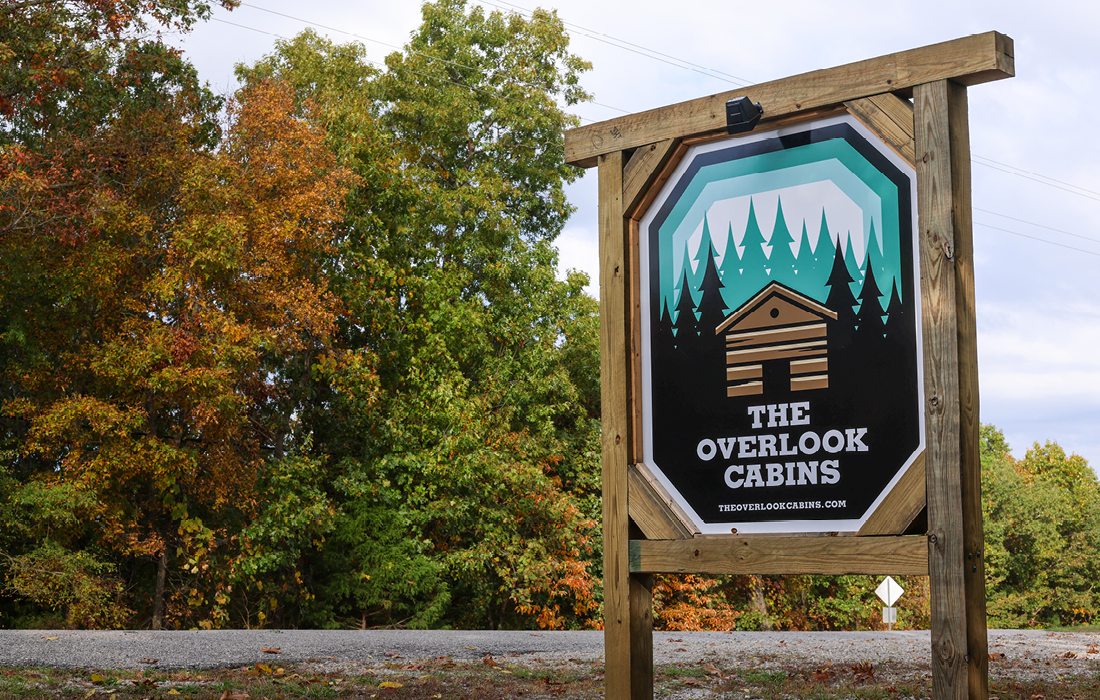 The Overlook Cabins
For Getting Away With Your Dogs
55 miles south of Springfield in Lampe
The Vibe: Simple and natural, these small, nicely decorated cabins in the woods are pet-friendly getaways.
How to Unplug: When camping isn't your thing but you want an unplugged wooded experience, get back to nature at one of the Overlook Cabins above Table Rock Lake. Want to bring your pup? No problem here. Aunt B's Cabin in the woods is the most secluded of four on the property. Here you'll find simple luxury with an open concept kitchen and main floor living area, three bedrooms on three floors (including a loft), laundry facilities and a lower-level sitting and game room with a stove fireplace. There are plenty of nature-watching spots too, with a covered front deck, lower-level covered patio and small back deck. Other cabins on the property include The Big Cabin with a lake view, Tiny Cabin No. 4 or the Firefly Cabin. A common area firepit is available for nighttime camp ambiance.
While You're in the Area: See a show at Oak Mountain Amphitheater, rent a boat at Port of Kimberling Marina & Resort, or take the family to Silver Dollar City.
Book your stay.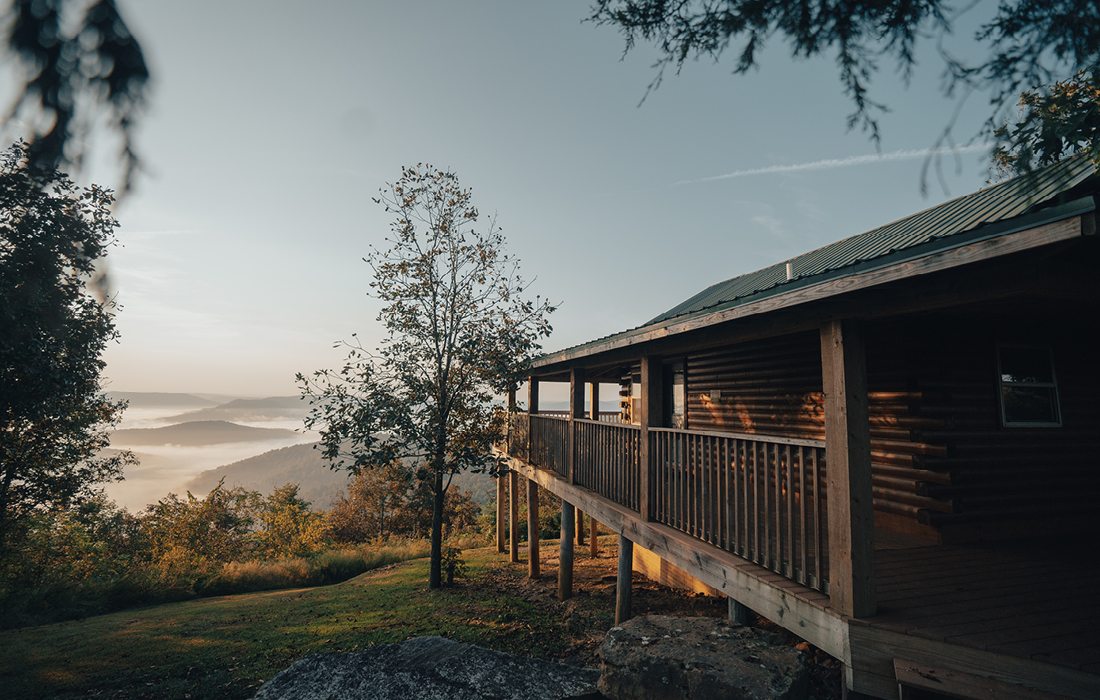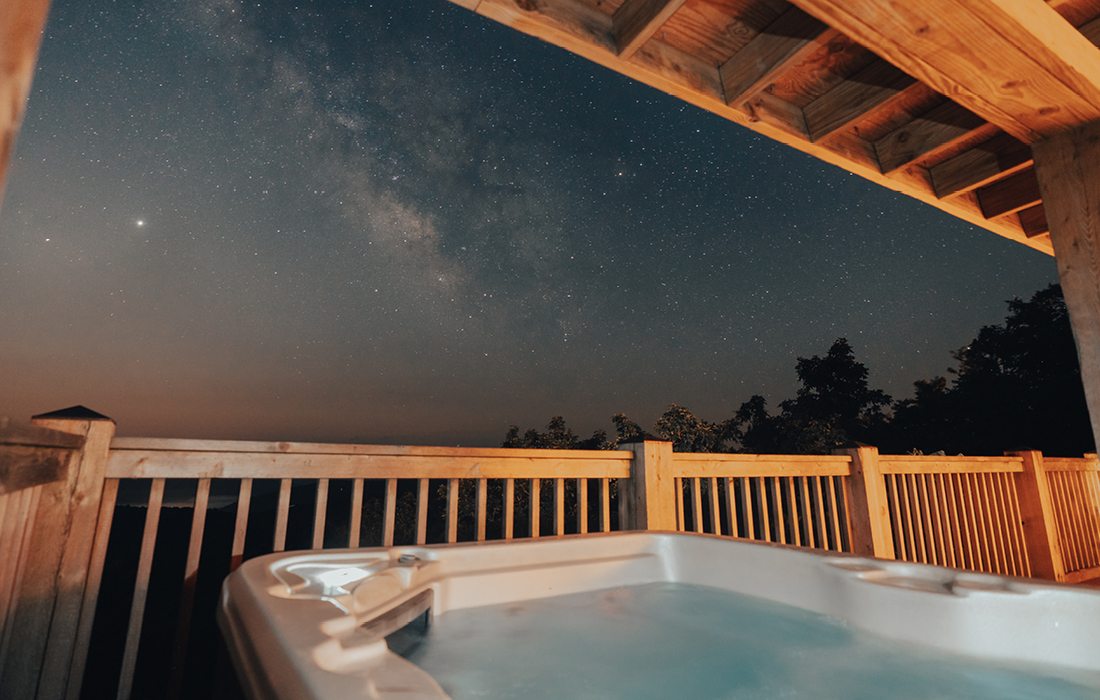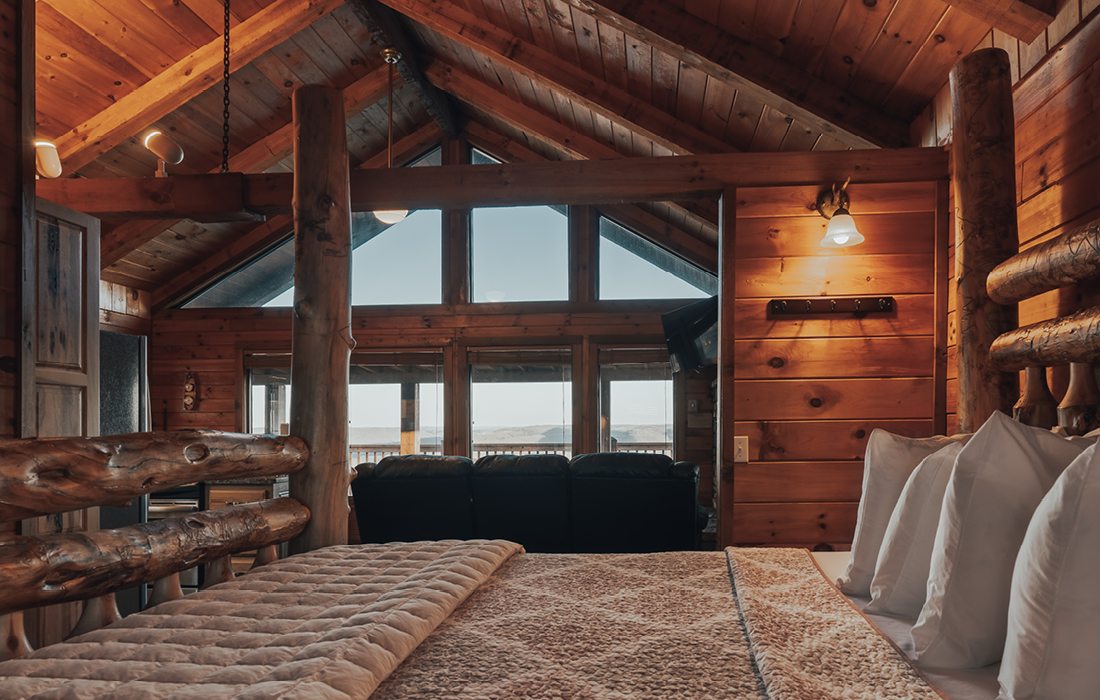 Buffalo Outdoor Cabin X
For Romantics Seeking Adventure
100 miles south of Springfield in Ponca, Arkansas
The Vibe: A secluded location with mountain views to sigh for, Cabin X is a couple's dream retreat in the Upper Buffalo Wilderness Area.
How to Unplug: Buffalo Outdoor Center considers Cabin X the most romantic cabin in Arkansas. Judge for yourself when you book this private retreat with rustic elegance. After daytime hiking or floating adventures, relax on the mountain-top cabin's large deck offering 30-mile views of the Buffalo River Wilderness. Later, gaze in awe at the starry night sky from the deck's outdoor hot tub. Make dinner on the gas grill and enjoy a glass of wine from the deck chairs and table. Inside, take the chill off with the gas fireplace. The studio cabin includes a fully stocked kitchen and cozy living space, a king-size bed and large bathroom with two-person shower and provided guest robes. Unwind before bed with a movie from the DVD library.
While You're in the Area: This cabin makes a perfect home base for hiking, leaf-peeping and elk-watching in the Upper Buffalo River area. Try the Lost Valley Trail to start.
Book your stay.
Find more outdoor adventure with our guide to the best hiking trails in southwest Missouri.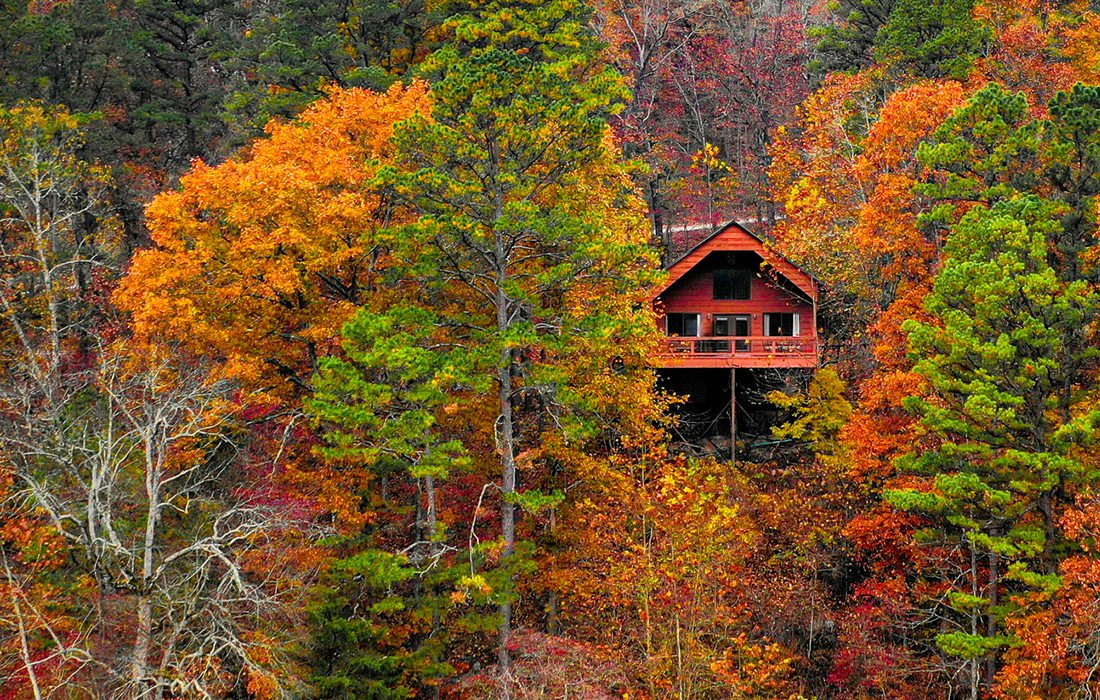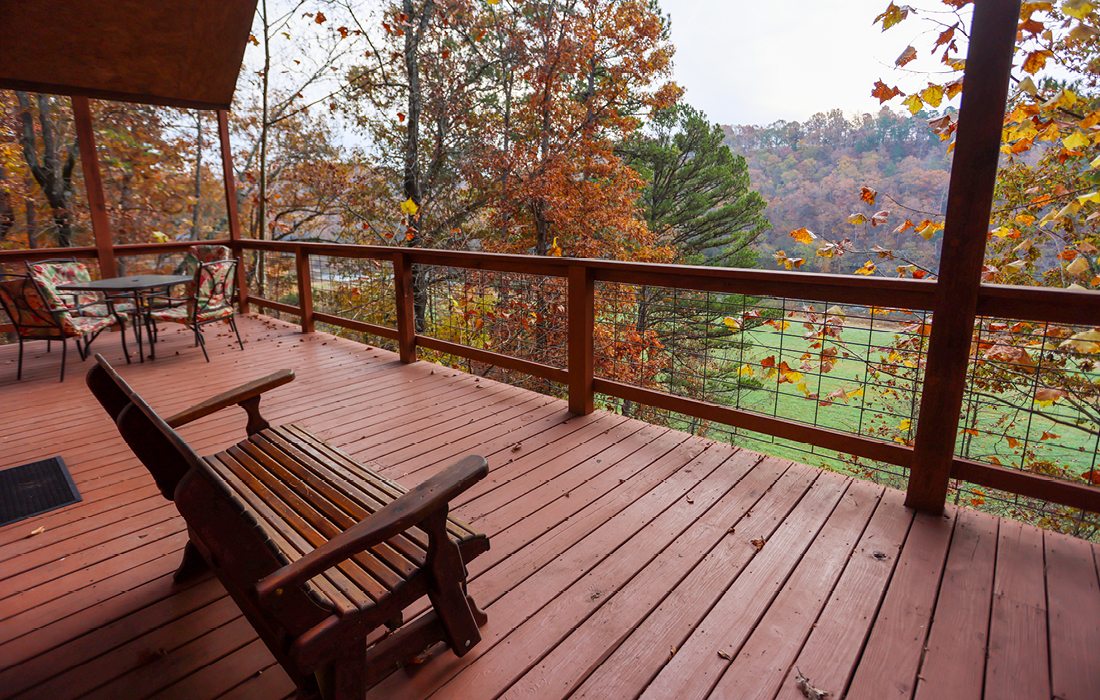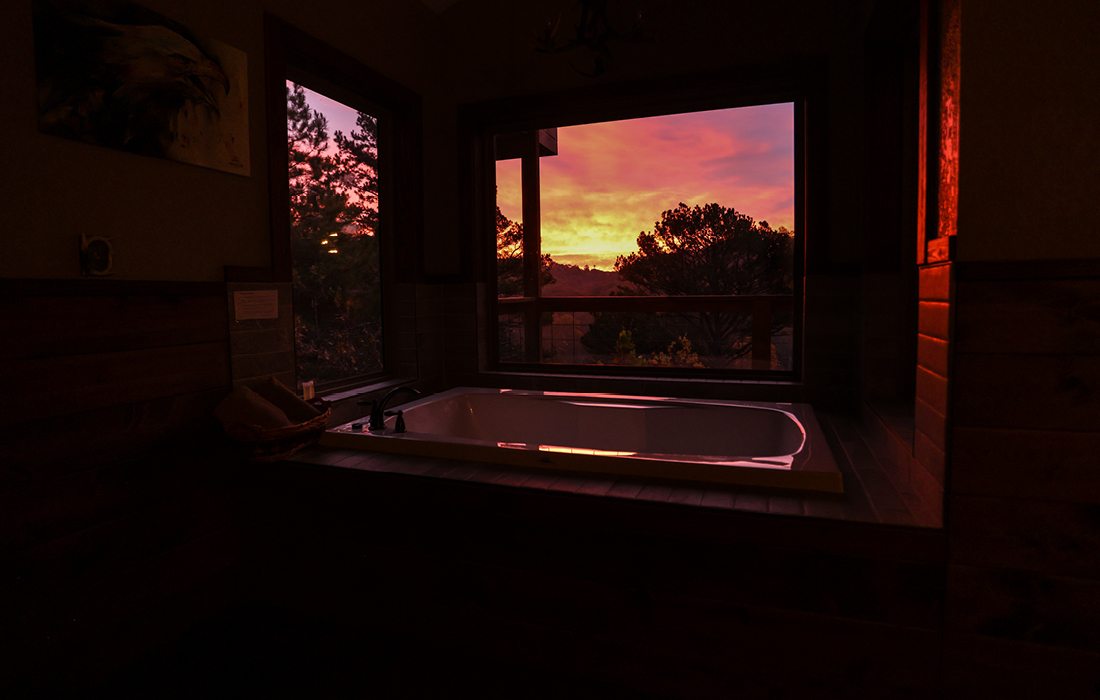 River of Life Farm's Treetop Loft
For Anglers Who Love Comfort
100 miles southeast of Springfield in Dora
The Vibe: With luxurious amenities and modern comforts, this isn't your childhood treehouse. But we bet you'll feel youthful joy while relaxing among the treetops.
How to Unplug: The Tree Top Loft on River of Life Farm can be a trout-fishing retreat or a peaceful river getaway. The cabin features an open-air covered deck for listening to birds call as you watch the river roll by. Inside, a spacious living room with fireplace, a primary bedroom with a cedar-log canopy queen bed and an indoor whirlpool tub make this cabin perfect for two. Or sleep up to six with the pull-out sofa and two loft twin beds. Best of all, the River of Life Farm and nearby Mark Twain Forest offer plenty of hiking, paddling and sight-seeing opportunities.
While You're in the Area: Fish or float on the North Fork River, visit the photogenic Dawt Mill or Hodgson Mill, or hike a trail in the Devil's Backbone Wilderness Area.
Book your stay.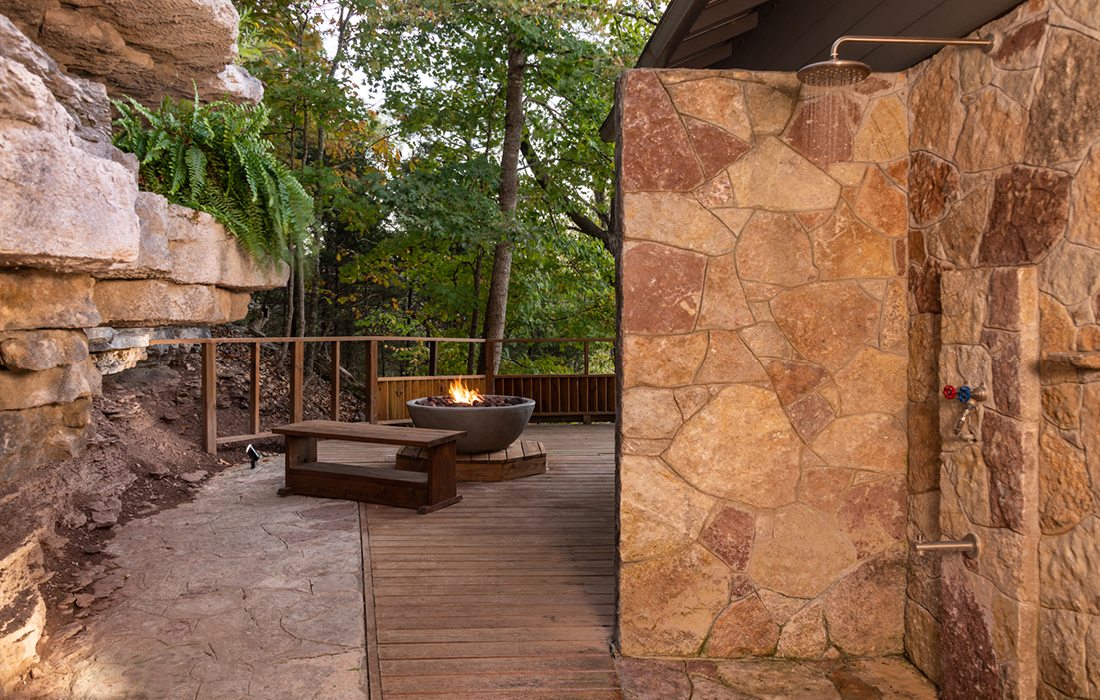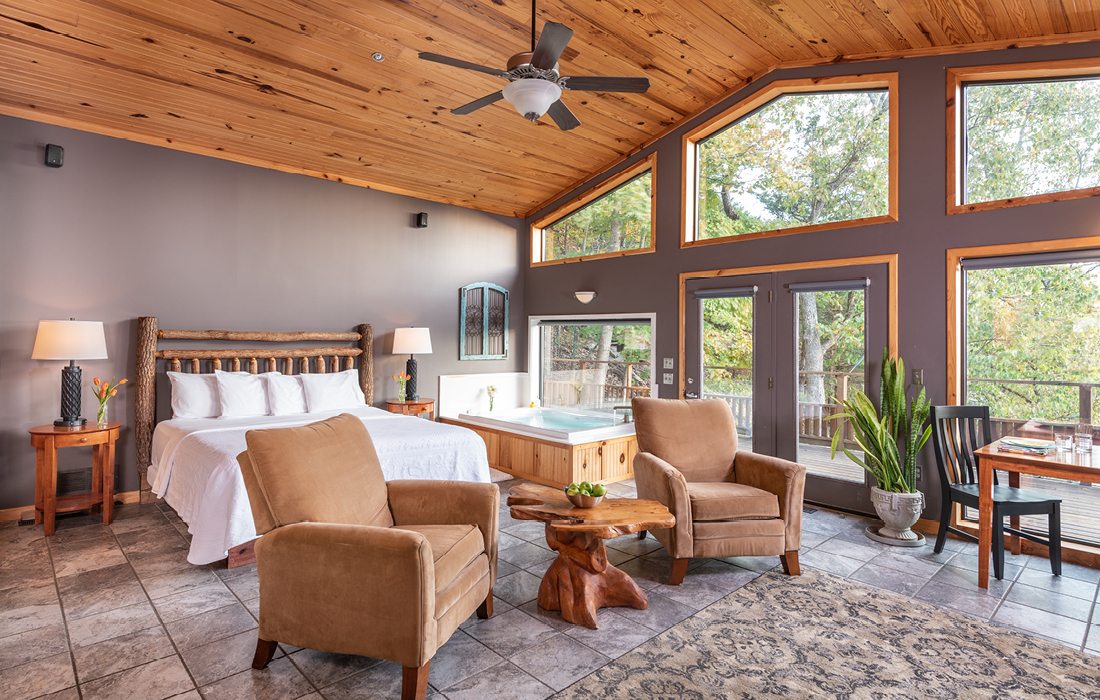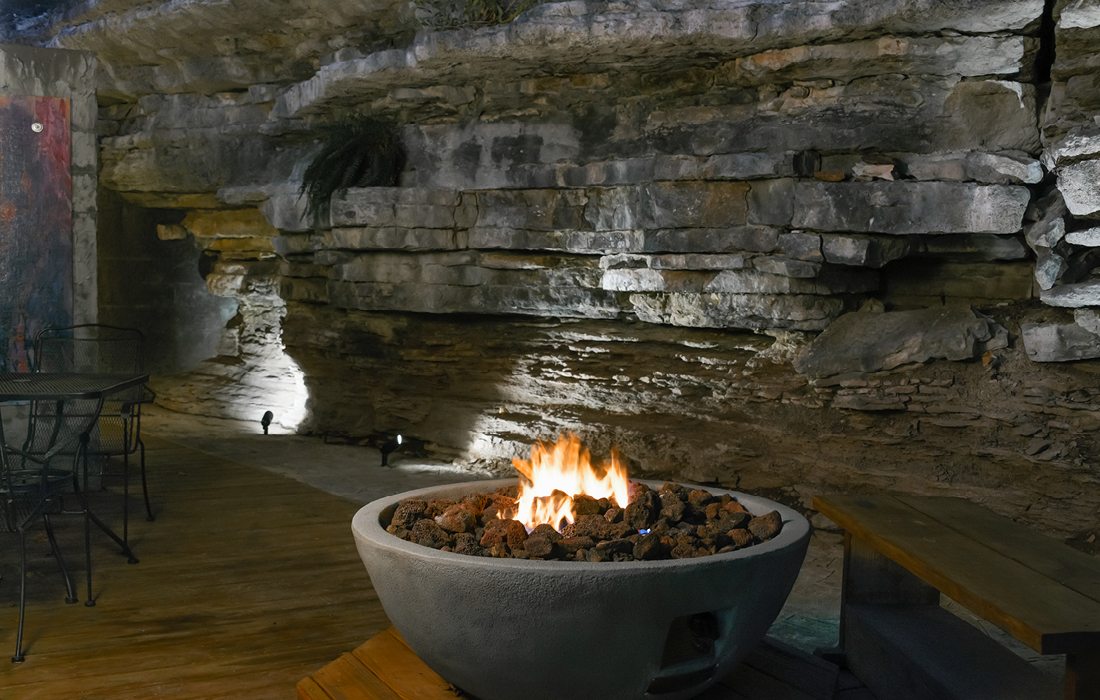 The Bluff Cabin at Beaver Lakefront Cabins
For Secluded Romance
89 miles southwest of Springfield in Eureka Springs, Arkansas
The Vibe: This private bluff-side cabin at Beaver Creek near Eureka Springs is a couple's dream romantic hideaway.
How to Unplug: You won't see another soul while tucked away at this new resort cabin nestled against a limestone cliff high over the lake. With a commanding view of Beaver Lake from its generous deck and screened porch, the Bluff Cabin is a dreamy private getaway for two. The open concept cabin includes a comfortable bed, living space, kitchen, native stone fireplace and large bathroom. Pour some wine and soak in the indoor Jacuzzi for two. Enjoy the view from inside the cabin with a full exterior wall of windows. Outside on the flagstone courtyard, indulge in the private outdoor shower against the bluff setting. The indoor rain-drop shower includes a four-port body spray system. Enjoy resort amenities that include fishing, paddling and a sun deck. For something extra, rent a boat or book a massage.
While You're in the Area: Explore Eureka Springs shops and boutiques, take the ghost tour at the Crescent Hotel, go boating on Beaver Lake, or visit the beautiful Thorncrown Chapel.
Book your stay.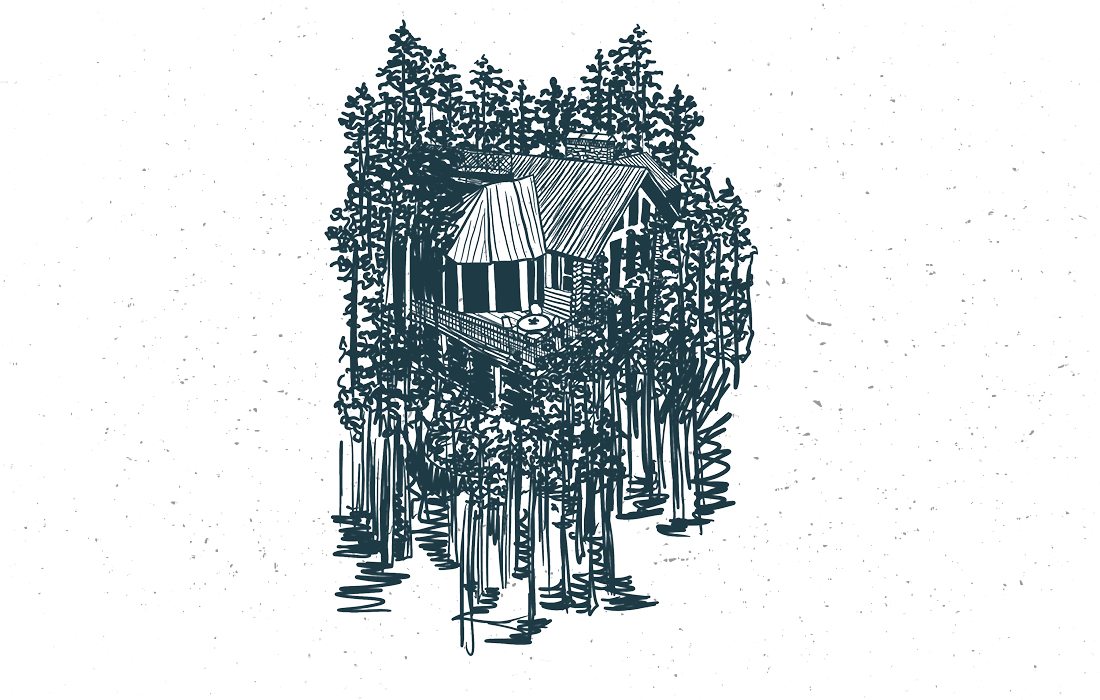 Branson Bluff House
For Splurging on Something Special
47 miles south of Springfield in Point Lookout
The Vibe: With stunning sunset views high over Lake Taneycomo, the Branson Bluff House is a luxurious cabin retreat that exudes that something extra.
How to Unplug: Indulge yourself at the Branson Bluff House, built on the side of a bluff over Lake Taneycomo and booked through The Keeter Center. It's convenient to Branson attractions but you may not want to leave this gorgeous hideaway with its custom stone-surrounded hot tub, hand-carved wooden accents and stone details such as a fireplace wall in a primary bedroom. With two stories, three bedrooms, three bathrooms and two sleeper sofas, this house can accommodate up to 10 people. Yet it's cozy enough for a couple's retreat. The lower level features a second living space that includes a stone-backed lounger, dining table, kitchenette, waterfall shower and wet sauna hewn from the bluff wall. Two outdoor patios offer incredible views for dining al fresco.
While You're in the Area: Fish for trout or kayak along Lake Taneycomo, enjoy nearby Branson tourist attractions or explore the Ralph Foster Museum at College of the Ozarks.
Book your stay.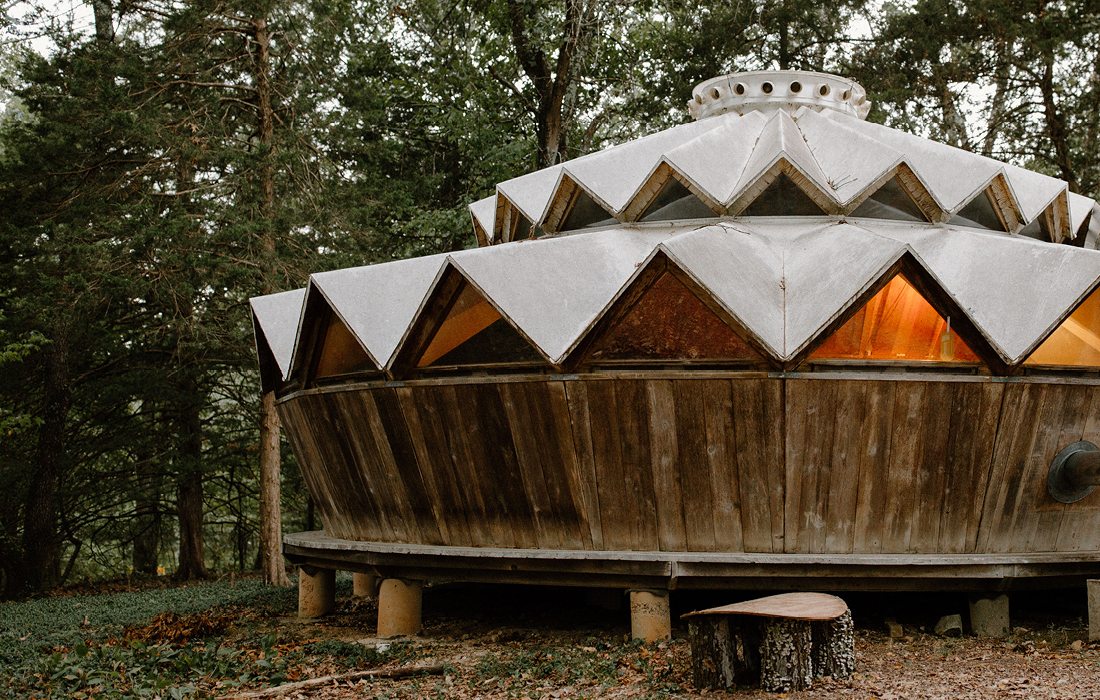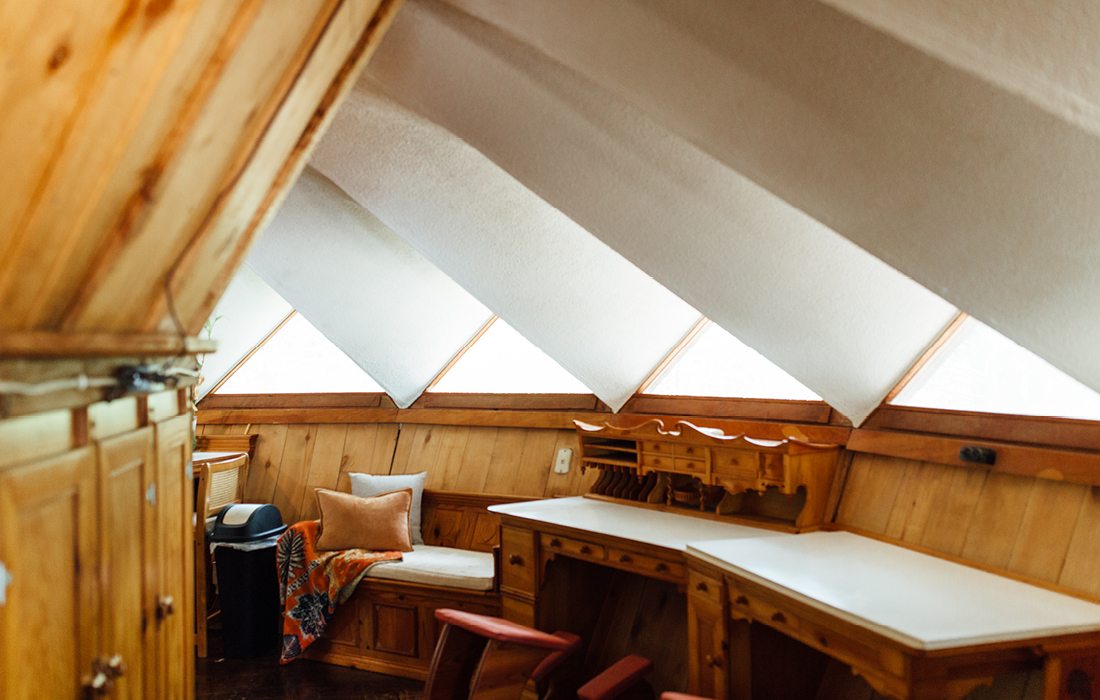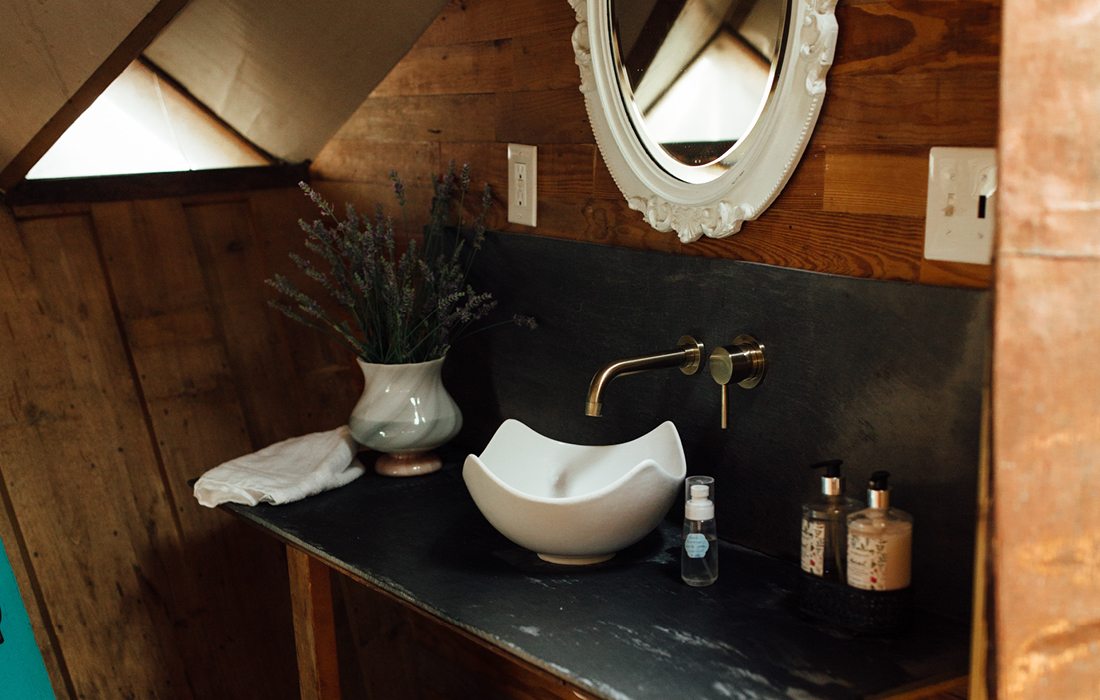 The Forest Garden Yurts
For Glampers Who Want to Really Unplug
36 miles south of Springfield in Reeds Spring
The Vibe: Connect with nature and your inner artist in this unique low-tech glamping compound in Reeds Springs.
How to Unplug: For an unconventional campy getaway exuding an artsy vibe, stay in the Forest Garden Yurts complex, once the home and studio of local well-known artists Tom Hess and Lory Brown. Today, it's a nature retreat not far from Springfield where you can disconnect. Yet it's not far from town amenities for dining out or stocking up. The circular home with a wood-burning fireplace has a full kitchen and small living area with artistic details including a wood-carved peacock door. The central bedroom, reached via ladder, has one double bed. A full bathroom is in a second, smaller yurt, reached by a covered walk. Take a stroll on four acres and end your day around a firepit.
While You're in the Area: Explore Table Rock State Park and the Dewey Short Visitor Center, dine at Reeds Spring Pizza Company, grab an ice cream cone at Pop's Dari Dell, or catch a concert at the Rock House Center for the Arts.
Book your stay.

Check out some more places to enjoy luxury glamping in southwest Missouri.